Namira Salim, set to become the first Pakistani in space once Virgin Galactic finally takes flight, has high hopes for the impact of commercial space travel.
Like world peace, for instance.
"A lot of these people who I speak to who have been to space, say maybe we should send politicians to space," she told the Huffington Post UK recently.
She was amused, but also serious about the idea.
"I think it might make them think differently about their relations to different countries."
Salim is an artist and explorer, and a 'founding astronaut' on Branson's project, who says her aim is to open up spaceflight for everyone. Including world leaders.
"It's funny because in one of our last meetings with Virgin Galactic we were talking about creating a little project, where we would encourage politicians to think about potentially going to space to make peace.
"We are quite far from there but the idea is to promote the idea of making peace in space, because we are actually one and we don't need to fight."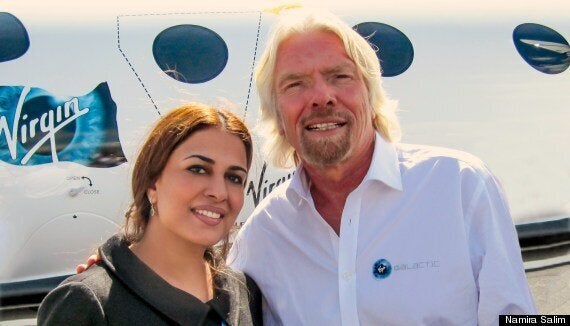 Above: Namira Salim with Richard Branson at the 2012 Farnborough Airshow
Salim said has been dreaming about going to space since her youth - it "is in my DNA" she said - but it wasn't until 2006 that she was selected among thousands of applicants for the chance book her seat for real (and pay £128k booking fee).
Soon after, she was presented to the world as Pakistan's first astronaut - by the country's minister of information, completed suborbital flight training, become the first Pakistani to reach the North and South Poles (2007 and 2008 respectively) and the first Asian person to skydive over Mount Everest.
Meanwhile she has also taken a continuing role in the Virgin Galactic project - and spent any downtime dreaming of the moment that she floats across the cabin in zero gravity, for about five minutes, at 100km above the Earth.
"For me it's always been divine, and for me when I'm up there I think I'll be totally connected to the divine," she said. "It's like this heavenly experience. As an artist also, you do tend to think in a divine way about your source of inspiration, and mine has always been the stars."
While now splitting her time between Monaco and the United Arab Emirates, and continuing to create her art, Salim has also become a vocal spokesperson for the spiritual - and practical - benefits of widening access to spaceflight. She carried her personal 'peace flag' ("Peace Making with Nation Souls") to the poles, as well as making it the theme of a 2002 art show at the United Nations, and plans to bring it with her to space.
For anyone with a passing interest in going to space, however, it is probably fair to say that watching Virgin Galactic over the past eight years has frustrating, as well as inspiring.
At a time where government investment in space exploration - at least in the United States - has slowed, Branson's enthusiasm is hugely powerful. He - and Salim - insist the aim is to put space travel within everyone's reach.
But tickets are still £128k, for a two-and-a-half hour flight. Talk of making it affordable is, to put it nicely, ongoing. And while 529 people are signed up (one more than the number who have ever been to space) blast off always seems to be a couple of years away.
So when Virgin Galactic finally takes tourists into space it will prove a lot of people wrong.
Except for those who've already bought their tickets, it turns out.
"We've been highly engaged in this project as founders," Salim said. "We haven't had any time to get bored or lose our enthusiasm."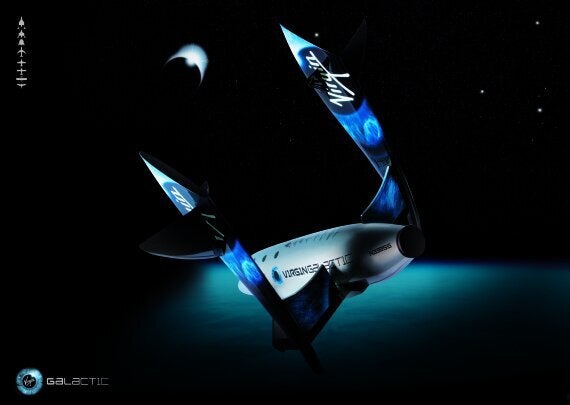 When you're talking about sending tourists into space, you can appreciate the desire to put safety over speed.
Virgin Galactic has only ever been in a race with itself, she said.
"Until today, nobody in a comparable private space industry has been able to test or send a proven equivalent vehicle to space privately. … Virgin has never claimed to be the first because they've always said they are focused on safety. They are not in a race to get people up there."
"You can't compare it to this," she said. "Because this is a commercial operation. This is a consumer industry we're building. This is for every person who's ever dreamed of going to space.
"The first trans-Atlantic flight, which I believe was in 1939, cost $50,000. Today anyone can take a trans-Atlantic flight for a few hundred dollars," she added. "We're looking to take up hundreds of people in the first year of operation. … We do expect the price of flights to come down in the first couple of decades."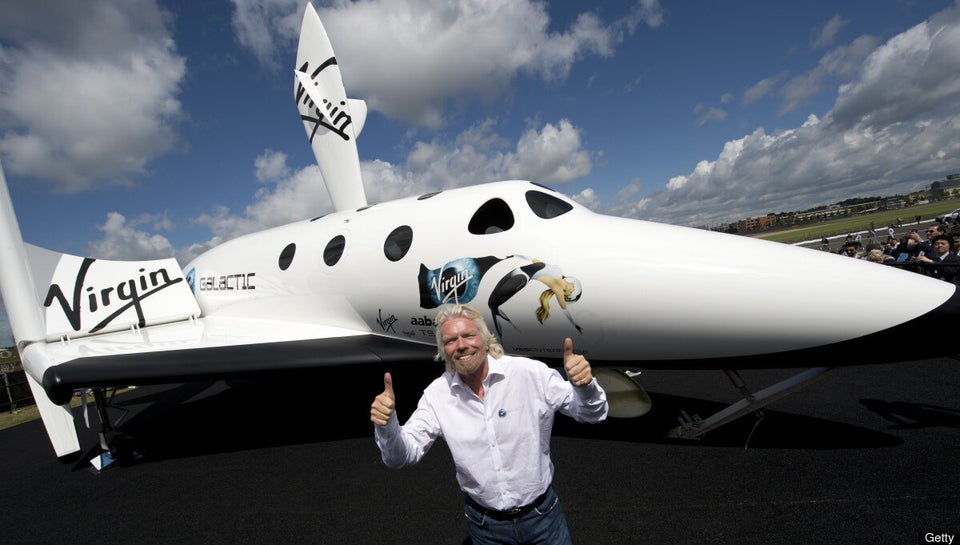 Virgin Galactic At The Farnborough International Airshow
Salim says that the Virgin Galactic project is part of a revolution in space exploration and technology - and not just for the wealthy.
"In Pakistan we had a flood in 2010 which displaced 20 million people out of which 10 million were children," she said. "I think one of the ways in which private space industry can serve the world is by understanding climate change through cheaper satellites."
"Recently I was invited by the largest space corporation in France, Thales Alenia Space, to take them to Pakistan and explore ways of cooperating in the area of space and share technology and know-how," she said. "And in a personal capacity also, being a woman from there, I can take some opportunities to Pakistan."
Salim also cites the environmental benefits of the Virgin Galactic plan. While launching convention rockets is among the most toxic things humans can do to the environment, a flight on Branson's space plane releases only about the same amount of harmful waste as a trans-Atlantic flight, per person. And since the rocket itself launches from 50,000 ft, after being released from the Eve mothership, the impact of the rocket fuel's waste is less harmful.
If this system can be extended to launch satellites and other space craft, the impact of spaceflight on the environment could - theoretically - be greatly reduced.
And then there is the long, long term.
"And maybe one day we will have to settle in space," she said. "I mean look what's happening to our planet! There is more out there."
"I would love to be able to come back a hundred years from now and take the first flight around the Moon or to the Moon. The dream to go to space has always been part of my DNA. … And if I had a way of coming back I would do so, to take those flights. But in this lifetime I do hope to be able to go further."
Related