In the race to identify the alleged Aurora gunman James Holmes, perfectly innocent people were mistakenly drawn into the hunt via Facebook and Twitter.
On Facebook, one James Holmes, from nearby Littleton, Colorado, became frustrated with the number of friend requests he was receiving since the name of the man who allegedly killed 12 people in a packed cinema on early on Friday morning was revealed.
In his status, written shortly after 3pm UK time, Holmes appeals to people adding him that he does "appreciate the fact that you are trying to be better informed about... Aurora" but that "James Holmes happens to be a pretty common name, surprisingly, so try not to jump the gun.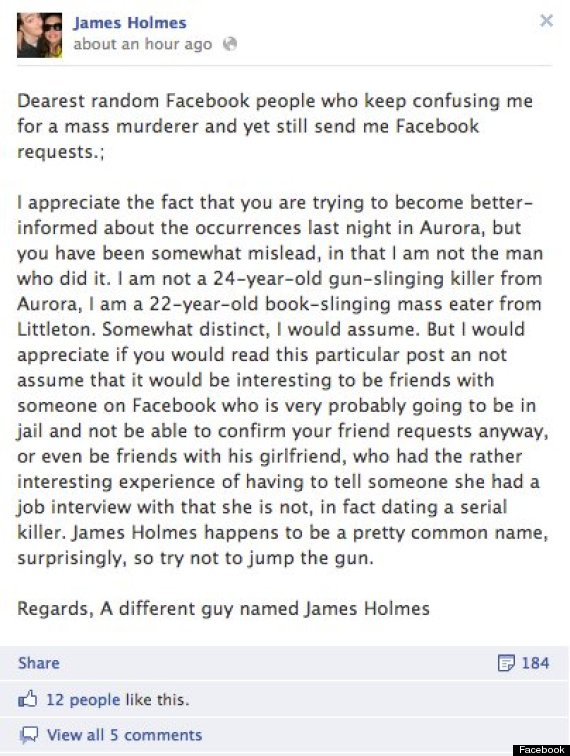 The frustrated James Holmes points out he is not 'that' James Holmes
"I am not a 24-year-old gun-slinging killer from Aurora, I am a 22-year-old book-slinging mass eater from Littleton. Somewhat distint, I would assume," Holmes pointed out.
Another James Holmes resorted to the more blunt process of changing his profile picture to a sign reading "It wasn't me".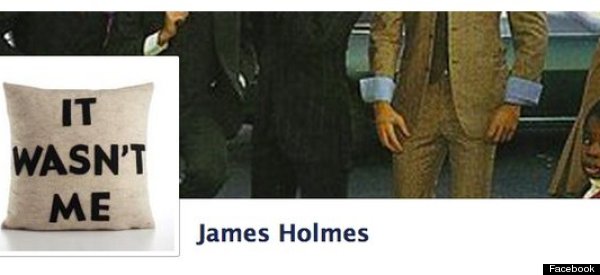 Another James Holmes bluntly distances himself from the Aurora shootings
While the two examples above showed Americans trying to cut through the tragedy with humour, the journalist Brian Ross, of American network ABC, incorrectly claimed the alleged shooter James Holmes was the same 'Jim' Holmes who appears on the local branch of the right-wing Tea Party movement in America.
"There's a Jim Holmes of Aurora, Colorado, page on the Colorado Tea party site as well, talking about him joining the Tea Party last year," Ross said. "Now, we don't know if this is the same Jim Holmes. But it's Jim Holmes of Aurora, Colorado."
The network later retracted the claim, saying it had not been properly vetted and it was wrong to have allowed Ross to suggest the link before it had been confirmed.
You can watch video of Ross' blunder below.