A nun has been found guilty of sending threatening letters containing white powder to parliamentary figures including Nick Clegg, whom she accused of being a "devil-worshipping Freemason".
Sister Ruth Augustus, 71, was found guilty on six counts of hoaxes involving noxious substances before Harrow Crown Court on Wednesday after the jury took only two-and-a-half hours to deliver a verdict.
Augustus, of Leyton, east London, was found to have sent the letters to Clegg and three others, each with allegations scrawled on the envelopes.
On a letter sent to the Lib Dem leader, the nun wrote the phrases "devil worshipping", "freemason", "sex with 30 plus women" and "your poor Catholic wife and children".
Within the envelopes was a white substance, which, after examination, was found not to be toxic.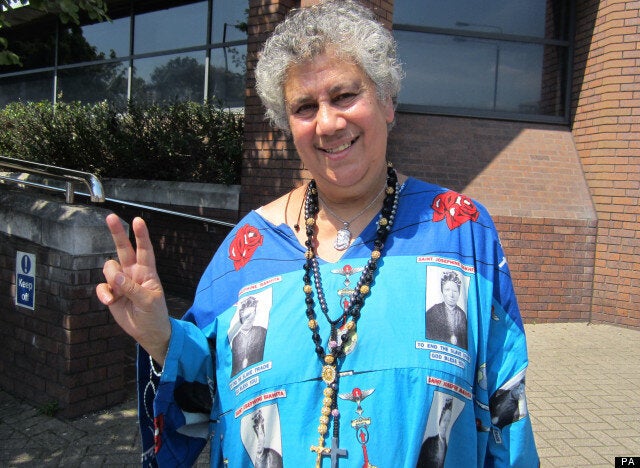 Sister Augustus protesting her innocence outside court on Wednesday
The nun addressed a total of six letters to Clegg, Baroness Scotland, Baroness Kennedy and MP Edward Leigh, all of which were discovered at a mail-screening centre before they could be delivered.
Augustus admitted she sent the letters but claimed the police framed her by adding the powder.
"I'm not a Muslim terrorist, I'm a Catholic nun," Augustus said at one point in the trial.
Of the police, she said: "They opened the envelopes, and put white powder in, to frame me. I know they monitor it all.
"I'm a Catholic nun, with more brains and intelligence than the police."
Justifying why she sent the letters to the Lib Dem leader, Augustus said he had "lied about all the tuition fees and everything else, keeping those Tory millionaires and rats in government".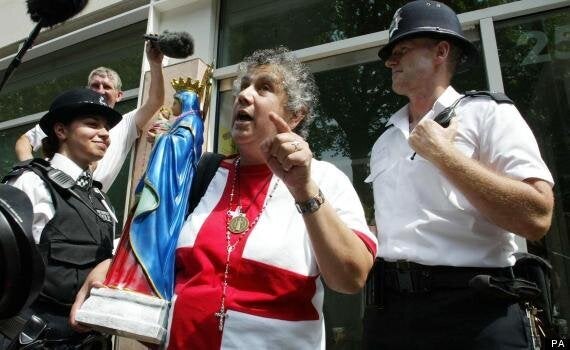 Catholic nun Sister Ruth Augustus pictured in 2004
"He boasted about all the women he's had sex with. He's an atheist singing hymns in the Albert Hall."
As for Leigh, Augustus said: "He's a Catholic, and goes to Westminster Cathedral."
In a letter to Baroness Kennedy, the nun endorsed her missive with a swastika, and "stop these evil devil worshipping freemasons".
Baroness Scotland's letter was also branded with a swastika.
Mr Justice Saunders deferred the case until September for a hearing at the Old Bailey while a medical report on Augustus' mental health is completed.
She was released on bail on condition that she "does not contact, directly or indirectly, any MP or senior Government official".
Related