The bloated swollen carcass of a terrifying 'mutant' has washed up on the Manhattan shoreline, its hairless body and purple fingers mystifying inhabitants of the city.
Dubbed the "Manhattan Monster", many have suggested the creature is a gargantuan rat, or a roasted pig.
Its distended snout, rotted away to appear like a terrifying snarl, is made more eerie by the five humanoid fingers at the end of each of its legs.
SCROLL DOWN FOR MORE GRAPHIC PHOTOS OF 'THE BEAST'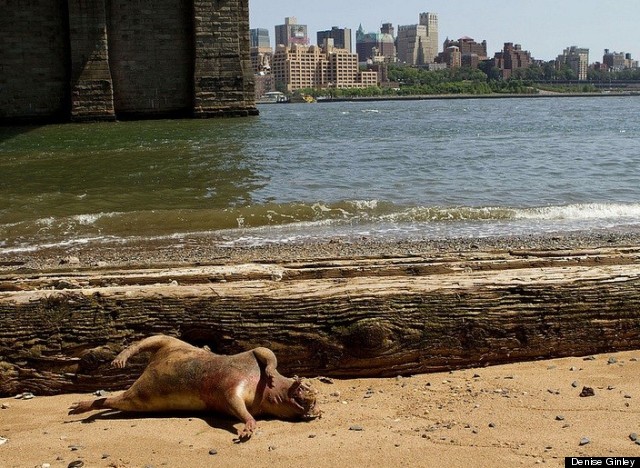 The nightmarish-looking creature
New York Parks department claimed the carcass was that of a "pig left over from a cookout", something that photographer Denise Ginley denied.
She told the New York Daily News: "It is most certainly not a pig. The most obvious sign being the lack of a cloven hoof, instead this creature has five digits all close together."
Some have compared the beast with the giant rat which was found in a Footlocker in the Bronx earlier this year, suggesting that maybe its hair had rubbed off in the water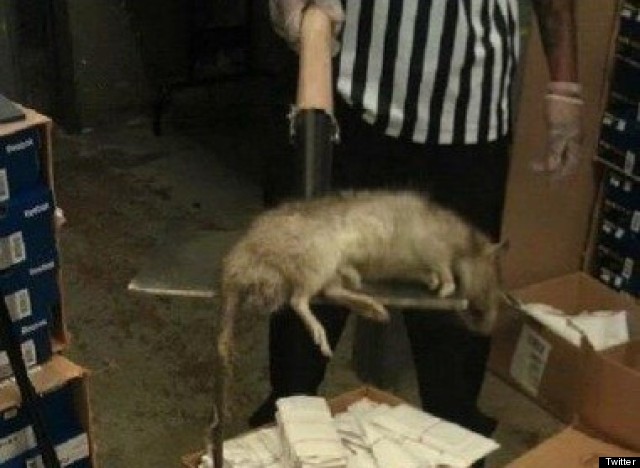 The rat, which is believed to be a Gambian pouched rat, was allegedly found in a Bronx, New York, Foot Locker last Autumn
Some have suggested the new creature is related to the Montauk Monster, a hairless beast that washed up on the beach in the Hamptons area of New York in 2008, leaving its well-heeled residents too scared to swim.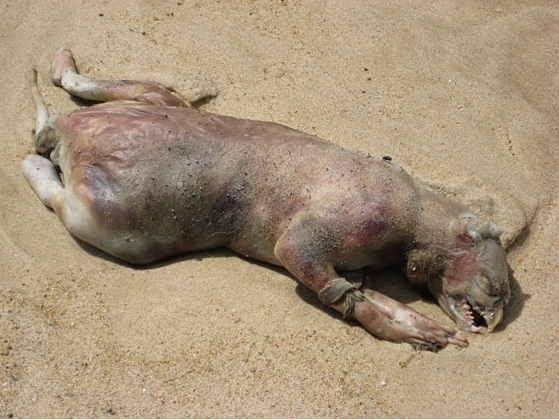 Some believed the Montauk Monster was a hoax
What do you think it is?
WARNING: GRAPHIC PHOTOS
All photos courtesy of Denise Ginley: