Two newborn puppies were found still breathing after they were plucked from from a shallow grave where they had been buried alive by two backstreet dog breeders.
The owners, James and Lorraine Perks and lodger Stephen Jenkins, from Talworth in Staffordshire, have now been jailed for six months for a string of animal cruelty offences, the Sun newspaper said.
A film released by the RSPCA showed police and vets digging up the back garden of the house, after a tip off from a woman who had bought a puppy from the Perks. The puppy lived only a few days.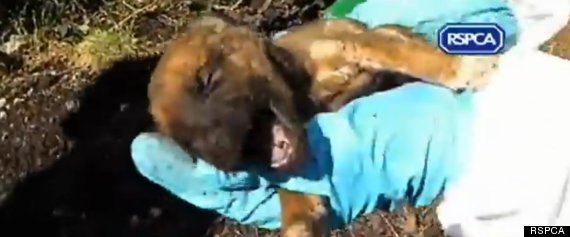 The tiny puppies were buried alive in the back garden of a dog breeder's house
In the garden, 15 puppies and nine fully grown Staffordshire Bull Terriers were kept in squalid rabbit hutches, allowed out for just one hour a day. One hutch held four adult dogs.
In the video released by the RSPCA, a female policeman is seen scrambling through soil at the back of the garden, and RSPCA officers gasp "it's still alive" as she pulls the dog from its shallow grave.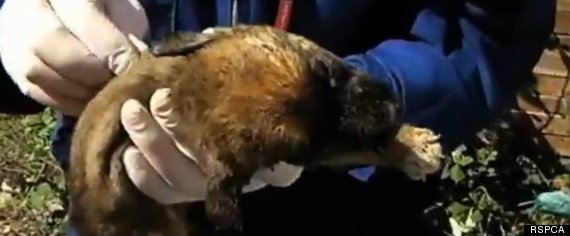 A vet checks the puppy pulled out of the grave, and decides to put it to sleep
Another puppy, also still breathing and covered in faeces, is pulled from the grave squirming and trying to bite the police officer.
A vet tells the camera: "It's so poorly, euthanasia is going to be required straight away. We'll have to put him to sleep."
Both puppies were put down after being pulled out of the burial pit.
Sentencing the guilty trio at Burton-on-Trent Magistrates Court on Tuesday, chairman of the bench Peter Rolfe said: "If we could have we would have jailed them for far longer - they are all equally to blame because they were all residing at the same address."
Prosecutors said Jenkins had buried the puppies, but had believed they were dead. Mrs Perks had known the dogs were alive but "could not be bothered" to persuade Jenkins not to bury them.
"All she had to do was take them out of the ground. Any human being would have done that," he said.
The other dogs have been confiscated by the RSPCA and the trio have been banned from keeping animals for life.
GRAPHIC WARNING: Two Newborn Puppies Found Buried Alive
GRAPHIC WARNING: Two Newborn Puppies Buried Alive