Tom Daley and Pete Waterfield, two of Britain's biggest hopes of winning gold at London 2012 in the men's synchronised 10m platform dive, failed to even win a medal after minor errors left them in fourth place.
With the hopes of a nation on their shoulders the pair managed to fight off a challenge from their most fierce rivals, the Chinese pairing of Yuan Cao and Yangquan Zhang, in the early rounds.
But as the competition progressed it became obvious Daley and Waterfield didn't quite measure up to the mark. Close but no cigar: Daley and Waterfield failed to win a medal
It means Team GB's slow medal haul at the homes Olympics continued into the third day.
Thousands of British fans packed inside the Aquatics Centre at the Olympics Park to see Daley, still only 18 and Waterfield perform six stunning dives. Taking a plunge: Daley and Waterfield stunned crowds with their performance
But to the amazement of supports there were STILL numerous empty seats in the stands nearest to the diving board.
Daley and Waterfield sent the Aquatic Centre into overdrive after the first round scoring a total of 56.40 – good enough to share first place with the Chinese.
It was the same story in the second as they produced a sensational reverse dive to bump their score up to 112.80, putting them in the lead.
They extended their lead to more than two points at 203.88 after the third round which promoted the crowd, which included PM David Cameron to chant "GB, GB. GB".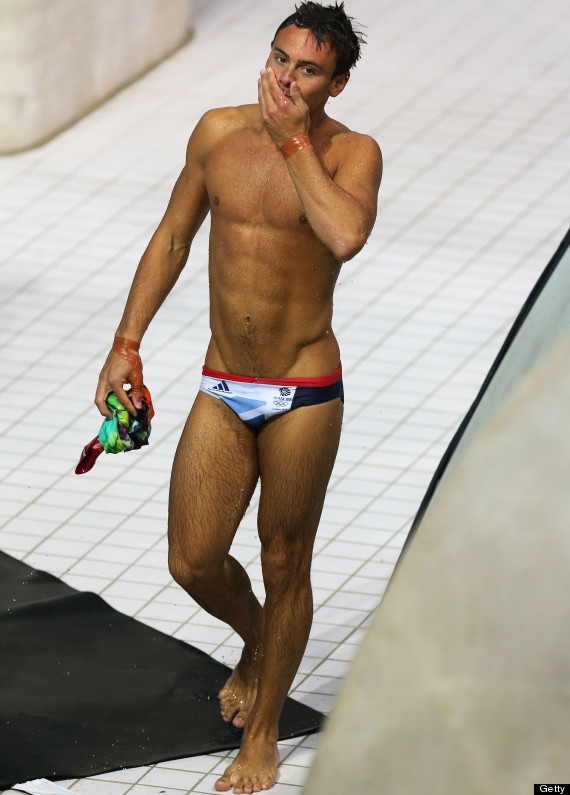 Dejected Tom Daley after coming fourth during the Men's Synchronised 10m Platform Diving
But by the fourth round it looked like the Chinese were starting to turn the screw, scoring a perfect 10 from one of the judges.
A poor dive from Daley and Waterfield handed China the leading position and dropped the British pair out of the medals into fourth.
By the fifth round the cheers of earlier rounds were replaced with gasps, sighs and lower scores.
The clinical Chinese polished off yet another win with near perfect efforts in the final round which left Daley and Waterfield high and dry.