Chris Brown's album Fortune has been slammed as "repugnant", "misogynist" and rated with "no stars ever" in a scathing review.
Reviewing the album for Australian magazine X-Press, Chloe Papas wrote: "Chris Brown has released his fifth studio album — a 19-track repugnant record that we can only hope will be his last."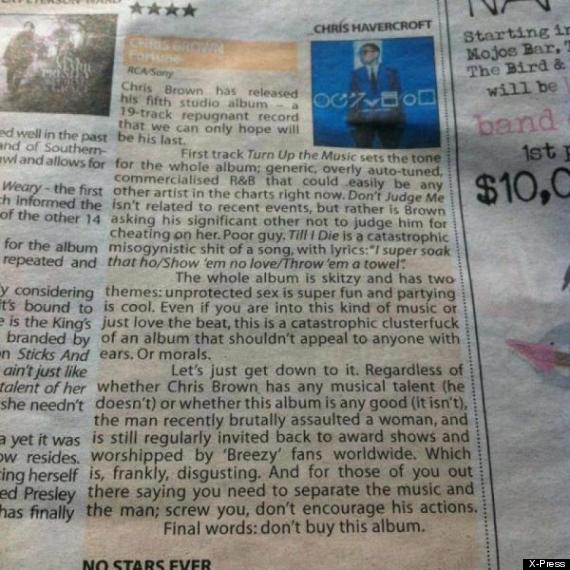 Chloe's review
Brown's violent past has divided public opinion. While some think he should now be judged on his musical talents alone - perhaps one reason he got to Number One in the UK charts with Fortune this year - others refuse to put behind them the fact that he was convicted of assaulting ex-girlfriend Rihanna in 2009.
Music critic Papas labels one of Chris' songs "misogynist" and argues that the album has two messages: "Unprotected sex is cool and partying is fun."
She continues: "Regardless of whether Chris Brown has any musical talent (he doesn't) or whether this album is any good (it isn't), the man recently brutally assaulted a woman, and is still regularly invited back to award shows and worshipped by 'Breezy' fansworldwide. Which is, frankly, disgusting."
"Final words: don't buy this album," she adds.
Chloe is not the only reviewer to focus on the violent past of Chris Brown, Chad Taylor's succinct review for Cityview went viral. "Chris Brown hits women. Enough said," he wrote.
HUFFPOST BLOG: Forgiveness is a Good Thing but Chris Brown Still Doesn't Deserve It
What do you think - should Chris get judged on his music alone?