Bradley Wiggins added to his Tour de France victory with a stunning gold medal after he and his famous sideburns stormed through the streets to victory in the men's Olympic time trial.
Wiggins, wearing a Team GB-styled riding helmet, topped with a Union Jack, flew past screaming crowds towards the finish line and his seventh Olympic medal - making him Britain's most decorated Olympian.
Team-mate Chris Froome finished third to give Team GB a sensational boost in the Olympics medal table.
UPDATE: 'Blind drunk at the moment' - see how Bradley Wiggins celebrated his gold win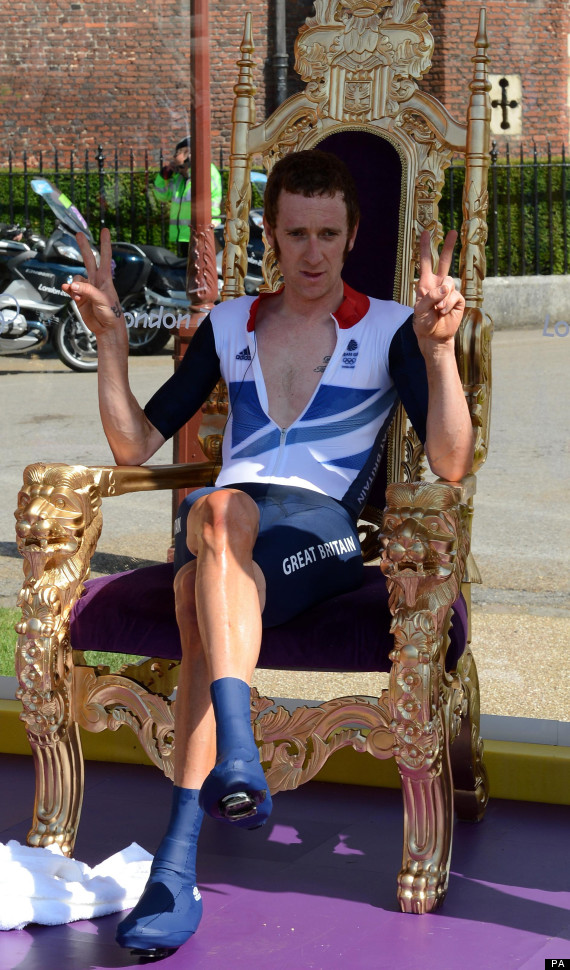 Making Britain proud: Wiggins is the king of the time trial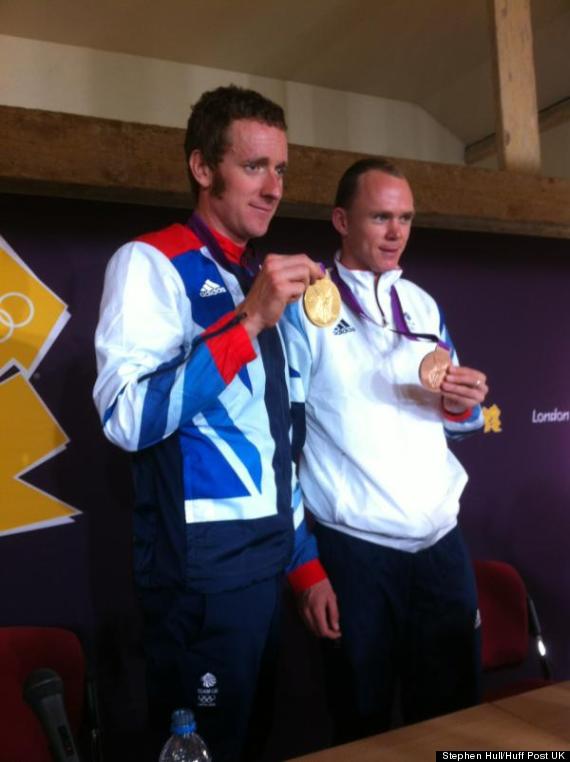 Wiggins and Froome show off their medals to the world's media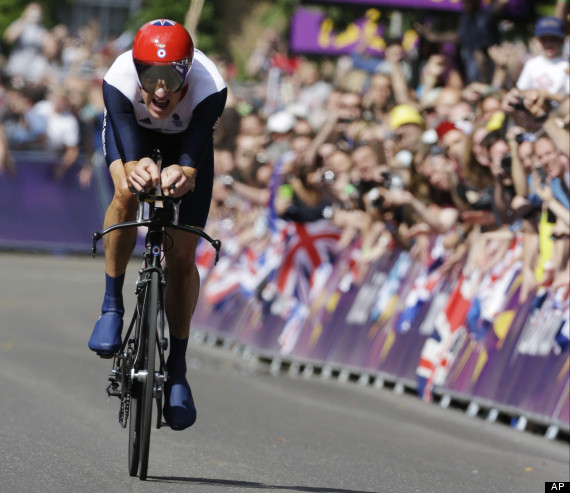 Wiggins won the Tour de France time trial this year - and the same event at London 2012
The silver medal went to Germany's Tony Martin, who clocked a time of 51:21.
Afterwards Wiggins commented that even if he was knighted he'd put his medal in the drawer and not use it.
He said: "I'll always be just Brad." Asked if he would be having a celebratory drink, he replied: "Vodka tonic. I'll have a few of them tonight."
Wiggins, who was racing in his specialist discipline (and with a RAF mod symbol on the front of his helmet), clocked a time of 50:39 which easily beat his biggest rival Fabian Cancellara, who was three minutes behind him.
Froome, who finished second to Wiggins in the Tour de France clocked a time of 51:47:87. Bradley Wiggins on a charge as he took on the course near Hampton Park Palace
The podium finishes mean Team GB is now on a charge in the medals table after first-place results in the rowing.
Britain has now moved ahead of arch-rivals Australia to 10th.
Swiss Cancellara had been riding with an injured right shoulder after crashing heavily in the men's road race on Saturday. Chris Froome powered his way to the finish and held the number one position for a while Fans showed their support for Bradley Wiggins on the course near Hampton Court Palace Huge hopes of gold had been placed on Wiggins' shoulders
Crowd puller Wiggins was cheered along by thousands of fans who lined the course four deep in many places.
The course snaked from the historic Hampton Court Palace through the roads of Surrey and back again.
Princess Anne was at the finishing line to see another gold for Team GB.
ALSO SEE:

Bradley Wiggins, Team GB's Gold Winning Cyclist, Tell Of Prawn Sandwiches, Vodka Tonic and Not Being A Sir
As he pulled into the finishing stretch fans smashed their hands against the purple London 2012 boarding, which were draped in Union flags.
It was a marked improvement from the rest of Team GB's cycling efforts so far which has only produced a silver medal with Lizzie Armitstead in the women's road race on Sunday.
Praise for Wiggins and Froome flooded through on Twitter. Fellow Team GB cyclist Mark Cavendish tweeted: "As if being the 1st British Tour de France winner didn't make enough history, @bradwiggins just won his 7th Olympic medal! GOLD. #proud."
User Martin Williams tweeted: "#BradleyWiggins like noone else handles the pressure to bring home gold for GB. Give him Sports Personality of they Year now. #wiggold."
Former England player and BBC sports presenter Gary Lineker wrote: "Mr @bradwiggins you are an absolute hero! TDF winner, gold medal winner and Britain's leading medalist ever. Congratulations."
London Mayor Boris Johnson was quick to offer his congratulations, too. He tweeted: "What a day! Bradley Wiggins joins this morning's Golden Girls on a great day for @TeamGB."
Cycling fan Colin Thorne, from London, took to Twitter to urge the Coalition to make Thursday a national cycling day in honour of Wiggins and Froome's achievements.
Bradley Wiggins - A Career In Medals