Thousands of people in Sheffield are preparing for two nerve-shredding days of heptathlon viewing as they pray Jessica Ennis can bring an Olympic gold medal back to her home town.
Despite Ennis's image appearing around the world as the unofficial poster-girl of London 2012, she is still very much based in the city.
She was born in Sheffield, her family lives in Sheffield, she went to university in Sheffield, she is engaged to a Sheffield lad and she still lives and trains in the city. Jessica Ennis will compete in heptathlon events
Now hundreds of local people are expected to congregate at the track where Ennis trains, in the Don Valley Stadium, to watch her journey through the seven events.
A giant screen has been put up in the stadium and the gathering will coincide with a two-day festival of sport and music in the Don Valley called Sheftival.
The event will include bands like The Lightning Seeds, Dodgy and The Beat playing in the Don Valley Bowl and sports events taking place in both the stadium and the nearby indoor English Institute of Sport Sheffield.
Super swept up in the Olympics now #GOteamGB good luck Jessica Ennis!!

— Rachelle Briggs (@rachelle_briggs) August 3, 2012
Ennis started running at the Don Valley Stadium when she joined the City of Sheffield Athletics Club aged 13.
Unusually for a world-class athlete, she still competes for the club in the Northern League.
In 2009, Ennis rose to nationwide prominence when she won the World Championships in Berlin and was welcomed as a hero when she returned home to Sheffield.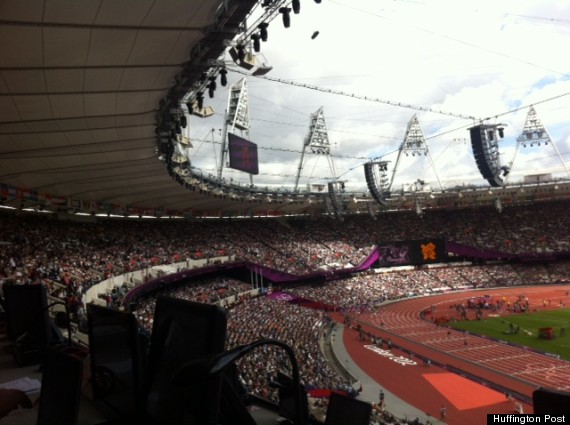 The Olympic Stadium is full this morning despite severe travel disruption
At a civic reception after that triumph, she looked slightly stunned when she was presented with a set of Sheffield cutlery and then looked overjoyed when the council leader added a Mulberry designer handbag.
The city council is keeping tight-lipped about what plans they may have if Ennis wins the Olympic gold tomorrow night.
Later today, her old secondary school is hosting a final "good luck" celebration.
Teachers and pupils from King Ecgbert Secondary School are gathering with the Lord Mayor of Sheffield, John Campbell, to send Ennis their best wishes for the final day of competition.
It's 10am but I think the roof may come off the Olympic Stadium when Jessica Ennis enters in the next few minutes

— Nathan Murphy (@nathanmurf) August 3, 2012
The National Lottery is planning to launch its hot air balloon from the school, in the Dore area of Sheffield, with a Good Luck Jess message which it will fly over the city.
Ennis is one of 1,200 athletes to receive National Lottery funding.
Her mother and father, Vinnie and Alison, her younger sister Carmel, and fiance Andy Hill are expected to watch her compete in London.