Photographer Amy Weston took perhaps the most iconic image of the London riots. The picture of a woman leaping from a burning flat in Croydon was splashed across five of the national newspapers and published on the inside pages of all the others.
One year on, Weston told Huffington Post UK she was disappointed at the lack of recognition the photo had received within her industry, especially in light of the danger she put herself in that night.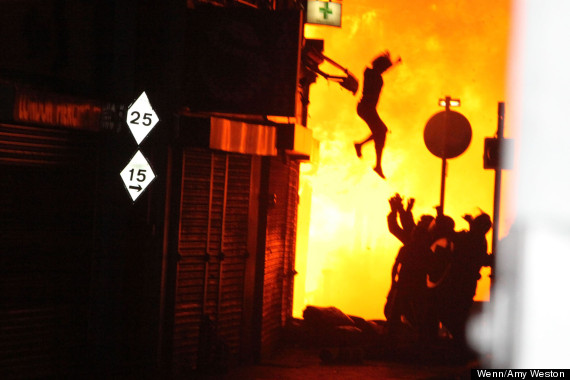 Weston's iconic image
Describing Croydon as a "war zone without bullets" the striking photo was taken amidst screaming and crying on 8 August, the fourth day of the unrest.
"It felt dangerous," the 34-year-old told the Huffington Post UK.
"I was chased by rioters back to my car, and saw people mugging other people for what they had stolen."
Though Weston is originally from Liverpool, Croydon has been her home for ten years. On that night the streets of her adoptive city felt threatening.
"I was only out for 20 minutes or half an hour. It was enough for me."
As Britain's major cities were rocked by arson, violence and looting, the photo was shared hundreds of times across social networks. Writer Toby Young praised the "raw" quality of the photo, saying it made many people assume a member of the public had taken the picture.
The shot was nominated for four awards, including a Pulitzer Prize. Weston, who works for London-based picture agency Wenn, admits she's disappointed it "didn't even come close" to winning.
"I understand why it didn't win, with war photographs and agencies like Getty and Press Association (PA), but it didn't even get an acknowledgement, which has frustrated me over the last couple of months.
Though Wenn are mainly an entertainment news service, known for their celebrity shots, their photographers cover major news events too. She felt she lost out because pictures taken by photographers working for more 'serious' agencies tended to be more highly regarded:
"I'm a female in a man's industry but I'm convinced if I was a snapper for PA or Getty I would have at least been in the running!" Amy Weston, who took the striking picture, poses with the newspapers that published the shot
Despite that, Weston is glad she took the picture that came to embody the chaos and destruction of the London riots .
"There were only three photos but I am so proud I caught it.
"The shutter moves so fast and there's only ever a couple of seconds to catch it. As a photographer, sometimes you come home frustrated because you've missed that one moment.
"Every photographer strives to get an iconic photograph. I'm probably never going to take another one... I would be bloody happy if I did!"
Weston still works for Wenn. Taking that picture gave her more confidence.
"I've been a pap for ten years and some people turn their nose up because they think it's the dog-end of the job," she revealed
"But that photo gave me a boost and a better reputation in the industry."
Weston admits she made a "fair bit" from the picture, and one year on from the riots has invested the money in coffee shop.
"I've wanted to open a coffee shop for about 10 years now and I'm going to show my photographs inside it. The social aspect of it appeals to me. But with all the contacts I've got I'll return to photography after I've set it up."