 Despite desperately disappointing growth forecasts from the Bank of England today, a number of retail sectors are predicted to enjoy an Olympic lift.
Analysts predicted spikes in sales for companies in the leisure, retail and food sectors, as well as some localised wins for smaller businesses.
Here are just some of the companies we predict will be basking in a post-Olympic glow.
London Hotel Chains
It's not just international travellers needing somewhere to lay their head; many Brits are also choosing to stay in and around the capital during the Olympic games.
Sam Hart, analyst at Charles Stanley said: "Hotels will probably have done well during the games period, but it's worth noting that a lot of their normal trade for this time of year from corporates might have been scared off by stories of transport problems and so on.
"We heard from InterContinental yesterday and the hotels in London in the weeks running up to the Olympics were looking a bit soft. Whitbread (which owns Premier Inn) would be a similar story."
However, Clive Black analyst at Shore Capital warned the figures may actually be lower than anticipated. "I'm not sure that London's hotels have had a wonderful games; partly reflecting the pricing policies of the greedy, the warnings of hoards of people leading to many staying at home or leaving London and the fact that most people are concentrated at sports venues away from the centre."
Visa
Being the only credit and debit card company you can use at the Olympics has its benefits, as Visa reported this week. Tourists spent £456.9 million in the UK on their Visa cards, up 8 per cent on the same week last year, according to the card company's statement.
It's not all being spent in the Olympic parks however; spending in restaurants was up 19.6 per cent from £10.6 million a year ago to £12.7 million and even nightclubs benefited,with £2.1 million being spent in late night celebrations.
Domestic consumer spending on Visa cards was also up during the week commencing 30 July at £7.4 billion.
Sportswear Shops and Gyms
Many are predicting a spike in sports clothing as inspired Brits decide to hit the gym, go for a run or join a sports club. Visa says spend on clothing and footwear during the first week of the games showed the largest year-on-year increase at 6.6 per cent.
Charles Stanley's Hart said he expected a "slight pick up" in clothing sales, with Shore Capital's Black suggesting the long term future of the sports market could look more positive.
"There could be a reasonable legacy for the sports market in general, depending upon how each sport seizes the opportunity. I should have thought that specialist online sites may be the real winners," he said.
Bike shops Olympic cycling hero Victoria Pendleton launched her own range of Halfords bikes
Given the storming success of Team GB's cyclists this year, it's no surprise that retailers including Halfords and Evans have witnessed a renewed interest in bikes.
Halfords said sales of Boardman road bikes were up 12 per cent over last month and demand for the retailer's own brand Carrera Tour de France road bike has soared by 18 per cent, during the first week of the Olympics.
Demand for cycle clothing also increased as people return to the roads following the dismal start to the summer. And Victoria Pendleton's range of bikes sold 70% more in the past month, compared with June.
Evans meanwhile was also optimistic about future sales. Although it had only published figures relating to the period around the Tour de France, it expected an Olympics boost not only from inspired cyclists but from new cyclists worried about transport problems in the city.
The biggest increase in sales was reported to be at the £700-£2,000 purchase value.
Food and Drink
The combinations of a few consecutive days of sun and the desire of people to watch the Olympics in a communal spot could well have helped the beverage industry.
While Coca Cola and Heineken dominate the Olympics advertising for drinks as the official sponsors, any increase in sales they may have seen is likely to be matched by the amount they have spent in advertising.
Phil Carroll, beverage analyst at Shore Capital, commented: "Coca-Cola was actually losing market share to Pepsi in the run up to the Olympics so it'll be worth looking at whether Coca-Cola's sponsorship has a positive effect on its sales."
Carroll also said sports drinks could see an increase in sales off the back of the Olympics. These usually fall under a large category which includes stimulant drinks, such as Red Bull, which has been outperforming the rest of the beverage market for the past 18 months.
"The south of the UK may have witnessed better alcohol and soft drink sales, given the weather's been better, but they've been through a sustained period where they've had capacity and volume waiting to be sold." Coca Cola is one of the key Olympics sponsors
The other big winner during the Olympics is likely to be takeaway firms. Large televised events typically lead to a hike in orders for pizzas, curries and Chinese takeaways as people veg out in front of the box.
"With the success of the British team I sense that television audiences are substantial. So, supermarkets and take-aways are the order of the day. Pubs, cinemas and restaurants may not be so happy from a financial perspective with Team GB," said Shore Capital's Black.
A spokesman for pizza delivery firm Dominoes commented: "The home is our point of sale, so key Olympic events which are being televised provide a good reason for people to stay in and order a pizza."
Small retailers
It's not just high street giants enjoying the feel good factor either; a number of small and medium sized businesses have also flourished during the Olympics.
The Federation for Small Businesses started a social media campaign, encouraging SMEs to tweet using the hashtag #open4biz and to post their firms on its crowdmap.
One company making the most of its Olympic Associations is Cast Iron Air Bricks - a small firm which was invited to produce air bricks for the athletes' accommodation in the Olympic Village.
Speaking exclusively to the Huffington Post, managing director Adrian Budd said his sales had soared from £43,000 in 2009-2010 to £230,000 in 2011 to date.
"We started as a tiny online retailer around 2007. The company has grown rapidly in the last couple of years , thanks largely to investment in innovative new cast iron products, made possible by the large £30,000 order we had supplying the Olympic Village.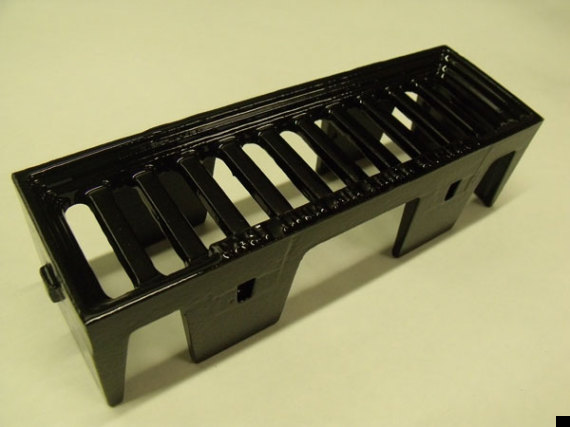 One of Cast Iron Air Bricks' products
"Our marketing via mail and e-newsletters has focussed around our sales to celebrity sites and properties  such as the Olympics and Buckingham Palace. Architects have since highlighted our products in many construction and refurbishments, especially in and around London."
Budd added the knock on effect to the UK foundries his firm uses has been huge. "In two years we have placed more than 50 orders to West Midlands Foundries and 30 orders to Scottish foundries."