Jeremy Renner admits the idea of "taking over" from Matt Damon in The Bourne Legacy feels like "such a weird thing".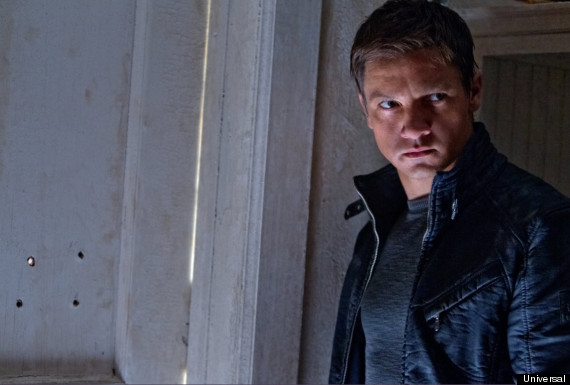 Jeremy Renner takes over from Matt Damon in the latest instalment of Bourne
"I feel like he's taking a break, and I'm doing something that is a little side-track," he told HuffPostUK recently.
"I had a brief conversation with him, and told him I was crazy about the idea of working with him in some way, whether it was within this series or something else.
"I don't know if we'll be able to do something like that. We could be adversaries or something, but that's not my decision to have."
Renner is no stranger to the action genre, with his Oscar-nominated role in The Hurt Locker leading to increasingly centre-stage roles. After his sidekick stint with Tom Cruise in the well-received Mission Impossible: Ghost Protocol, he took his place alongside the other Avengers in the mega-Marvel offering, as Hawkeye, his relatively mundane super powers consisted of a dab hand with a bow and arrow.
More: Jeremy Renner Tells HuffPostUK: 'It's A Strange Feeling When Tom Cruise Calls Your House'
So he was well primed to step into action as another highly-trained operative, Aaron Cross, when the Bourne producers came calling, and he promises it won't disappoint fans of the original trilogy…
"They wanted to keep the fans happy, with the franchise.
"It's shot very similarly, same tone, same place, but with a whole set of spies. Tony Gilroy who wrote all the Bourne stories, and also directed Michael Clayton, is directing this. It's a treat so far..." (Renner was about a third of the way through filming when he spoke to me, the film is released on Monday.)
MORE: Are The Bourne Films The Best Conspiracy Thrillers On The Big Screen? Vote For Your Favourite Here...
Renner's co-star is Rachel Weisz, who refuses to be drawn on comparisons with a certain other super-spy making his way to the big screen this year. Weisz, married to Bond actor Daniel Craig, says she couldn't choose between the two – "split loyalties," she explained to the Times magazine.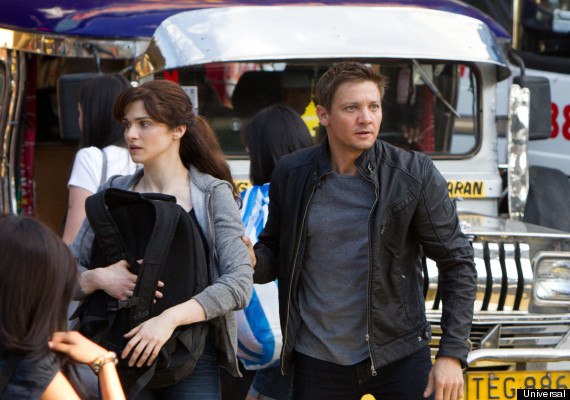 Jeremy Renner co-stars with Rachel Weisz, a role which has led to 'split loyalties' for the actress
Renner, with no such problem, is happy to reflect on the differences between the two:
"James Bond is still happening, Daniel Craig has reinvented that. Bond has been through several incarnations, and it has a whole new tone, it's a lot less camp, lot less winky-winky.
"It's a little more visceral now, with a sexy sheen glimmer to it, that Bourne doesn't have."
The Bourne Legacy is in UK cinemas on Monday. Watch the trailer below...
What's your favourite conspiracy thriller?