Manchester United manager Sir Alex Ferguson has said he is baffled at Arsenal's stance over Robin van Persie, as the Red Devils continue to persevere in a bid to sign the striker.
Ferguson admitted two weeks ago United had made a bid for the Dutchman, which was rejected by the Gunners.
Yet the Scot, whose candour on namechecking a possible signing whilst at another club is uncharacteristic, again addressed United's desire to bring Van Persie to Old Trafford after Wednesday night's 0-0 friendly draw with Barcelona in Gothenburg, Sweden.
"I can't give you any more information," he told the club's in-house television channel MUTV. "We have made a bid and they've been trying to negotiate with other clubs.
"We just have to persevere. Hopefully it will come our way. We're trying our best but there's no progress at this moment in time."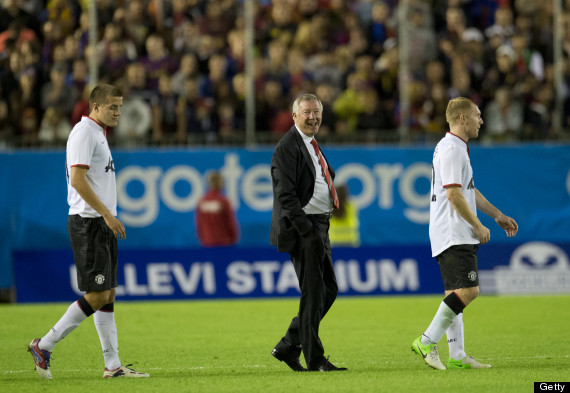 A relaxed Ferguson after United were beaten on penalties by Barcelona Wednesday night
Ferguson then elaborated on the issue when he criticised Arsenal's apparent reticence over the transfer saga.
"I don't have a gut feeling on it at the moment, I must admit. We're not getting any breakthrough with Arsenal. It's difficult to say why they're operating this way. I don't know what their thoughts are because they're not giving anything away."
The last player to transfer between the two clubs was Mikael Silvestre in 2008, after he made just six appearances during an injury-hit campaign when United won the league and European Cup.
Viv Anderson, Ferguson's first-ever signing as United boss in 1987, is the last player to move from north London to M16.
Van Persie is believed to favour a move to United, while Manchester City manager Roberto Mancini claimed this week the club would not be signing the Holland international.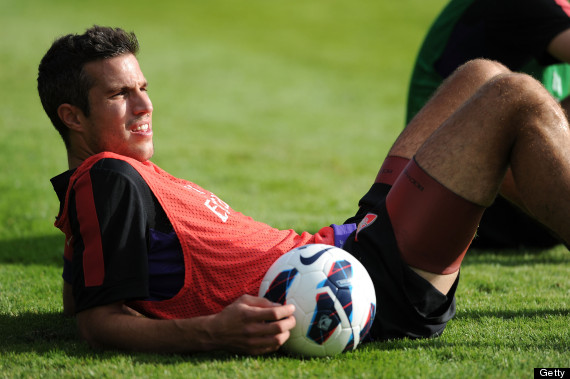 Van Persie in Arsenal training on Thursday
So unusually frank has Ferguson been about United's transfer targets that some have accused his tactics of appeasing supporters.
United's flotation on the stock exchange was recently announced to much anger from many supporters disillusioned under the Glazer family's debt-laden ownership of the club.
Targeting 29-year-old Van Persie would also represent a breakaway from the Reds' transfer policy over the last four years. Since Dimitar Berbatov, then 27, was signed for £30.75m in 2008, the club have invested in young players. The oldest player United have signed since Berbatov has been Anders Lindegaard, who was 26.
United have missed out on the signing of Lucas Moura after the Brazilian completed a move to Paris-Saint Germain for a staggering €45m.
Currently preparing for Brazil's London 2012 Olympics final against Mexico on Saturday, Moura was another player Ferguson admitted United were attempting to sign last month.