Airport security staff scanning luggage x-rays were stunned to find the the outline of a human being amongst the suitcases.
But this was no attempt to smuggle a person into another country, rather it was a drunk Norwegian tourist who fell asleep on a baggage belt at Rome's Fiumicino Airport.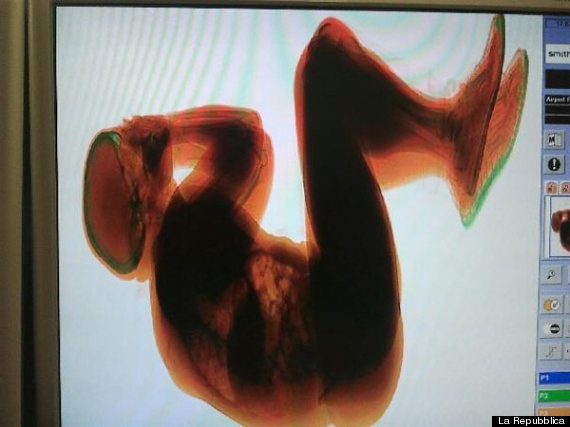 Just having a snooze: The tourist was sound asleep as he passed through the airport's powerful x-ray machinery
The unnamed 36-year-old had apparently been drinking heavily when he arrived at Terminal 3 to check in for a flight to Oslo, Italian daily La Repubblica said.
After finding no one at the check-in desk, he is reported to have leapt across the counter and loaded his luggage onto the belt before falling asleep next to it, The Telegraph said.
SEE ALSO: Baby Discovered In Sharjah Airport Security Scanner (PICTURES)
He wasn't roused as when the belt began to move and proceeded to trundle along it for 15 minutes before officials spotted his curled-up body on the x-ray monitors.
Police took the man to hospital to undergo medical checks after his exposure to the powerful x-rays and he is now facing charges of causing alarm after he was reported to prosecutors at Civitavecchia.
A senior police officer insisted the incident had not exposed any security weaknesses and that it was not the first incident of its kind involving "drunks or people with psychological problems."
Eels On A Plane! Or How Air Passengers Try To Smuggle The Strangest Things...(PICTURES)