Furious market traders who spent £25,000 on stalls for an "Olympic" food market claim they were duped about how many people would come past their stalls - and the lack of customers have left many heavily in debt.
The head of the business group that helped organise the 'Olympia Market' in Leyton, close to the Olympic Park, has resigned after the "failure" of the ethnic food market.
More than 4,500 people have signed a petition on Change.org, asking for money back from North London Business, which sold them the pitches. Its chief executive Gary Ince has resigned following the debacle. Food traders in east London have struggled to make money from the Olympics
Stall owner Donna Thomas, who has run a catering business for 30 years, said: "I couldn't wait for the Olympics to arrive.
"It's a real chance for East London, where I've lived all my life, to show the world what a great place it is. So when I was offered the chance to be part of it by having a food and drink stall close to the stadium, I jumped at it. 
"More than 30 of us - all small business people from the local area - have paid an average of £25,000 for our stalls.
"We were told by North London Business - who sold us the pitches - that there would be around 80,000 people walking past our stalls every day as it would be a main route for spectators walking to the Olympic Park. 
"Instead of what we were promised, spectators were being directed a different way and only a handful of people walked past.
"I took £110 in the first three days  - myself and all the other stall holders have been forced to shut up shop. 
She said she believed they were "lied to" about how many people would use the route to the stadium.
"Many have borrowed the money and refused other jobs as we were focusing on this opportunity.  
"Now, some of us are on the verge of ruin - days have passed and we've sold nothing, even having to throw away good food.
"I know that this was a business deal, and like anything, it comes with some risk.
"But what we were sold and what we actually got were totally different -- just guesswork and empty promises that lead to us investing in something that wasn't real."
She also blamed Waltham Forest council, who initiated the food market near Leyton Asda carpark and contracted it to North London Business - and then published a route to the Olympic Park which told visitors to go a different route.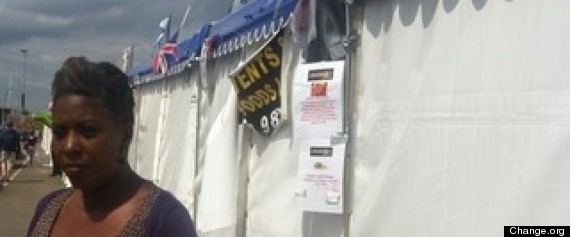 Stallholder Donna Thomas at the ethnic food market
A council spokesman told The Huffington Post UK that the failure of the market was not their responsibility, and laid it at the feet of North London Business.
"North London Business and their partners Skateco are solely responsible for the success of their market," he said.
"Following a tender last year NLB and Skateco were granted a concession to manage a Games Time Food Hall Event. This meant that Waltham Forest would be able to showcase the borough's diverse population through a food event.
"NLB and Skateco won the ability to locate, organise, manage and run the event, receiving their income through their contracts with stall holders.
The council has paid nor received any monies from these organisations."
He said that visitor numbers had been "lower than expected" and told The Huffington Post UK that Leyton station, on the central line, had been an overflow station for Stratford and the Olympic Park, but because Stratford had coped so efficiently, it had not been necessary to direct visitors to Leyton.
He admitted the council had published a map for visitors that did not direct them through the market, but said the market had been publicised on other materials, and in the council's newspaper.
In an earlier statement to the East London and West Essex Guardian, NLB said: "The board of NLB recognises the disappointment arising from the apparent failure of this project and has, as a consequence, accepted the resignation of Gary Ince."
Speaking to the Huffington Post UK, Jennifer Pooran, commercial manager of North London Business, refused to comment on the resignation of Ince, their chief executive, or whether NLB would be returning the stallholders money, claiming partner company Skateco would be making all the public comments.
On various websites, Ince is listed also as the secretary of Skateco. The company's managing director Brian Jokat told The Huffington Post UK: "It will become clear very soon who is at fault. We are all in tough positions, and we are trying to do our best on behalf of the traders.
"We are all tired of it, and we are disappointed. We are meeting urgently with the council."
The company said in a statement: ""Like our traders, we have put a great deal of money, time and effort into this project, and we are very disappointed at the outcome.
"When Waltham Forest Council first proposed the Marshall Road Market idea to us, we were excited at the potential benefits for small businesses in the local community to be a real part of the Games.
"Our decision to become involved in the project was based on the council's estimated footfall numbers for the Marshall Road area.
"All of this would have generated significant passing trade for the market and its stalls but, sadly, none of it has been delivered in reality. The market simply hasn't been given a chance to succeed.
"We feel badly let down and fully understand that our traders do too. We have requested an urgent meeting with Waltham Forest Council. Meanwhile we have sought legal advice and will update stall holders as soon as we can."