Food and photography are our two favourite things. So imagine our delight when we stumbled across Christopher Boffoli and his Big Appetites series.
The images show tiny figures next to various foods, playing with our perceptions and making the food look larger than life.
Inspired by the Chapman brothers' work In Hell, the artist uses tiny figurines to address "to get people thinking and talking about issues such as North American overconsumption, portion sizes and food spectatorship".
The artist, who lives in Seattle, Washington, started talking pictures in his teens and took up professional photography after a few life-changing experiences made him reconsider his career.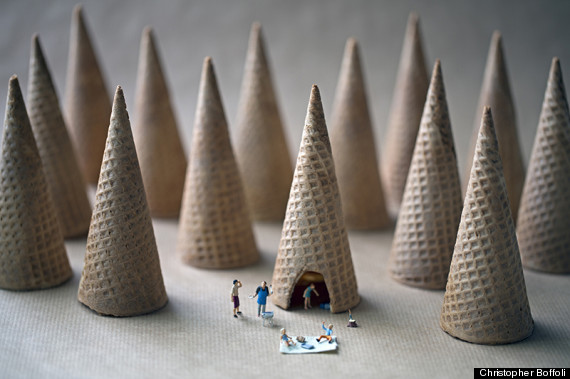 Playing with his food
Speaking to Huff Post UK Culture, he said: "The concept is especially resonant with children because as a child you live in an out-of-scale adult world. And you exercise your imagination around a world of toys that are even further out of scale with the world around you. As a child I was an avid collector of Matchbox cars, a model railroader and a builder of plastic models (cars, ships, planes). I was fascinated with tiny, meticulously detailed things.
"Food was also a conscious choice as one of the components as it can be very beautiful – in terms of texture and color – especially when shot with natural light and macro lenses. Combining what is essentially food and toys makes the work instantly accessible to virtually everyone. Regardless of language, culture and social status, all people can identify with toys from their childhood."
Boffoli is currently working on a book, exhibiting internationally and has greeting cards available in for sale in the UK.
The artist's work is also on display in Liberty's department store, London.