Barcelona and Real Madrid may have both been absent from this year's Champions League final, it's the Spanish heavyweights are still regarded as the two best teams in Europe.
A geographical and historical rivalry, they are the most successful clubs in Spain, have won 13 European Cups between them and boast the world's two greatest footballers in Lionel Messi and Cristiano Ronaldo.
Barça fans will tonight bear banners at Camp Nou clarifying they are Catalan, not Spanish. Irrespective of their squad dominating La Roja (including new signing Jordi Alba, Barcelona had six starters in the European Championship final), the politics remain the same.
It's ostensibly a contrast of styles, too. Madrid, unwilling to shake off the Galacticos stigma which saw them break the world transfer record thrice this century, are seen as overly physical and doyens of financial doping by cules. Barça, not averse to shelling out tens of millions themselves, are derided for their sanctimonious self-righteousness.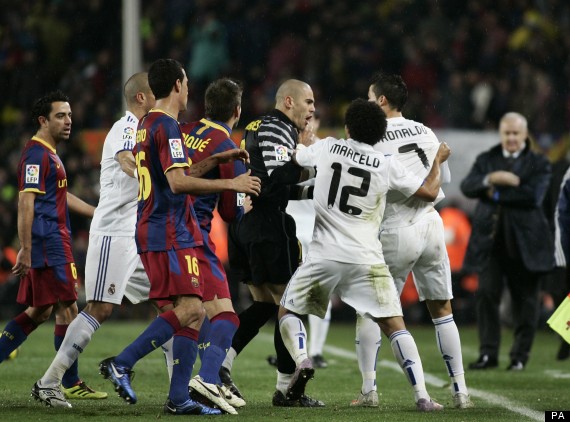 Ballyhoo in Barça
Two years into his Real Madrid managerial career, José Mourinho's return to Spanish football has been akin to pouring petrol onto fire. The enmity has intensified to such an extent between Madrid and Barça over the past two seasons that the harmony within Spain's national team was in danger of becoming a casualty.
What hasn't helped is the number of times they have played one another. In Mourinho's first campaign, the two teams faced each other five times - with four of the fixtures within 17 days. Madrid had a player sent off in all but one game during that time and had already seen Sergio Ramos dismissed during the 5-0 loss to the Blaugrana in November.
Despite not playing each other for three months and 13 days, the fire rose in the sides' Supercopa clash last year, as an excellent 2-2 match in the first leg at the Santiago Bernabéu Stadium was followed by carnage in Catalonia.
2011 FIRST LEG: REAL MADRID 2-2 BARCELONA
Another ding-dong affair played out just three days after the draw in Madrid, Messi pounced in the 88th minute to give Barça a 3-2 lead on the night and a 5-4 aggregate advantage.
2011 2ND LEG: BARCELONA 3-2 REAL MADRID
Cesc Fàbregas had just arrived to make his debut in what was an inhospitable inauguration. After assisting Messi he bore the brunt of a frustrated challenge from Los Blancos left-back Marcelo in front of the touchline. Marcelo was in danger of breaking Fàbregas' leg, but all hell did break loose.
The touchline vicinity didn't help and as players, staff and substitutes squared up to one another, Mourinho decided to get physical too.
Making a beeline for Tito Vilanova, he poked Pep Guardiola's assistant in the eye. The Portuguese was fined a paltry €600 for his surreptitious act, carried out while those around him were distracted with anyone and everyone. It was bad enough when Guardiola theatrically reacted to a shove from Ronaldo during the 5-0.
GUARDIOLA FEIGNS AGONY
There were five more Clásicos during the season. Barça knocked Madrid out of the Copa del Rey 4-3 on aggregate while Madrid ended their enemy's domestic dominance with their first title in four years. Guardiola ended his four years as coach by winning the Copa del Rey, making this evening's encounter possible.
And with Guardiola gone who should be his replacement in the dugout but Vilanova. Maybe he'll bring goggles.