Stoke City fans again booed Arsenal midfielder Aaron Ramsey on Sunday, two-and-a-half-years after he suffered a career threatening injury at the Britannia Stadium.
Ramsey's leg was broken in six places following a challenge from Ryan Shawcross when the two teams faced one another in February 2010, with the English centre-back sent off for the tackle.
Thrice Ramsey has played at the Britannia since his injury and thrice the home fans have booed him due to the fall-out from Shawcross' leg-breaker. Shawcross checks on Ramsey after breaking his leg
Asked about the home fans' behaviour, Gunners manager Arsène Wenger sounded unsurprised.
"Its disappointing. I don't see what the boy has done wrong. He was out for a year, he's never said anything," the Frenchman opined at his post-match press conference.
Potters fans also greeted Ramsey's introduction as a second-half substitute by hollering Shawcross' name.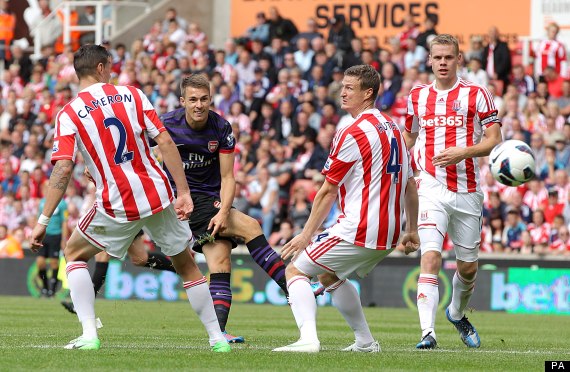 Ramsey has a shot at goal at the Britannia
After the February 2010 incident, Shawcross sent a text message of condolence to the Wales captain but the pair have never since exchanged words off the pitch.
Chris Coleman, the Wales national team manager, attempted to persuade English-born Shawcross to represent the Dragons due to serving five years compulsory education in the country this year.
Ramsey was consulted on the possibility of leading Shawcross, however the former Manchester United trainee rejected Coleman's invitation last week.