A Chinese wine connoisseur has brought a new meaning to getting smashed - by throwing a £10,000 bottle of French wine on the floor at a high-end wine festival.
The unnamed wine aficionado, who was pictured looking stern beneath reflective aviator sunglasses, smashed the bottle in a show of patriotism, hoping the stunt will show that supporting Chinese-produced wine is "priceless" - according to local media reports.
The Beijing-based bidder bought two bottles of French white wine for around £20,000 at a wine festival in Changli, a wine-producing region in the north of the country, according to the blog Tea Leaf Nation.
The wine was said to be Emile Beyer Grand Cru Pfersigberg 2007.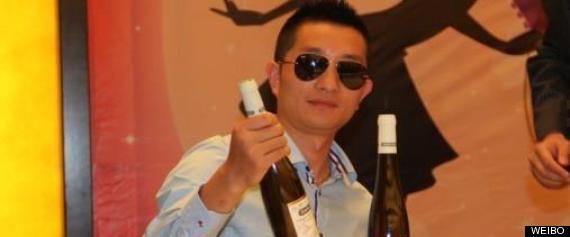 The mysterious buyer smashed one of his bottles of expensive wine
He smashed one of the bottles on the ground for a stunt, leaving many to speculate it was a ruse to jack up the price of the other bottle, or just shameless attention-seeking.
The stunt was ridiculed on Sina Weibo, China's version of Twitter, which Tea Leaf Nation translated.
One reader said: "This is not patriotism, this is stupid show-off. If he really loves the country, he can use the money to support students who dropped out of college because of poverty or other disadvantaged groups, and that would be meaningful.
"But doing this only shows how ignorant and shallow he is."
Another speculated: "The other bottle is now worth more than RMB 200,000 (£20,000). People in the antique business play this trick a lot."
Others questioned if the stunt might have been pure publicity for the wine festival, and the region's produce.
Beer has always dominated the Chinese market, but wine is growing in popularity, with Chinese wine blogs, like "Grape Wall Of China" attracting local readers.
French wine and champagne producers Chateau Lafite, Pernod Ricard SA and Moet-Chandon have invested in planting vineyards in China, and wine grown in vineyards in Ningxia, Gansu and Shandong provinces is growing in popularity.
The Chinese government imposes a 50% tax on imported wine, making European and American wine prohibitively expensive.