Martine Wright, a survivor of the 7/7 bombings, made her Paralympic debut on Friday as she represented Team GB in the preliminary round of the women's seated volleyball against the Ukraine.
Wright, 39, was 3ft away from suicide bomber Shehzad Tanweer on the morning of the attacks when he detonated a rucksack full of explosives on the tube near Aldgate station.
Wright lost both her legs, 75% of her blood and was in a coma for ten days. Only the actions of off-duty police officer Elizabeth Kenworthy, who tied tourniquets around her legs, saved her life.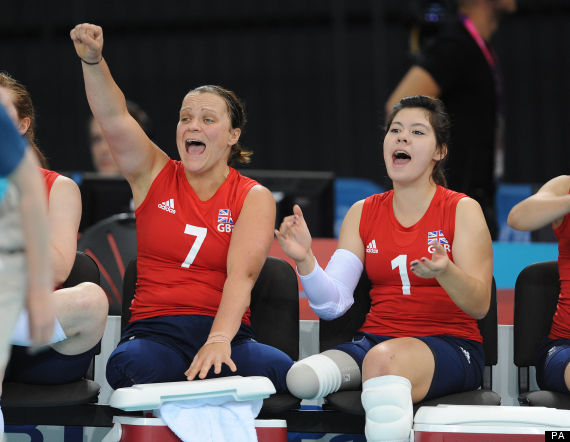 Martine Wright (left) cheers on her seated volleyball teammates
Seven other people on the train died.
Wright had spent the evening before the attacks celebrating the announcement that London would be hosting the 2012 Olympics.
Wright believes that her life has come full circle. She told the Guardian: ""There's definitely something. I don't know whether it's spiritual or it's fate, but I really truly believe that I was meant to do this journey.
"I definitely cannot ignore the fact that the day before I lost my legs I was celebrating that London had won the Olympic bid," she said. "The last thing I was reading on the tube in the newspaper was about the Olympics.''
Wright is competing in Team GB's first ever seated volleyball team.
Unfortunately the inexperienced team were no match for the European Champions Ukraine this morning as they lost 25-9 25-20 25-14.