Banning a university from recruiting non-European Union students creates "an appalling image" of Britain around the world, MPs heard on Monday.
London Metropolitan University was stripped of its highly trusted sponsor status (HTS) last week after the UK Border Agency (UKBA) said university officials failed to monitor students' attendance.
The decision, which removes London Met's right to sponsor students from outside the EU, means it can no longer authorise visas and could leave more than 2,000 undergraduates facing deportation.
The government defended the move saying many students had no right to be in the country and accused the university of "failing to address serious and systemic failings" identified six months ago.
But Labour MP Jeremy Corbyn has claimed the withdrawal of HTS would deter foreigners from studying in the UK.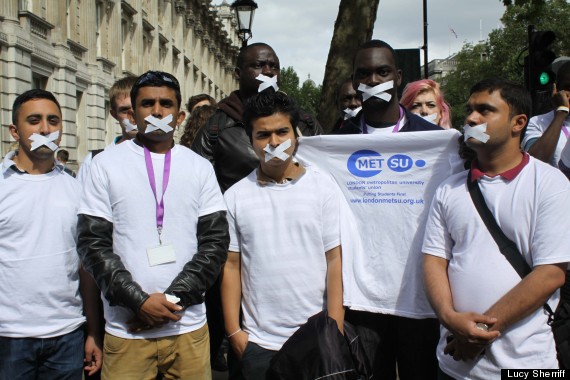 Around 40 students gathered outside 10 Downing Street to hold a silent protest following the decision
He said: "The image around the world is one that is really quite appalling because it suggests that overseas students may well be deported from this country because of a decision made by UKBA for which there is no detail given as to the basis of that decision."
The Islington North MP said the move jeopardised London Met's future and urged ministers to allow current students to finish their courses.
He added: "Every university in this country has cause to be concerned by this decision from UKBA."
But, answering an urgent Commons question as MPs returned from the summer recess, immigration minister Damian Green said: "UKBA found systemic failures which meant that London Met had not been able to ensure the appropriate admission and tracking of students from abroad."
Mr Green said allowing London Met to continue awarding visas would have undermined the regime.
"Institutions must comply with the rules, whether they sponsor 10, 100 or 1,000 international students. This includes having a system to check that students have the right visas to study in the UK and monitoring the attendance of students," the Tory minister told MPs.
"Education providers have to meet strict standards ensuring they provide high quality education and take their immigration responsibilities seriously."
He said officials would start writing to affected students on 1 October, giving them 60 days to leave Britain or find another university to complete their studies.
Shadow immigration minister Chris Bryant said Labour supported the crackdown on bogus courses but warned the Government needed to support legitimate students.
He said: "We need to foster an international reputation for high value education, not undermine it.
"The government has acted at the most disruptive time of year in the most disruptive way - yet more ministerial incompetence. Legitimate international students bring in £3.3 billion in to this country's economy."
In response, Mr Green said London Met did not know the status of its students and that is why the government needed to take action. Damian Green suggested last week London Metropolitan university was stripped of its powers to authorise visas because its students cannot speak a good level of English
Labour former home secretary David Blunkett said the government's decision to target London Met sent out the wrong message to overseas students.
He said: "Isn't the message that is being sent out to the global education community that this country above all is not welcoming those students who would have previously seen Britain as their first choice for a university education?"
Mr Green replied: "The message that is being sent out is absolutely clear - Britain absolutely welcomes the brightest and the best."
The Lib Dems also criticised the move. Mike Crockart (Edinburgh West) accused the UK Border Agency of "heavy-handed, rhetoric-induced action".
But the minister said the decision to act against London Met was the "opposite of rhetoric". He said: "Instead of years of immigration ministers from the previous government talking tough and acting weak, we now have a government that is acting tough as well."
Senior Labour MP Keith Vaz, chairman of the Commons Home Affairs Select Committee, said he visited the university this morning and found only one student had been offered an alternative course.
He said: "He has to repeat his year, pay another set of fees and pay the UKBA visa fee."
Labour MP John McDonnell (Hayes and Harlington) said legitimate students at London Met should be allowed to complete their courses.
He said: "The issue of existing students seems grotesquely unfair. Term starts in a month's time, they will not receive their letters until after 1 October, they will then have 60 days and then more than likely not be able to find another institution ... to take them.
"Could we not at least, for those students who are found to be legitimate ... continue their studies at London Met and complete their courses. Otherwise they will all lose at least a year."
Green replied: "They don't get their letters of curtailment for a month but obviously they know now that they need to find a new course and the taskforce is operating now, so your last point that they will waste a year, I hope, is not true in the vast majority of cases. That's why I set up the taskforce."
SEE ALSO: