A new store opening, multiple revenue avenues and improving cash returns to shareholders has led to improved City positivity around one of Britain's best known department stores.
Debenhams has been praised by a number of analysts ahead of its new Milton Keynes store opening - due to be shown to investors on Friday - with the experienced management team and multiple sales streams impressing investors.
In a note to investors, Investec's Bethany Hocking said: "Debenhams is a key sector pick, with multiple growth avenues (new stores, sales uplifts post refurbs, online and international), improving cash returns to shareholders, and a resilient business model."
This marks a vast contrast with Britain's other major midmarket retailer Marks and Spencer - last week M&S opened a new flagship store in uber-retail outlet Cheshire Oaks, but Investec remained unimpressed and claimed its underlying performance was still weak.
M&S announced at the time it had scaled back its sales growth forecasts "as expected", after reporting its worst trading in clothing and homewares for three years in July.
Investec's Hocking said last week that the key for M&S would simply to be to "produce better results".
Director of retail at Mintel Richard Perks said M&S's continued struggle was likely to benefit Debenhams, saying the latter was "at the right place at the right time".
"The business is recovering from its spell under private ownership and post the rights issue has money to invest in the chain. I think it is doing a better job," he explained.
"(Debenhams) has successfully moved into the gap in the market between Next and M&S; It provides for older people a mix of competitive prices and fashionability in merchandise that is easier to wear than, say, TopShop.
"Its performance hasn't been great since 2009, but with M&S clearly struggling it is well placed to benefit - and its success will make recovery at M&S even more difficult." Marks and Spencer launched a new advertising campaign today - and there was a number noticeable absentees from the model lineup.
The brand has ditched all of its celebrity faces for its latest clothing campaign in favour of a range of models to mirror its "broad customer base".
A total of 10 women ranging in age from 20 to 57 and from size 8 to 16 will model the retailer's Autumn 2012 collection in a campaign which "firmly makes the clothes the hero of the piece", it said in a statement.
M&S said the new styles would reflect "military, ladylike, geometric and texture" trends.
Debenhams meanwhile has favoured turning its designers into the stars of its adverts.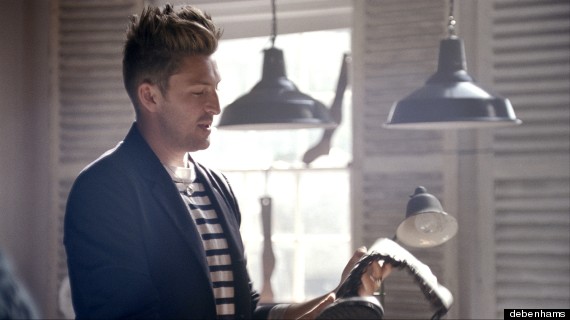 Under the banner 'Life Made Fabulous', the adverts star designers Julien Macdonald, Ben de Lisi, John Rocha and for the first time, Henry Holland, pictured above.
Each advert opens with a designer in their studio, adding the finishing touches to a garment.
There's then a close up of the product before the scene shifts to the same item being worn in real life situations.
Where do you prefer to shop? Tell us below.