"I don't go into web chat rooms. My friends tell me I might benefit from going in there, read all the lovely comments, and I just think no f***ing way, it's terrifying… "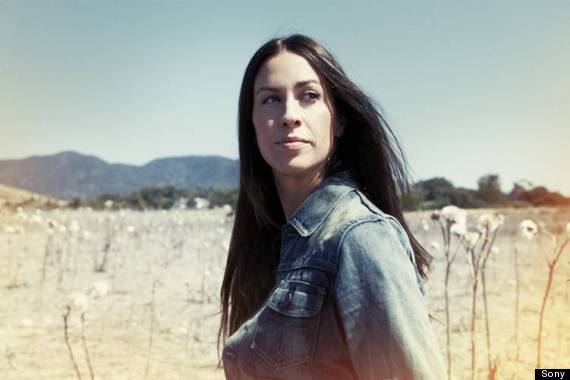 Alanis Morissette is back with a new album, and tells HuffPostUK being "angry" was a limiting classification
Alanis Morissette is in full, articulate flow. Having banished a pair of publicists so we can "just chat", the Canadian singer-songwriter is as open and forthcoming as you would never expect her to be, given her complex attitude to celebrity, openness and even intimacy, documented through the years, not least through her own music.
"I just do not need to see this"
She reveals one part of touring she likes best is "meeting people, talking" – and she's on full reflective throttle today…
"You're dealing with strangers who don't have to own their projection, they just get to go for it. I wasn't steeled, it was very hurtful a lot of stuff that I read, to the point that I had post-traumatic stress disorder that I'm still unravelling.
"There were websites erected to figure out how to kill Alanis. I just do not need to see this, it's not good for anybody."
And here it comes, the Alanis USP… her ability to look at even something as basic as internet character assassination, and find a lyrical-meets-spiritual way of both assessing it, and conveying it.
"Part of being famous is offering up this blank screen upon which people can project everything, and it's a sacred act, putting yourself out there, in a way that lots of celebrities aren't steeled for, they're not prepared for the degree to which people define them. I certainly wasn't steeled for it."
"This idea that I'm angry all the time"
Morissette must be one of the artists most roundly put in a box of recent times, ever since her Jagged Little Pill album, released when she was 21, spawned anthems such as You Oughta Know, Ironic and One Hand In My Pocket. (WATCH our Exclusive live version of Ironic below...)
It sold 33 million copies across the world, but also marked her as an irredeemably angry young woman with a guitar and a chip on her shoulder. She describes this now as both extreme and accurate…
"Limiting me to that one thing of being angry just made me more angry," she laughs.
"The tendency to give somebody just one dimension is what we do when we can't handle something or control it, because that's terrifying, so yeah, it was extreme, this idea that I was angry all the time, but there's always a one-dimensional aspect on every record. The next one was that I'm ALWAYS spiritual, which friends and any boyfriend would attest wasn't the case, and now it's that I'm happy…" she shrugs… "Okay…"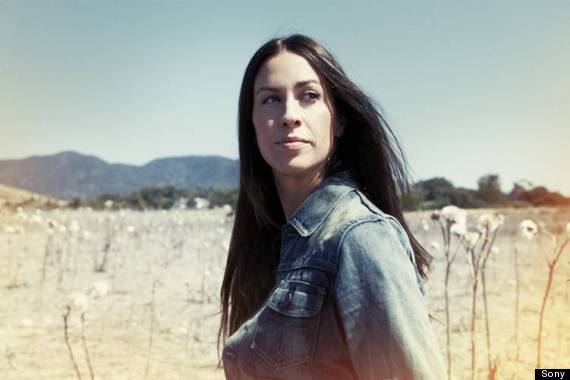 Alanis Morissette - doing a good impression of someone very content with her lot, even if she laughs at the media labelling her once again...
Even if this is a media-created cartoon, there's no doubt of Morissette's contentment – she glows when she speaks of her husband rapper Mario "MC Souleye" Treadway, and their 18-month-old son Ever. One song, Guardian, on her latest album Havoc and Bright Lights, is specifically about the responsibility she feels towards her family, while another, Till You, is her ode to "monagamous commitment, which I think goes uncharted in favour of the glamour of one-night stands".
"He knew what he was getting into"
It must be strange for any man to enter the world of Alanis Morissette and her very public catalogue of personal and romantic memories but, according to the singer, her husband remains undaunted:
"I'll say, 'Are you ok with me having a photoshoot with our son?' He says absolutely because he knows why I do what I do.
"My husband surprises me all the time, because I've always been transparent. But if there's a reason for sharing it, to comfort someone, or if it will de-stigmatise something or reduce someone's shame, then I'm happy to share it."
He knew what he was getting into, then? "It's the only way I could have gotten married. I wasn't going to clip my wings and put a ring on my finger."
"Face to face is terrifying for me"
If the pointing finger of the press was a lot to handle for an evolving teenager, was the music a place of solace and expression? Yes, and no, it seems.
"While other people found it to be a wildly therapeutic experience, for me, while it was cathartic, temporarily, I would sing You Oughta Know night after night, but I still had no real peace around that subject.
"The healing only came when I somehow managed to apply what was in those songs to my day-to-day life. Typically, I would run away from conflict and write about it, that was easier than staying and dealing face-to-face with humans, that's terrifying for me."
It seems Alanis, the musical torch-bearer for dysfunctional relationships for a generation of young women, has increasingly made peace with that whole version of herself (I told you she was in a forthcoming kind of mood)…
"As an alpha archetype, I had so much apology for the kind of woman I was, and I would constantly try to be someone other than who I was in all my romantic relationships, trying to shrink and it not working, so it would never last very long and there would be a break up every time, I would get depressed and then angry. It's not even the guy's responsibility, it's just a handshake and an agreement to play this out."
"Imperfectly perfect"
So if she's now officially happy, is there a worry that the creative anger-founded well will dry up – that like many artists who ride their best wave as prodigal youngsters, Morissette might pick up the pen one day and discover there's nothing else to talk about?
"No," she says simply.
"I was probably most concerned after Jagged Little Pill, wondering if all the water had dried up, but as soon as I started writing again, that was it. It's hard for me to keep up with how much I want to comment on. I've always been really opinionated, and mixed with being really open hearted, open to people shifting what I think all the time, but I like to speak with conviction. I think somewhere along the way, I volunteered to be on the front line and have my head chopped off."
Which means staying in the public eye for the time being? She shrugs and agrees it's an inevitable part of "the most fulfilling part, which is writing a song"…
"If that were the end, that would be really depressing for me, but if someone sees me looking dishevelled and the message that sends is that it's ok to be perfectly imperfect, then I frame it to make it work for me.
"There's pretty much nothing that happens in the public eye that I don't find some way to see it as a form of service. That might be a survival strategy but it's working."
Alanis Morissette's Havoc and Bright Lights is out now. Click here to listen and order. She is coming to the UK in November. Details here…
November
Weds 28 - London - The O2 - 0844 856 0202
Thurs 29 - Nottingham - Capital FM Arena - 0843 373 3000
Fri 30 - Liverpool - Echo Arena - 0844 8000 400