Masked fans of Russian punk collective Pussy Riot have filmed a hard-hitting online video, in which they set fire to images of Vladimir Putin and thank Madonna and Bjork for their support, while abseiling down a building.
Three of the bandmates are currently serving a two-year prison sentence for hooliganism after performing an anti-Putin track at a Moscow church and two others have fled the country, fearing they'll be tracked down for their roles in the band - but supporters are now carrying the torch.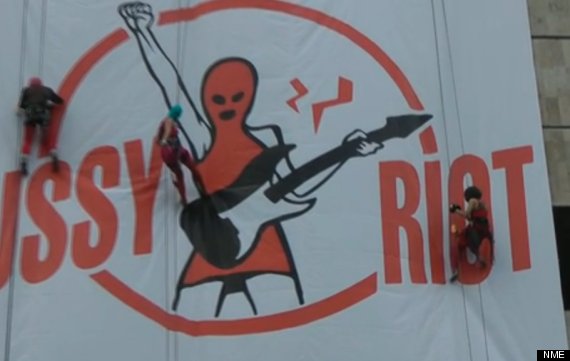 The fans abseil down a wall while proclaiming their message in the video, posted online
Delivering a message to their supporters in English with heavy Russian accents, the masked fans state, "We've been fighting for the right to sing, to think, to criticise, to be musicians and artists ready to do everything to change our country. No matter the risks, we go on with our musical fight in Russia."
And they claim their country is "dominated by evil men", adding, "These men think it's illegal to call yourself a feminist, to sing punk music. These men think it's illegal to stand up for the rights of the gay and lesbian community. These men think that you can't criticise your government. These men think that if you sing and dance in an inappropriate way, you get two years in prison."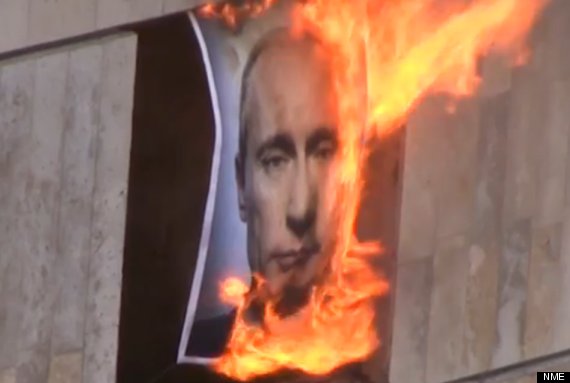 The video sees the fans set fire to an effigy of President Putin
The video, obtained by NME.com, also features a thank you to the celebrities who are supporting the three jailed members of the group and demanding their immediate release.
The fans state: "Thank you Madonna, thank you Red Hot Chili Peppers, thank you Bjork, thank you Green Day...Thank you to all musicians, activists and everyone around the world who have stood up together to fight for our right to be free."
Photos from Pussy Riots trial...