Michael Gove has admitted there "are things we could have done" to prevent the GCSE grading debacle, as well as launching an attack on the Welsh Government's decision to re-grade exam papers.
The education secretary was given a grilling by MPs on Wednesday over his role in the grade boundaries fiasco. Gove conceded there are "lessons to be learned" but insisted Ofqual had done everything in its power to anticipate and avert disaster.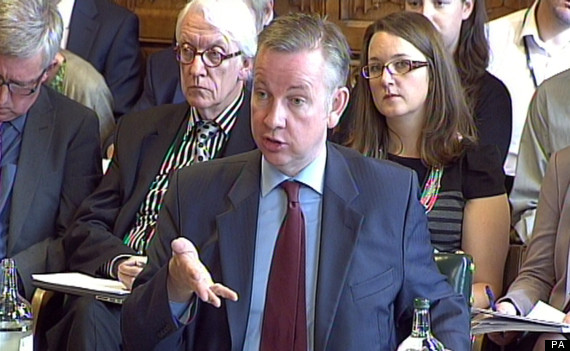 Gove criticised the Welsh Government's decision to order the country's exam board to re-grade papers
Raising the grade boundaries has resulted in thousands of students awarded lower grades than they expected in their English GCSEs.
Giving evidence to the Commons education select committee, Gove said:
"What happened with GCSEs this year caused understandable concern for parents, teachers and students and I think it's appropriate we examine what's happened in a sober fashion and also in a rigorously analytical way. I think there are certain lessons to be learned which encourage me to believe that we need to reform qualifications."
Following Welsh education minister Leighton Andrews ordering the WJEC exam board to re-award its English Language GCSE, Gove said the decision was a "a regrettable political intervention".
"He is irresponsible and mistaken. Children in Wales will suffer now and in the future."
Gove's remarks come after exam regulators in England and Wales were urged to agree a "common view" on how to deal with the GCSE grading crisis.
The WJEC exam board, which sets GCSEs in both England and Wales, said it was in in a "difficult and unexpected" position of being given different instructions from each of the regulators.
Ofqual published a letter addressed to the Welsh Government on Wednesday, which called for an "urgent, senior level meeting" to consider the government's direction to WJEC.
"We do not agree the qualification should be re-graded because the evidence we have seen does not justify this."
"We have been considering in particular whether WJEC can simultaneously meet the requirements of both your direction and our Conditions of Recognition," the letter reads. "There are serious consequences if it cannot."
Gove told the panel of MPs: "Andrews has undermined confidence in Welsh children's GCSEs.
"What happened in January was, for many, unfortunate. But no-one has yet outlined what the correct alternative course should have been.
"Ofqual faced a difficult choice."
He added it would be "quite wrong to second guess" Ofqual's decision not to re-grade the papers and refused to order an independent inquiry into the proceedings.
"Ofqual is an independent regulator. It would be totally wrong for a politician to intervene. It is wrong to have a politician as a chief examiner of the country."
Gove emphasised he was satisfied Ofqual had done everything it could to prevent the current situation.
"I haven't yet seen evidence Ofqual could have known in advance what would happen in June or that Ofqual have done anything other than the right thing.
"With hindsight, they are things we [the government] could have done. But I have not yet seen anything plausible we could have done."
He refuted claims Ofqual was viewing children as collateral damage in order to resolve grade inflation problems but others disagreed, tweeting:
Commenting on Gove's appearance on Wednesday, Kevin Courtney, deputy general secretary of the National Union of Teachers said the secretary of state's criticism of Andrews is "regrettable".
"Leighton Andrews took quick stock of the situation and acted swiftly to address some of the obvious problems with this year's English GCSE. Meanwhile, in England the education secretary has buried his head in the sand and refused to acknowledge the overwhelming evidence of political interference and manipulation of results.
"The conundrum of maintaining standards that Michael Gove refers to is of his own making. You cannot set ever higher GCSE floor targets for schools while at the same time say that you will not recognise those achievements for fear of grade inflation.
"It is time for the Education Secretary to end the sophistry and take responsibility for this fiasco which is having such a detrimental impact on many thousands of pupils."
The NUT is submitting an emergency motion on GCSEs to the Trades Union Congress calling for an independent investigation into the circumstances surrounding the exams.
On Tuesday, Ofqual chief Glenys Stacey was confronted by the select committee over the controversial exam results which left hundreds of pupils "devastated".
She insisted curbing grade inflation had to be prioritised over students.
SEE ALSO: