The Duchess of Cambridge has given her first speech on foreign soil, praising the work of palliative care, at a hospice in Malaysia.
Prince William and staff and supporters from Hospis Malaysia, based in Kuala Lumpur, listened as the Duchess read out the speech she had written herself.
She explained how she had learnt the importance of palliative care through her role as patron of East Anglia's Children's Hospices. Kate wrote her own speech, championing the cause of palliative care
Speaking with clear, slow pronunciation over the hospital's PA system, Kate told an attentive audience: "Providing children and their families with a place of support, care and enhancement at a time of great need is simply life changing.
"With effective palliative care lives can be transformed. Treatment, support, care and advice can provide a lifeline to families at a time of great need."
Kate and Prince William were visiting one of only a handful of medical institutions in the Commonwealth country that provide support for dying patients. Institutions dedicated to providing palliative treatment for those with terminal illnesses are rare in Malaysia where families care for dying loved ones themselves or pay for it themselves, if funds are available.
The Duchess had specifically asked to visit the institution as part of the couple's nine-day Diamond Jubilee tour of the Far East.
A royal aide said: "The Duchess realised the hospice movement was something she could support and make a difference with and on an emotional level it's something she feels very strongly about as well. Prince William also spoke with children at the hospice, drawing pictures on clay like his wife
"She is making a long-term commitment to this."
As the Duchess of Cambridge toured the hospice, she spoke with patients and drew pictures with one teenager, Zakwan Sulong.
The Duchess asked him about his treatment and said: "You must be very, very brave. Are you in pain? You're a brave boy. Thank you so much for coming to see me." Kate drew a picture of birds and sunshine, which will hang in the hospice lobby
The 15-year-old was so determined to meet the Duchess that he postponed a badly-needed blood transfusion for 24 hours and put himself through extra pain so he would not miss her visit.
He told her she was "very pretty" as she signed a birthday card for him and she told him he was "very, very brave" and "very handsome".
With tears filling her eyes, his mother, Norizan Sulong, said: "It was as if the leukaemia had gone."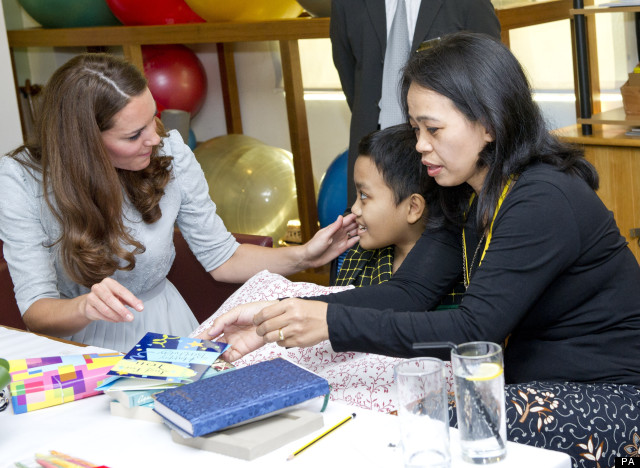 The Duchess of Cambridge speaks with Zakwan, 15, and his mother at the Hospis Malaysia
Dr Ednin Hamzah, the first doctor to work full-time in the field of palliative care in Malaysia, praised the Duchess' warmth and connection with the patients. He said she could become the worldwide figurehead for the hospice movement.
He said: "There is really no world campaign for hospice care so to have a speech like this was full of meaning for what needs to be done.
"I think the Duchess could become the champion for the hospice movement worldwide if she wants to take on that mantle. It's not by chance that we were picked for her first speech abroad, it wasn't a random thing."
He added: "She is very natural with the patients, you can see a warmth and connection there."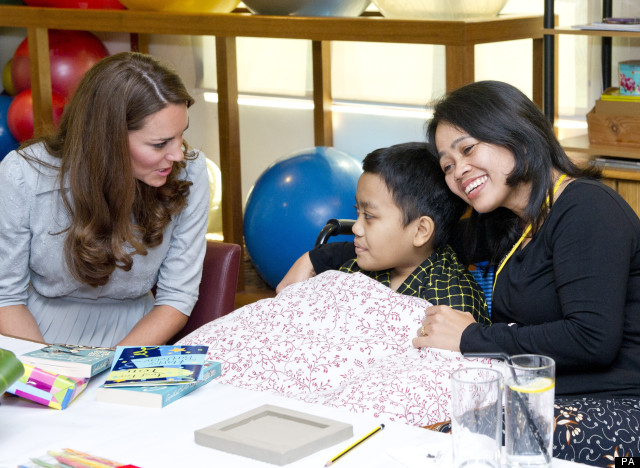 The royal visit also saw the Malaysian government announce a new nationwide initiative to help with the care of terminally ill children which Hospis Malaysia is supporting.
Terminal illness is regarded as a taboo subject by the majority of the population, relying entirely on charitable donations for its £600,000 annual running costs. It treats patients of all ages.
Dr Hamzah said: "The impact of this (will be felt) not just in Malaysia but other countries Thailand, Philippines," and that it would highlight how politicians' priorities can sometimes lie with other issues.
"This sort of thing doesn't exist, governments like other things they think are important."