As a single mother raising two children in a woodland shack, you'd think Velga Vitola already had her hands full.
But she found herself mothering a third youngster – in the form of a baby brown bear.
Vitola brought the baby bear – known as Ilzite – into her home in the dense woodland of Latvia's Ligatne National Park.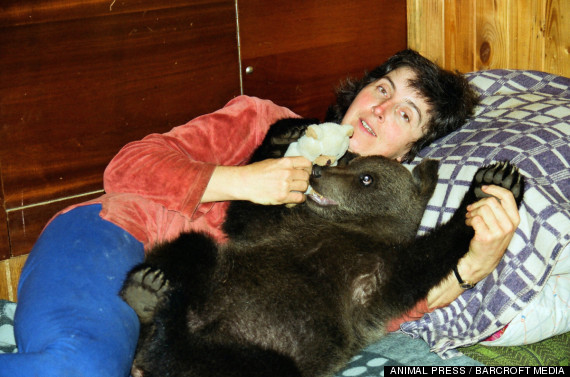 Unbearably cute: Velga Vitola stumbled upon Ilzite in Latvia's Ligatne National Park
Ilzite initially had a twin, who sadly died, but the remaining cub who used to sleep in Vitola's bed, became such a close part of the family the children began to consider their pet another sibling.
Vitola said: "I raised three children - a son, a daughter and a bear. But to raise a bear means not having any sleep.
SEE ALSO:
"You can consider yourself lucky if you can spend the night in your own bed on your own, because the bear likes to sleep in the bed too.
"Both my bears grew up in the house. They woke up my kids for school every morning.
"She loves to give me, her mum, a kiss - any other human would lose their head if they tried it."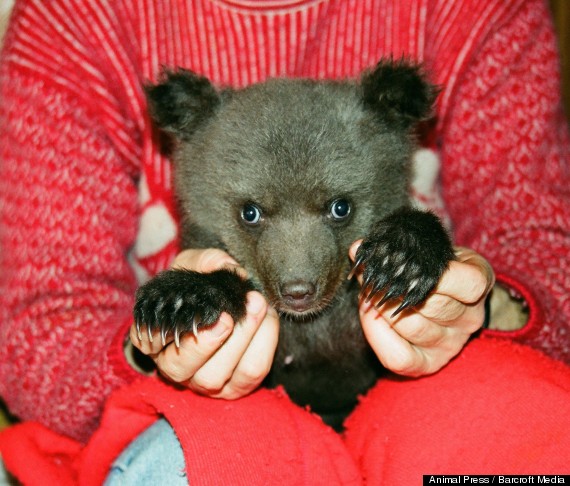 Ilzite used to sleep in Vitola's bed - until she grew too large
Vitola, who has lived in the woods for 22 years, has been dubbed the mother of all animals after relocating to the dense forest.
There she took it upon herself to care for a host of wild animals - from elk to hedgehogs - while raising her kids.
But after stumbling across a pair of abandoned bear cubs, Vitola whisked them home to handrear them.
Despite her love for the bear, many people have questioned Vitola.
She added: "When I considered moving here my mum said 'are you crazy?' She said what will you die out there, but I told her I didn't care.
"This is the place of my happiest moments. All those moments are about animals.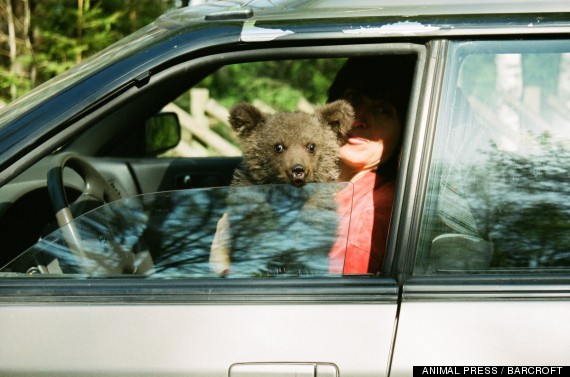 Take care, it's a bear: Ilzite has a ride in the family car
"I feel this is my place in this world. It's the place where your house is full of the sounds of the woods. Once I woke up because of a pair of wild geese were in my bedroom.
"I've always liked the woods ever since I was five-years-old. I feel fulfilled here".
Ilzite is now 10-years-old and has become so large she lives outside the home. But Vitola still regularly takes her for walks in the forest.
She recalled: "A bear doesn't know what she looks like. Once she saw her reflection in the window.
"It sounded like thunder, she was growling so loudly because she thought she looked like me - her mum.
"We just love each other. I can't explain why this 10-year-old bear doesn't try to kill me.
"Once we both went for a walk along the wild boars enclosure, she was only one-year-old at the time and was afraid of them.
"She clung to my legs and started to growl at them. She felt safe because her mum was there. I told her 'You crazy bear, I will be the first to run.'
"I need those moments, the bear kisses and hugs to feel happy and free.
"People can be two-faced, but when an animal looks at you he is only himself. We can learn a lot from them."