Silhouetted against a dazzling backdrop of the Northern Lights, this diver appears frozen in time in the bitterly cold waters of the Arctic Circle.
The stunning snap was taken by photographer George Karbus, who drilled through the 30cm ice and took an exceptionally cold plunge in order to get the perfect shot.
Clad in just a wetsuit, Karbus hovered in the depths in order to capture girlfriend Kate Hamsiaora freediving some six meters under the surface.
Scroll down for a gallery of more stunning images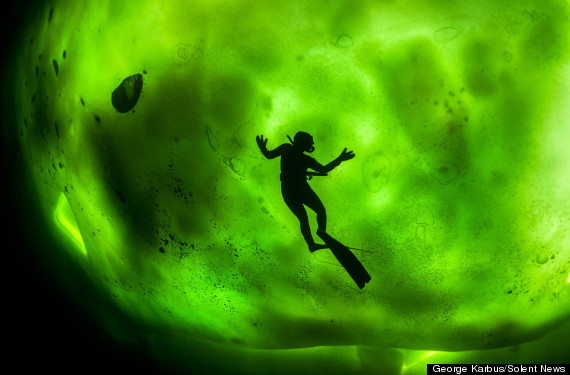 A woman is silhouetted against the Northern Lights - while freediving in the waters of the Arctic Circle
Karbus, 33, said: ""It was a truly amazing experience. I had never seen the Northern Lights before and it was unbelievable.
"After a long day, we stayed up specially to watch them from around 11pm until past 1am.
"I wasn't disappointed. When they started it was something else. The light was changing all the time, it was very intense. You want to cry and dance and scream at the same time."
Karbus and Hamsiaroa, of County Clare, Ireland, were visiting the region with their three-year-old son to search for beluga whales.
It took two days by train to get to the spot by Russia's White Sea.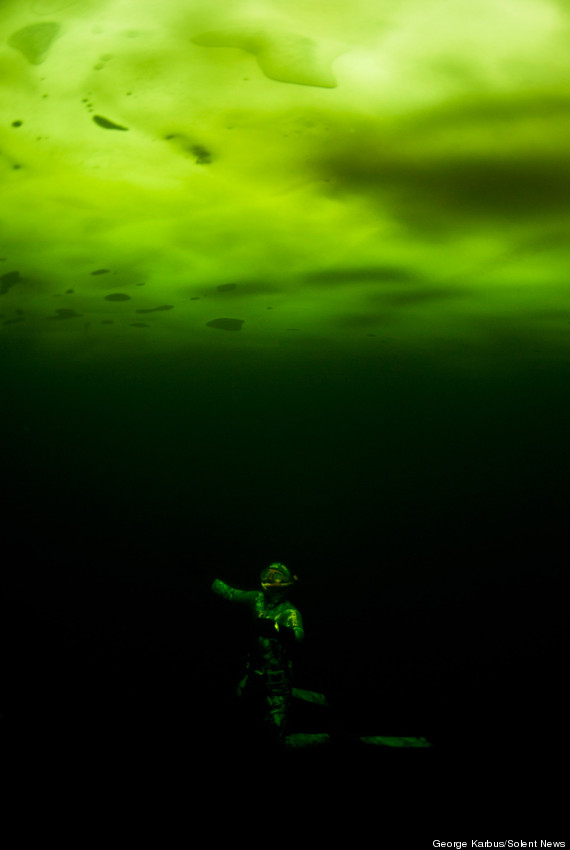 The group had to drill through 30cm of thick ice to reach the freezing waters
Each morning, they set out with a guide on a snowmobile to find holes in the ice where the whales usually surface.
On this night, they chose to watch the aurora borealis from the water, which was -2 degrees celsius.
George said: "These were the coldest conditions I have experienced, but it was worth it.
"Normally when you are freediving you are attached to a line so that you know where to return to.
SEE ALSO:
"I made an exception for these photographs and went down without it. You could say it was daunting, but many things are scary these days and so I took a chance."
A further photo shows one of his freediving companions ascending. The group swam for around 45 minutes at a time before turning in.
Karbus added: "We left reluctantly. You have to be cautious and keep an eye on your energy levels because it is so cold, and can be dangerous.
"Part of me wanted to enjoy the lights without taking photographs, but it was too hard to resist.
"It was just too beautiful."
Karbus started freediving around eight years ago as a way of photographing dolphins and whales at close range.