A first-look photo of Lindsay Lohan and Charlie Sheen playing "the world's hottest new couple" in Scary Movie 5 has been released.
It's predicted that one of the two tabloid favourites will die in the film's opening, as is common practice in the Scary Movie franchise. Pamela Anderson, Shaq and others have played the part in previous incarnations of the horror-comedy.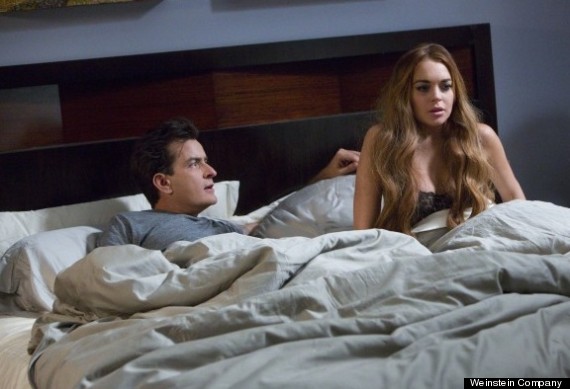 Lohan is currently starring in The Canyons - a Bret Easton Ellis film co-starring pornstar James Deen - and recently wrapped production on Liz & Dick, a Lifetime original film about Elizabeth Taylor and Richard Burton.
Sheen is also staying out of trouble, and is currently promoting his new series Anger Management, which sees him play a role similar to the one originated by Jack Nicholson from the film.
Scary Movie 5 is set for release on 19 April 2013 in the US and is thought to be focusing on Black Swan as its spoof focal point.
Ashley Tisdale, Erica Ash, Terry Crews, Heather Locklear, Molly Shannon and Kate Walsh also star. The film is directed by Malcom Lee, with a script by Lee and David Zucker.