She's the most adored children's writer alive today, so what does Jacqueline Wilson make of kids in 2012? We speak to the author about new book Four Children And It, going on holiday with Nick Sharratt and why she wouldn't ban Page 3...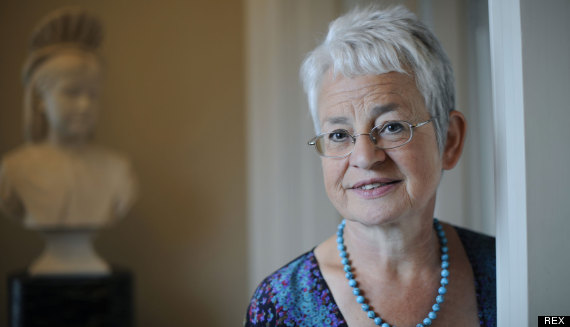 "Lots of them want a best friend," Jacqueline Wilson tells me when I ask her what the thousands of children who write to her every month have to say.
"It's so sad - they ask me how to get one and it's such a difficult thing to answer. The second most common thing these days is that they're scared their Mum and Dad are going to split up. The third thing is that they're upset their pet has died – that one's been a constant."
If anyone is qualified to speak on behalf of British children, it's Wilson. The 66-year-old author has being reading and replying to their letters almost none stop since 1991, when the release of The Story of Tracy Beaker (now a long running TV series) turned her into a superstar of children's fiction.
Her ability to tap into the dreams and worries of kids on the cusp of adolescence, along with her willingness to confront topics like divorce, adoption and mental illness, have marked Wilson out among successive generations as a writer who not only entertains children but understands them.
She soon became the unofficial Great Auntie of any British child who loved to read, a unique relationship with her readers that led to the appointment as Children's Laureate between 2005-2007.
Yet despite this - and despite having sold more than 25 million copies of her books to date - Wilson still has to face accusations from some adults that she's too gritty.
"The one thing that mildly bothers me is some Mums will say 'oh that awful Jacqueline Wilson, I won't let my daughter read her because her books are full of drugs and drink,'" she says.
"But actually - they're not! There's nothing like that in any of my books. There's no real sex in any of them either. I did cause a controversy once by using a very mild four letter word, when some granny somewhere went to the papers about it, which was very difficult [in 2008, the word 'twat' in My Sister Jodie was replaced with 'twit' after Random House received 3 complaints].
"But I've never in all these years had a kid tell me my books made them worried or frightened. They've said I've made them cry, but they say that it's OK, they like to cry!"
What kids say and think bothers Wilson a great deal. Sat across from me in her publisher's office in central London, her hands decorated with her trademark knuckleduster-sized rings, she talks in a soft, comforting tone about the contentious topic of body image and aspirations among youngsters in 2012.
"I still mix with many children, and I find it sad when fresh-faced little girls of 9 or ten, when you ask them what they want to do when they grow up, say absolutely unblinkingly: 'I want to be a glamour model'.
"I'm not taking a pop at girls who are, but it's just not what I, as a feminist, feel is the absolute pinnacle of what kids could be. In practical terms it's a job that's over by the time you're 30 anyway. It's a shame we have such a celebrity cult today that kids think this is what success is all about – not actually doing something you love, and working really hard at it."
Presumably this means she supports recent attempts to petition against perceived sexism like The Sun's Page 3?
"Actually, I don't particularly mind the concept of Page 3. In some ways I think it's quaintly old fashioned. When you can get access, presumably, to really, really explicit porn on the internet, a girl showing her top on page 3 – because she wants to – I think that's fine.
"One thing that perturbs me is slightly silly teenage girls who allow themselves to be photographed topless, and then it's sent all around people's mobile phones. That is a sad thing. It's difficult though – I was one of the women long ago who, when Mary Whitehouse was going on about banning things, thought 'oh you poor sad old lady'. Dear God, I think now, have I become the poor sad old lady myself?!"
Sad old lady or not, Wilson's career is showing no sign of slowing down. Her latest book, Four Children And It (an modern adaptation of E Nesbit's Five Children And It) spent its first week at no.1. in the Children's Book Charts, ending a 21 week reign by The Hunger Games.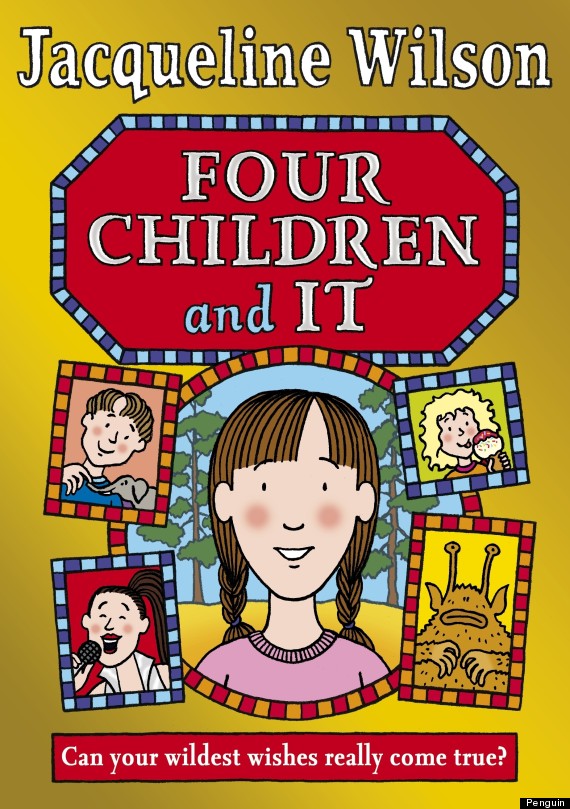 It's classic Wilson - a tale of neglected children chasing fantasies that don't quite pan out as they wished, even though she herself describes the book as "a holiday from my usual sort of work, more full of fun than sadness".
One element that remains firmly in place is her working relationship with illustrator Nick Sharratt, who has been there with her since the very beginning of her success with Tracy Beaker.
"I am so lucky," she says right away when I mention his name. "Children love his illustrations and I am very much aware that it's a Nick Sharratt cover that gives my book shelf appeal. I can't imagine a book of mine now without Nick's illustrations."
With the possible exception of Roald Dahl and Quentin Blake, it's hard to think of a most ingrained or enduring author/illustrator partnership in modern British fiction that Wilson and Sharratt, which makes it all the more delightful to learn that the pair are genuine good friends.
"A lot of other authors haven't even met their illustrators, but Nick and I get on like a house on fire. Several people actually think Nick and I are romantically involved, which is very sweet – I'm old enough to be his Mum! [only just – Sharratt is 16 years her junior]"
So close is their relationship that once a year, with friends, they enjoy a long weekend holiday together during which "we'll eat a lot, perhaps drink a little, go for walks, even play silly games – but the one rule is that Nick isn't allowed to do any drawing and I'm not allowed to do any writing."
It sounds as though the closest they ever got to a disagreement was over Sharratt's characture of Wilson herself, visible on her official website.
"He does me very nicely, though in his first attempt - which was possibly even more of likeness - I did resemble an amiable chipmunk. So I asked him very tactfully to tone it down a bit.
"You see - and there's me going on about little children being bothered how they look...!"
Funny, warm and quick to try and appreciate the difficulties faced by everyone from parents, to glamour models to the teachers who don't like her books, Wilson is as enjoyable to be around in person as her stories make you hope she would be.
"My next book is set in the past, in a long stay hospital for kids with TB and other illnesses," she tells me as our time runs out.
"Some of the treatments from back then look pretty awful, so I think with this one I'll have to explain at the end that this was of course all a long time ago, and that hospitals now are very safe.
"But I also don't want to fudge things for them," she adds, "I want to show children what it was really like."
And it's precisely this mixture of empathy with a determination not to sugar-coat the world that means they'll adore her for many more years to come.
Four Children And It is out now on Puffin