A new automatic, wearable camera is promising to "change the way we think about photography" - and potentially privacy - by taking the photographer out of the process.
The Autographer is a hands-free, digital camera that automatically takes thousands of photographs a day and stores them for review on a smartphone app.
Designed to be worn constantly, the camera takes pictures as a user goes through their daily lives - however ordinary or extraordinary.
It will cost £399 when released for sale in November.
Housed in a relatively small, discreet black case, the camera is designed to be worn on a necklace lanyard, or on the strap of a bag.
It has five on-board sensors to detect changes in temperature, light, motion, direction and colour, and uses those cues to take shots with its wide-angle lens.
The camera has a 136-degree field of view, meaning it can capture more of a scene than a typical camera phone.
It also features 8GB of memory and takes 5-megapixel images, allowing it to store many days' worth of pictures.
Thanks to a Bluetooth chip on board the device can interact with your smartphone via a bespoke app, letting users manage their photos, export video files and GIFs and delete specific images if an unwitting subject objects.
OMG Life, who announced the device on Monday, said users would be able to "watch their 'unseen' moments unfold through natural, unpredictable images". It said the images and videos revealed by the camera would show "a surprising new take on their world".
The idea emerged from similar devices used to help the treatment of Alzheimer's and dementia, OMG said.
OMG said those devices, based on Microsoft's SenseCam technology, have proven popular as a way to help sufferers of those illnesses manage their daily lives and cope with the trauma of impaired memory.
The Autographer is an all-new consumer device, however, which OMG is pitching at artists and creatives who want to capture images in new and unpredictable ways.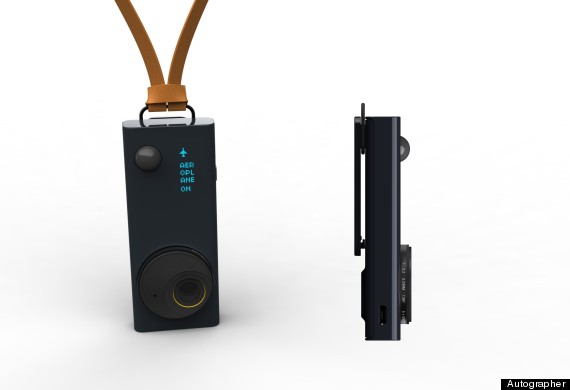 The camera has been designed with a bright, yellow ring around the lens, intended to let you know if someone wearing an Autographer has it turned on or off.
Ideas such as wearing one to a festival or one a night out have been pitched as potential uses - but OMG is hoping to be surprised by the creative ways early adopters find to use one.
Simon Randall, managing director of OMG Life, told the Huffington Post UK that he is are aware some people may not want to be part of the wearer's experiment, but is confident it will attract the "creatives" and "image makers" prepared to adopt the new technology early.