An owner tenderly cradling his arthritic dog in the warm waters of a lake to lull him to sleep went viral and prompted a staggering outpouring of love.
The tale behind the snap – namely John Unger's determination to ensure the comfort of Schoep, whose suffering meant he had trouble sleeping, melted hearts.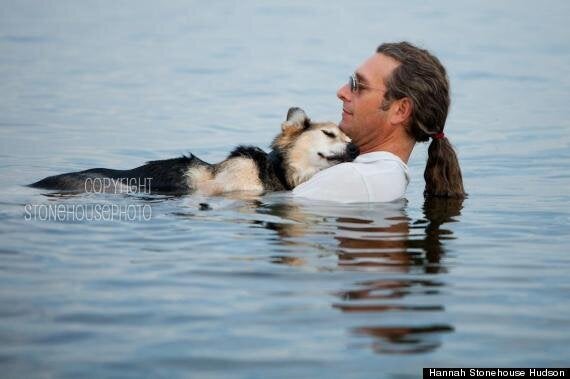 Tender: John Unger gently cradles Schoep in the warm waters of Lake Superior
Such was the reaction to Schoep's condition and John's unrivalled love for his pet, that touched readers were prompted to send gifts, artwork, cards and money from across the world.
What's more, the kindness of all who have donated has resulted in a new lease of life for 19-year-old Schoep, who went from facing euthanisation to receiving weekly laser therapy, pain medication and glucosamine, with encouraging results.
Without the funds to pay for his dog's medication and vet bills and unable to witness the pain his faithful companion was going through, John had planned to say farewell to Schoep in the fortnight after the August picture was taken.
"It's no longer an option we talk about. When we started him on pain medicine and glucosamine and laser therapy, we were hoping to make an improvement.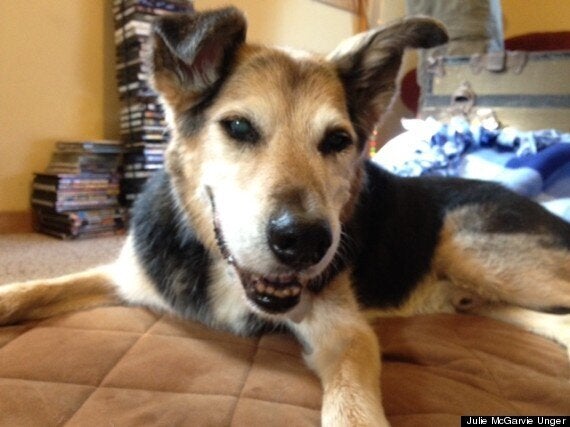 Schoep, who was set to be euthanised, now has a new lease of life
"It doesn't always. It is just one more thing we try instead of putting a dog to sleep. In this case, it all worked out tremendously."
John explained "I was walking him two nights ago and realised his back legs are not dragging at all.
"They were dragging for over a year, close to two years, because he couldn't lift them up. That's not happening anymore.
"It's absolutely astonishing that this therapy – laser treatments and glucosamine and the pain pills – is doing this."
Among Schoep's gifts were a selection of specially-elevated dog bowls, meaning he does not have to strain his neck and back as he bends down to eat, and a tempurpedic dog bed, which cushions his joints, provides support and helps regulate his body temperature.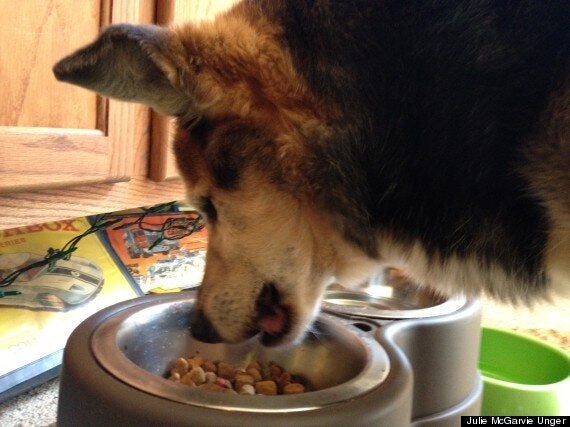 Specially elevated dog bowls mean Schoep doesn't have to strain his neck and back when he eats
With donated funds now topping $25,000, the sum ensures the cost of Schoep's care will be met for the rest of his life, with remaining funds earmarked to start Schoep's Legacy Foundation – a programme to help other animals in need.
John told Huffington Post UK: "I feel such overwhelming gratitude - Schoep wouldn't be here today, if it weren't for all these people who offered support. People from all around the world are opening their hearts to us.
"It is nothing but amazing! We want to thank everyone for their generous support and for helping us start Schoep's Legacy Foundation which will allow us to help many more animals and families. Schoep and I can't thank you enough!"
It all began when photographer Hannah Stonehouse Hudson caught the touching snap and posted it on Facebook.
Explaining the circumstances of the picture, she wrote: "This is 19-year-old Shoep being cradled in his father's arms last night in Lake Superior.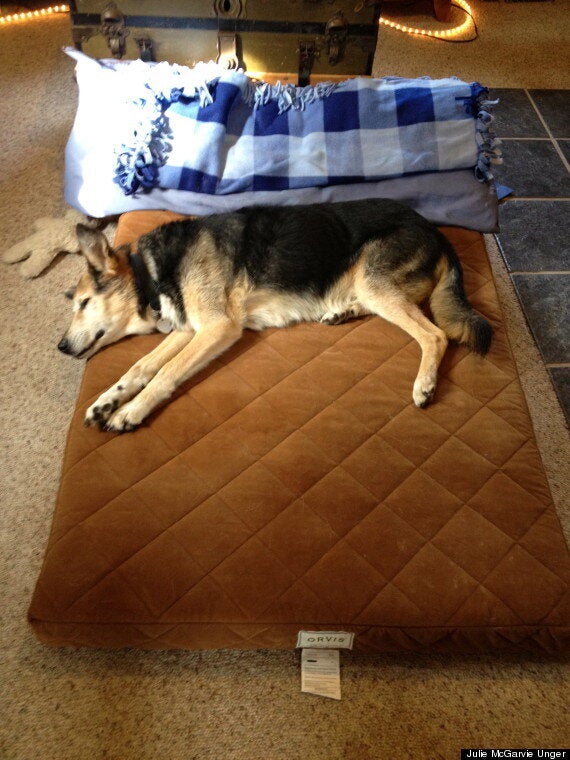 Schoep's tempurpedic dog bed was a further gift from a fellow dog-owner
"Shoep falls asleep every night when he is carried into the lake. The buoyancy of the water soothes his arthritic bones. Lake Superior is very warm right now, so the temp of the water is perfect. I was so happy I got to capture this moment for John. By the way, John rescued Shoep as an 8-month-old puppy, and he's been by his side through many adventures."
The picture quickly went viral, with John speaking of his bond with his dog to the Duluth News Tribune. He recounted how a break-up with his then-fianceé left him feeling suicidal, and even lead him to the water's edge in Lake Michigan.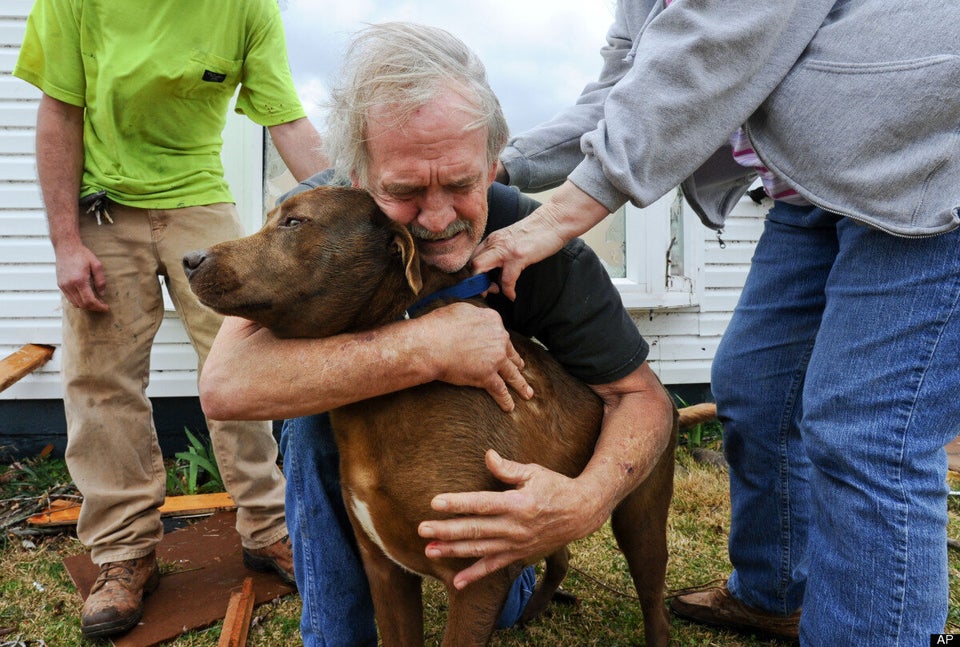 13 Awesome Animal-Human Reunions
Related