Confusion reigned today over how intensely the search for runaway schoolgirl Megan Stammers and her teacher was being conducted on the Continent.
Sussex Police said it was working with Interpol and the French authorities over the disappearance of Megan, 15, and 30-year-old maths teacher Jeremy Forrest.
But BBC News reported Interpol was unable to confirm that it was working on the case of the missing schoolgirl from Eastbourne, East Sussex.
Neither she nor Forrest has a profile on the crime agency's website, www.interpol.int, under its "yellow notices" section which "help locate missing persons, often minors, or to help identify persons who are unable to identify themselves".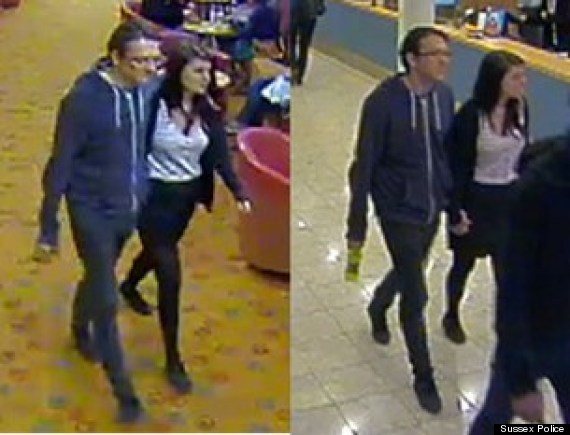 In CCTV images released of the pair the two are seen holding hands
Forrest is also not listed on the website under its "red notices", profiles used "to seek the location and arrest of wanted persons with a view to extradition or similar lawful action".
The Daily Telegraph reported that French police were not actively searching and had not carried out standard credit card or mobile phone searches.
It quoted Jean-Philippe Joubert, state prosecutor for Boulogne-sur-Mer, as saying: "These people have been put on a missing persons' list and a European Arrest Warrant has been issued. But there are no dedicated detectives or specific searches going on right now.
"But if the couple are recognised and identified, then they will be arrested."
The Europe-wide search for the pair has failed to uncover any confirmed new sightings, six days after they fled to the Continent.
Former Interpol officer Ismail Seck told the BBC: "Usually in cases like this the first week is very critical.
"I understand tomorrow is a week since them (going) missing was reported so we are getting into a critical state now."
The last confirmed sighting of Megan and Forrest - who taught maths at Bishop Bell C of E School in Eastbourne - was from CCTV cameras on board a Dover-to-Calais ferry at 9.30pm last Thursday.
Pictured arm-in-arm and hand-in-hand, the release of the two images of the pair together was intended to trigger a response from the public about their whereabouts.
But on Wednesday night Sussex Police had no new update on the status of the investigation as anxious friends, family and strangers implored her online to get in touch with loved ones.
The force refused to be drawn on whether it had evidence of them using cash cards or ATM machines and there has been no comment on whether mobile phone cell site analysis has yielded any leads.
Police have previously said that although Megan and Forrest entered France, they could be further afield now.
The search continued as fresh concerns emerged about the child protection policies at the pair's school.
Child abuse campaigner Lucy Duckworth said she wrote to Education Secretary Michael Gove earlier this year highlighting her worries about Bishop Bell but did not receive a reply.
She also claimed that when she asked Bishop Bell if she could see its safeguarding policies, staff were hostile to her demands.
When the policy was put online this year, ex-teacher Ms Duckworth said it contained a number of inadequacies.
Headteacher Terry Boatwright said the school had a "robust" policy in place and the Department for Education said if it was alerted to a specific threat to child safety, it would inform the relevant authority immediately.
A Sussex Police spokeswoman said it was "in discussions" about featuring the case on tonight's BBC Crimewatch programme.
The school has been under the spotlight over the way it dealt with warnings about a relationship between Megan and Forrest.
It has been alleged that their closeness prompted concerns following a school trip to Los Angeles in February.
ITV News reported on Wednesday night that Forrest was due to be suspended by the school the day before he and Megan fled to France.
The programme said that the school had referred its concerns to Sussex Police, whose officers then examined Megan's mobile phone, believing that they might find evidence of an inappropriate relationship, but did not.
The school was then advised to suspend Forrest, ITV News added.
East Sussex County Council confirmed it and school officials were "addressing and investigating concerns" but the authority had not said when those were made.
Stephen Lloyd, Liberal Democrat MP for Eastbourne, has publicly defended the school, saying its inquiries would have been conducted in an "exemplary manner".
The appeal on social networks continued, with girl group The Saturdays urging her to contact her family.
Megan is white, 5ft 6ins, slim, with long, straight, dark brown hair, blue eyes and was last seen wearing a white vest top and silver chain.
Forrest is 6ft, slim, with fuzzy facial hair and mousy brown hair. He wears square glasses, dresses casually and has a black star tattoo on his upper left arm.
Anyone with information is asked to call Sussex Police on 101, quoting Operation Oakwood.
A dedicated telephone number and text number which can be used from abroad have been set up. They are 00 44 1273 475432 or text +447786 208090.