The seasons have long been a source of inspiration for poets and writers and there are plenty of verses about what's currently going on outside your window - the onset of autumn.
For some, October is s mournful time when the natural world decays. For others it is period to celebrate. Perhaps these poets can inspire you to see things differently?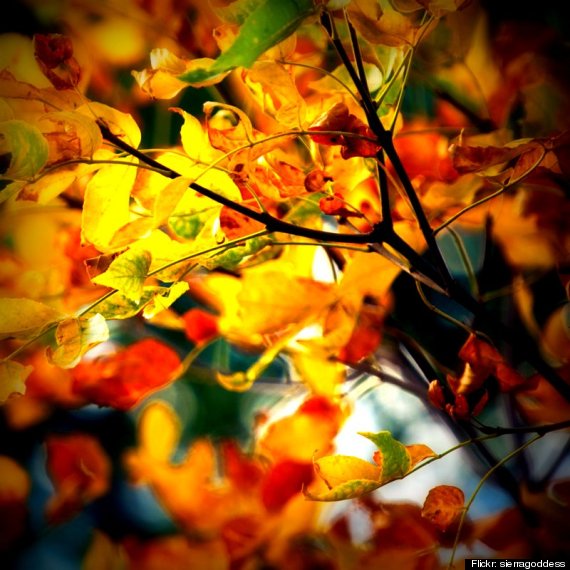 William Shakespeare personified autumn in Sonnet 73:
"That time of year thou mayst in me behold

When yellow leaves, or none, or few, do hang

Upon those boughs which shake against the cold,

Bare ruined choirs, where late the sweet birds sang."
William Blake - "O autumn laden with fruit" - and John Keats with his "Season of mists and mellow fruitfulness" both wrote odes "To Autumn"
.
In the simply-titled Autumn, John Clare noted "The summer-flower has run to seed / And yellow is the woodland bough / And every leaf of bush and weed / Is tipt with autumn's pencil now".
Elizabeth Barrett Browning told us in The Autumn that "Waving woods and waters wild / Do hymn an autumn sound", while a poet she influenced, Dante Gabriel Rossetti, wrote "Know'st thou not at the fall of the leaf / How the heart feels a languid grief" in Autumn Song.
Some of these celebrate the maturing year while others mourn its aging. It's a matter of state of mind and art.
The less familiar Anglo-Welsh poet Edward Thomas also addressed the theme of falling leaves and an end of things in his more month-specific poem October:
"The green elm with the one great bough of gold

Lets leaves into the grass slip, one by one, --

The short hill grass, the mushrooms small milk-white,

Harebell and scabious and tormentil,

That blackberry and gorse, in dew and sun,

Bow down to; and the wind travels too light

To shake the fallen birch leaves from the fern..."
But leave it to Edgar Allan Poe in Ululame most mournfully to use the month as a metaphor for sorrow and loss, particularly referencing the death of a woman - a subject distressingly close to Poe:
"The skies they were ashen and sober;

The leaves they were crisped and sere -

The leaves they were withering and sere;

It was night in the lonesome October

Of my most immemorial year...."
There are more optimistic opinions of October, of course. Helen Hunt Jackson (1830-1885) reckoned that "Suns and skies and clouds of June / And flowers of June together / ye cannot rival for one hour / October's bright blue weather".
The great bucolic New England poet Robert Frost seemed to have mixed feelings in October, concentrating on the stillness and maturation of the month, the gradual shortening of the days and the almost teasing, nature of the slow turn towards winter, beseeching the month to keep the harsher weather at bay:
"O hushed October morning mild,
Begin the hours of this day slow.
Make the day seem to us less brief.
Hearts not averse to being beguiled,
Beguile us in the way you know.
Release one leaf at break of day;
At noon release another leaf;
One from our trees, one far away.
Retard the sun with gentle mist;
Enchant the land with amethyst."
But to end on a thoroughly cheery note, here are words from Old October by a poet from the American Midwest, James Whitcomb Riley (1849-1916). He was known as the "Hoosier Poet", often writing in Indiana dialect which we can follow well enough.
Like Edward Thomas he cites the elm tree in the first few lines:
"Old October's purt' nigh gone,

And the frosts is comin' on

Little HEAVIER every day--

Like our hearts is thataway!

Leaves is changin' overhead

Back from green to gray and red,

Brown and yeller, with their stems

Loosenin' on the oaks and e'ms;

And the balance of the trees

Gittin' balder every breeze--

Like the heads we're scratchin' on!

Old October's purt' nigh gone."
But Riley is not lamenting the onset of October, rather its ending, likening this to the departure of a friend. Hickory nuts falling, he suggests, are the sound of tears falling at the sadness of this departure:
"I love Old October so,
I can't bear to see her go--
Seems to me like losin' some
Old-home relative er chum--
'Pears like sorto' settin' by
Some old friend 'at sigh by sigh
Was a-passin' out o' sight
Into everlastin' night!
Hickernuts a feller hears
Rattlin' down is more like tears
Drappin' on the leaves below--
I love Old October so!"
Elsewhere this week in Culture...