Ed Balls is the biggest of Labour's big beasts. Mehdi Hasan meets the shadow chancellor for the second part [below] of this in-depth, two-part interview, on Balls the person. How did he propose to wife Yvette? Does he believe in God? And what's all this about being a 'bitch'?
Ed Balls has studied at Oxford and Harvard, written for the Financial Times, worked as the de facto "deputy chancellor" at the Treasury and served as a MP and a member of the cabinet. He is credited with making the Bank of England independent and for keeping the UK out of the Euro. So, I ask, what would he want to have written on his tombstone?
"I think I probably couldn't give a flying toss," he says, with a chuckle. We are on our way to Manchester, where Labour's shadow chancellor has a series of meetings and official visits planned, a week ahead of Labour's annual conference in the same city. "There are some people who really care what their obituary says," he continues, a faint smile on his face. "There is something fabulous and noble and tragic about people whose reputations are finally rehabilitated and discovered thirty, forty or fifty years later. In some cases, that can almost be the most selfless thing." He pauses. "Those people are not the kind of people who worry about what's on their tombstone."
If there is a quality Balls lacks, it isn't self-confidence. Consider his answer to my question as to whether he has a political hero. "Gosh, I have lots of different political heroes for different reasons." Then there is a long pause as he looks out of the train window, thinking intently. "I sort of shy away from naming one person." Another long pause. "Political heroes? I'll give you five." As if explaining his five-point plan for growth, he fires off a list of names: "Bevin, Keynes, Lloyd George, Attlee and Healey. They were all people who, in difficult circumstances, challenged the conventional wisdom." The implication is clear: Balls, like his five heroes, is a challenger of conventional wisdom. Like them, he too will be vindicated by history – if not by the commentariat.
Does he have a favourite Labour leader – aside from (the obvious) Clement Attlee? "Do you know what, Mehdi? I may just save that for my memoir, if I was ever to write one." He laughs heartily.
Has he ever considered what he might do after his political career is over? Would he follow in the footsteps of Tony Blair and take on a number of lucrative consultancies and advisory positions with the likes of JP Morgan and Louis Vuitton? He shakes his head dismissively. "I feel as if I did my bit being an adviser and I did it for quite a long period of time. I don't really want to go and be an adviser again."
Balls says a career in medicine has always appealed to him but he has "sight of blood issues". He is a huge fan of the BBC's Great Ormond Street series and is full of admiration for its doctors. "The intellectual and moral challenge of being a consultant at the frontier of medicine…" his voice trails off, as he looks almost wistfully out of the train window. There's a long pause before Balls returns to the conversation:
"Having said that, [medicine is] totally unrealistic. I'm not going to be a concert pianist, sport is beyond me, so, if I was choosing again, I'd love to be a headteacher." Why? "When we were in the Treasury, we were in charge of billions of pounds and had a massive impact on people's lives. But if you're a headteacher, you directly affect the lives of the kids in your care every day."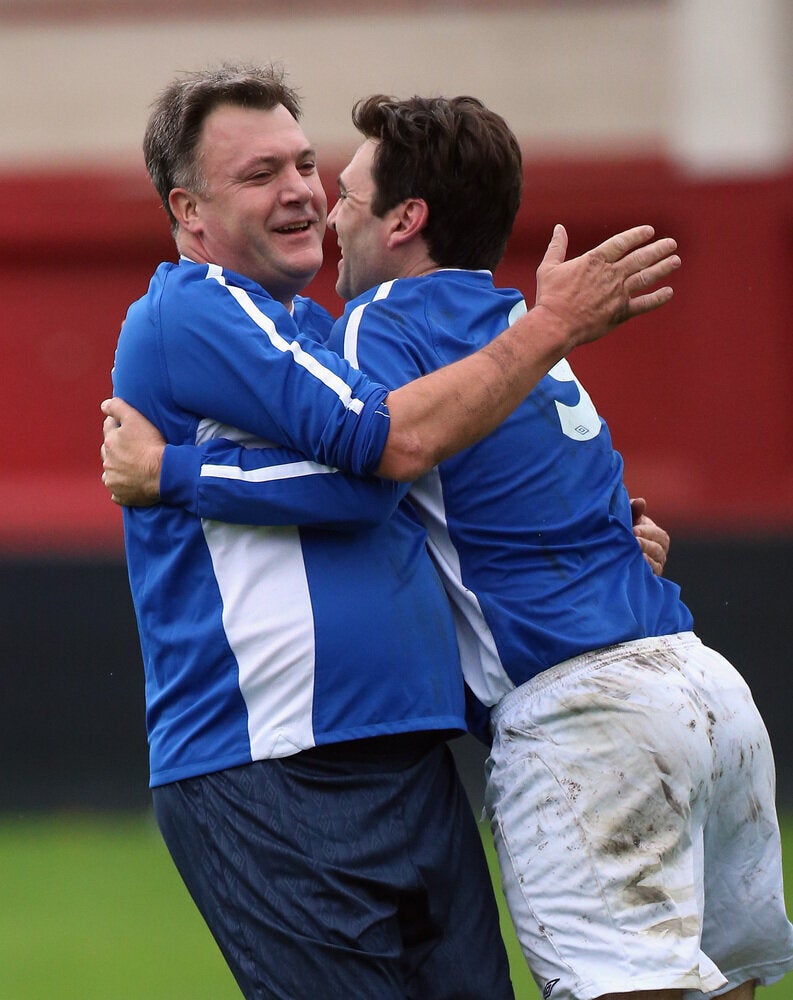 Labour MPs Vs Press Lobby Football Match
He may have inherited this pedagogical instinct from his father. Dr Michael Balls CBE was trained as a zoologist but later became a professor of medical cell biology at the University of Nottingham Medical School, before retiring in 2002. He is best known, however, for his expertise and research on alternatives to animal experimentation.
Meanwhile, Balls' mother worked for 18 years as an accounts clerk in the pharmacy of the Queen's Hospital Medical School in Nottingham. "Not very highly paid, loads of work turnover…[in the] bowels of the NHS," says her son. "Amazing thing she did."
Both his parents were Labour Party members – his dad, says the shadow chancellor, was an active member. Is it true that Balls Snr campaigned against the grammar school system in Norfolk before deciding to send his sons – Ed and his younger brother Andrew – to the fee-paying, all-boys Nottingham High School (Ed was 8 when the family moved from Norfolk to Nottingham)? "Yeh," he grunts. How does he defend such double standards? "As Ramsay Macdonald said," Balls replies quietly, "there is sometimes no logic in the conduct of human affairs." Did the young Ed enjoy private school? "Not sure I ever particularly thought of it as private school." It's a curious answer – could he really have been unaware of the non-fee-paying, state comprehensives down the road from his own exclusive school? He pauses. "Of course I knew there was a difference… we used to do a 10-mile bus ride, it was very academically intense, a boys school, it was very different." Did he like it? "Yeah." He adds: "I'm sort of conflicted on this. I worked hard, enjoyed it, had a great time, but it's not what I would choose again, for me. I'm not going to say my parents made the wrong choice; they actually made for them, and me, what they judged was the right choice." Casting himself as a member of the "squeezed middle", Balls says his parents "made massive sacrifices… I never went on an aeroplane till I was 21, we never left the country on a foreign holiday till I was 18. There was never any money at home."
Does he see private schools as a barrier to social mobility and social justice? "Of course that's the case." So why not legislate to remove the charitable status for schools in the independent sector, as proposed by David Miliband during the Labour leadership election? He recoils. "You have to be careful on that, especially if you want to be chancellor, because it is something that's easier to say than to do." Ok, but does he have a principled objection to private education, as a believer in equality of opportunity? He hesitates. "I think, um, I'm not going to say that is what a Labour government should mandate. Of course I'd much rather live in a society where people didn't feel that paying to be different was a step up the ladder. I'd much rather not live in that but we have to try and change the world that we find in a way that we can make a difference." The shadow chancellor is, as ever, the ultimate pragmatist.
Balls' younger brother Andrew, who followed him to Nottingham High School, Oxford University and then the Financial Times – where both brothers once worked as journalists – is now head of European investment for Pimco, the world's biggest bond investor. Does it make it difficult to attack bankers, and call for bonus taxes, when his baby brother is a City slicker, enjoying multi-million-pound payouts? "Well, he's not a banker," replies Balls. He looks and sounds defensive. "That sort of fund manager is a different world from investment banking. If I'm honest with you" – a phrase, rather disconcertingly, repeated by Balls several times throughout the interview– "I'm not sure I actually know what he does."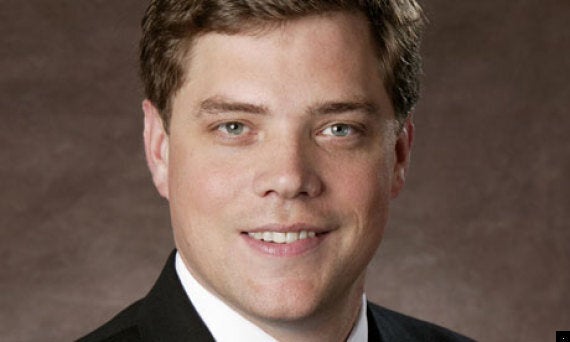 Our conversation returns back to the subject of his parents. Ed Miliband's father, the Marxist academic Ralph Miliband, was a noted critic of the Labour Party. What does Ed Balls' father make of Her Majesty's opposition? "My dad's really proud of what we've done and supports what we're doing… but he likes to have the argument." Like father, like son, it seems.
Are his parents bothered by the vitriol and abuse that Balls has to endure, at the hands of the press as well as from the prime minister himself? In May, David Cameron referred to the shadow chancellor as a "muttering idiot" in the middle of Prime Minister's Questions; a year earlier, the PM called Balls "the most annoying person in modern politics".
"I think my dad and mum, like most people in his country, are rather proud of the fact that the prime minister has said those things [about me]," says Balls, with the straightest of straight faces. But are they not bothered at all about the fact that their son is so reviled by so many in politics and the media? "Actually, I'm not sure increasingly how true that is, if I'm honest with you. It's different to three or four years ago… I think the reality is that on a personal level in the House of Commons I have good relationships on all sides." As for the media attacks, says Balls, "I don't think people treat newspapers in quite that way. I quite enjoy reading Quentin Letts [but] I have to say I take him about as seriously as I take Roy of the Rovers. It's entertainment. It's a comic." The Daily Mail has never been a big fan of the shadow chancellor – and the feeling is clearly mutual. "To be honest, the Daily Mail has called me a mad, left-wing, socialist zealot most weeks in their editorials for the last five years… Most people, I think, say: 'It's the barmy Daily Mail.'"
Balls has been a member of the Labour Party since the age of 16. Why did he join? "Because my dad needed the votes," is the refreshingly honest answer from the shadow chancellor. It provokes laughter from his two aides. "It was the Keyworth ward of the Rushcliffe Labour Party. My dad was chair [and] I think he said: 'Sign here.'" He chuckles to himself, before adding: "We were a Labour family. I was the person in school, in 1983, who defended pretty much everything in that ridiculous [Labour] manifesto."
Why then did he join the Conservative and Liberal clubs at university? "I was quite romantic when I was at school," replies Balls. "I did English A-level and went to the school DH Lawrence went to; I'd read everything that Lawrence had written before I had got to the age of 18 which added to the [teenage] turbulence. The word 'fecundity' was probably in my vocabulary more than is sensible." Balls says he was also an avid reader of Geoffrey Trease's Bannermere series of novels, in which the protagonist goes to Oxford "and when he arrives, he joins all the political societies so that he can hear all the debates and great speakers." An 18-year-old Balls, arriving at Keble College, Oxford, in 1985, where his father had also studied, to read politics, philosophy and economics, decided to do the same. "I joined all of the clubs: the SDP, the Liberals, the Tories and Labour," he says, laughing. "At my first ever meeting [of the Oxford University Conservative Association], I heard Michael Heseltine speak." What's his memory of the Labour club? He leans back and makes a face. "At my very first meeting, the main discussion was about the new banner and should we or should we not have the hammer and sickle on the banner? I was appalled."
Was he also appalled, and embarrassed, when pictures of him dressed in a Nazi uniform at Oxford appeared in the Daily Mail a few years ago? "Of course I'm not embarrassed by it. If I had the choice again, would I do it? No. Is there a difference between being 20 and being 40? Yes." Balls explains that the uniform was a punishment from "the left caucus" at Keble who were upset with him for agreeing, in his capacity as president of the Junior Common Room (JCR), to a rent rise – at the end-of-term Christmas dinner, they produced the uniform. "I went along with it for a laugh," says Balls. "In retrospect I wouldn't do it again."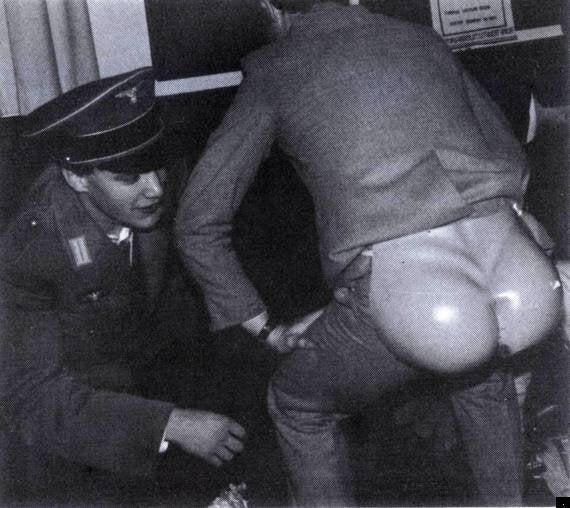 The other Ed, Miliband, as president of the Corpus Christi JCR, campaigned against rent rises – and won. Balls, however, did the opposite, facing down calls for a rent freeze from the left – and winning, via a last-ditch college-wide referendum. "It was a modernizing stance," he says with a smile. The college warden, however, continued to insist on a 5%, rather than 2.5%, rise but Balls played hardball: "I said to the warden, 'You want to be vice-chancellor but if you screw me now and impose some rubbish deal on me, with me having gone out on a limb, and gone through a vote of no confidence and a referendum, we'll say you're not up to the job and there'll be no chance you can be vice-chancellor. So if I were you, I'd settle [on 2.5%]. And he did." It's a no-nonsense, take-no-prisoners approach that some might say continues to define Balls' approach to politics.
Ironically, David Cameron was reading PPE at Brasenose at the same time Balls was at Keble – did the future shadow chancellor ever come across the future prime minister in a lecture or tutorial? "No," he says. What about the Bullingdon Club – did Balls try and join that, too? "I don't think normal people at Oxford ever thought it actually existed. We all assumed it was the figment of some toff's imagination." He adds: "David Cameron didn't talk to people like me and I'm afraid it's an attitude he's carried on for the following 25 years."
Despite coming across as serious and even aggressive in speeches and interviews, Balls has a wicked sense of humour: he jokes, he deadpans, he produces a series of one-liners and self-deprecating put-downs. His staff seem to enjoy being around him and he seems - and I can't think of a better word to describe it - happy. So, I ask, what has been the happiest moment, the high point, of his life and his career so far? He stops to think for a moment. "Erm, I've got such a long list, it's invidious to choose the top one." There's a pause again as he scrolls through his mental rolodex. "I think bringing our two oldest children to see the youngest one on the day she was born was an amazing moment."
What about a low point, a saddest moment? "I find that really hard to answer," he says, speaking unusually softly. "The truth is I've had a life relatively untouched by tragedy and I don't want to tempt fate." He pauses. "The saddest moments of your life are always when you go to the funerals of contemporaries who have not had the good fate that you've had but do have the children you have. That's always hard."
Is he a believer in God? "I'm firmly in the Church of England tradition." What does that mean? "It's acceptable, it's desirable, it's honest… to continue to agonise." Does he pray? "I do but I'm not quite sure who to."
For Balls, his priority in life is his family, not religion or, for that matter, politics – he and Cooper have been married for 14 years and have three children. Given his claim to have been a romantic in his teens, I'm curious as to how he proposed to the shadow home secretary. "She slightly disputes this story but I had been 'the fiancé' for her selection [as Labour parliamentary candidate for Pontefract and Castleford] in 1996. We had been living together two and a half years, we had a joint bank account by that time and we were saving for a house. I say she needed me to be her fiancée for the purposes of her selection but she says I wouldn't turn up at any of the events she went to unless there was a way to describe me and I apparently said it had to be 'fiancée'.
"In 1997, she gets elected and does an interview with the Yorkshire Evening Post and it describes me as her 'current boyfriend'. I said: 'I'm not going to be your bloody fiancée for the selection and your current boyfriend now you've got elected.' She said: 'So what are we going to do about it?' I said: 'Well we'll have to get married.'"
Three weeks after the 1997 general election, at the civic centre in Castleford, the couple held an 'Yvette elected as MP-and-Ed-and-Yvette's-engagement' joint party. "It was one of the least romantic things ever," admits Balls. The following January they got married in Eastbourne, home to Cooper's parents, and went on to become the first married couple to serve together in the cabinet. When was the last time this political power couple put away their briefing notes and went out, say, for dinner and a movie? On their own, without the kids? "Certainly, not for a decade," he says, in a rather matter-of-fact tone. Really? Ten whole years? "We haven't." I remind the shadow chancellor how David Cameron recently disclosed that he and Samantha keep their relationship "fresh" by having a weekly "date night". Is that something he and Cooper have considered? "And leave the children with the nanny?" he says dismissively. "No." Isn't that hard on their marriage? "I think it's much stronger as a result," says Balls, "because we do lots of stuff together. Our view is that the times when we're off work, we want to be with the children. It's the sacrifice you make… we don't go out and see out friends without each other. Friday night with the boys? That isn't how we do it."
Is it weird to sit across the shadow cabinet table and, prior to May 2010, the cabinet table, from his wife? To work side by side in the public eye? "The fact that we would rush out of the house, get the kids to school, fly down the Embankment, always cutting it incredibly fine, in order to get out of the car and walk up [Downing Street], once a week, to get to cabinet. Of course that was weird…I don't think we ever got used to that." What about now, in opposition? "I think we've always handled it professionally and carefully; I don't think we've ever had a bust up or an argument… I don't believe people have been uncomfortable in the cabinet or shadow cabinet about me and Yvette."
I want to know what motivates the shadow chancellor: what gets him out of bed everyday? "I get out of bed in the morning because we need to get the kids to school on time," he deadpans. "And I like to get in my piano practice in" - he recently passed his Grade 1 exam – "before they get to school. And after all of that, I then go to work in order to play my part in shaping the future of the country."
Does he still struggle with his stammer? Yes, admits the shadow chancellor, who has been trying to overcome the problem since he was a child and spent years trying to conceal it - even after he joined the cabinet and started doing television and radio interviews. The turning point, he tells me, came after an event held for stammering children at a school in north London in late 2009, when a parent of one of the kids challenged Balls, in a private conversation, to "come out" and admit his stammer and show the audience, through his own example, that "you can still succeed" in life. "He was basically calling me a coward," Balls tells me in a hushed tone. Stung by the criticism, the then children's secretary went back to his office and penned letters to each of the 30 kids in the audience, admitting to his stammer. He hasn't stopped discussing the issue since and is now the patron of the British Stammering Association.
Does he have a temper? "Everybody has sort of moments when they get frustrated or angry." Could he see himself behaving as Andrew Mitchell is alleged to have behaved in Downing Street a fortnight ago? "If you ask people who worked with me closely over the past ten years, they would say that the times when they know I'm annoyed are the times when I am quiet and shut the door." He turns to the nearby Belardinelli, who has worked as an aide to Balls since 2006: "Have you ever known me in the past ten years to shout? I'm not a shouter, I'm not a ranter."
Many might find that hard to believe. Say the name Balls and some Westminster-types automatically think (and say): "bruiser", "bootboy, "attack dog" - the cliches abound. Profiles of, and interviews with, the shadow chancellor are littered with familiar adjectives: tough, combative, pugnacious, aggressive. What does Balls make of such descriptions? He sounds irritated: "If I was 5' 5" and 11 stone they wouldn't call me a bruiser." Nevertheless, asked in a recent interview if he considered his shadow chancellor to be "physically intimidating", Ed Miliband replied: "To the Tory opponents he is, yes, and that's a jolly good thing."
Is Balls perhaps, as some recent reports have suggested, prone to "alpha male posturing"? Again, I detect a note of irritation in his response. "I'm not sure that's really me, to be honest. This morning, before I got on the train, I spent three-quarters of an hour doing my piano lesson. It's not that alpha male. In our house I do the cooking, I do the shopping, every week. I'm not sure how alpha male that is either."
What about his reputation for off-the-record briefings against colleagues? Isn't that the reason he is such a Marmite politician – people seem to either love him or hate him? He looks annoyed that I've raised this perennial issue. "Accusing me of doing briefings to journalists about my colleagues is so naïve." Really? "There has never been a long run of journalists who have ever come out and said this. If a journalist ever says to me: 'Did you brief against colleagues?', I have to say: 'Have I ever done that to you?' I've asked Andrew Marr, Andrew Neil… Did some of that go on in the Blair years? Of course it would have done. Was I part of it? No. Was I directing it? No.... It's a weak and snake-like way to do politics." Are there any conversations he had with journalists that he now regrets, with the benefit of hindsight? Balls is in a defiant mood: "I can't think of any conversations with journalists that I really regret. And I defy you to produce a political journalist who can say that, off the record, he did a briefing with me about a colleague which ever went into a newspaper." It is a bold challenge. He then makes this rather novel and provocative claim: "The people who actually within politics have a reputation as the biggest briefers are the ones who probably pend most of their time telling other people about supposedly who's done the briefing." In other words, the shadow chancellor wants us to believe that he is the victim; the briefee not the briefer. "I've never been a bitch," he says. "That bitchy approach is the most second-rate way to do your politics."
I ask the shadow chancellor how he relaxes. What is he reading right now? Balls says he is two chapters into Ian McEwan's new novel, Sweet Tooth, and has just bought Nigel Slater's Kitchen Diaries II. Over the summer, he even managed to eke out time from his busy schedule to complete the late Stieg Larsson's Millennium trilogy of books. I'm suitably impressed.
Does he have a favourite book? "At times in my life when I've finished something hard and wanted to relax, I've often gone and read Wind in the Willows." What about television? His "all-time favourite" is the 1980s US cop drama Hill Street Blues but these days, like me and millions of others, he is a fan of the Emmy-award-winning US sitcom, Modern Family. "The great thing about Modern Family is that everyone has a little bit of Phil Dunphy in them," says father-of-three Balls, referring to the geeky father of three on the show who tries desperately to be "cool". The shadow chancellor tells me he likes to watch television on his BlackBerry PlayBook, via the iPlayer, late at night, after the kids have gone to bed.
Balls and Cooper are very protective of their children and have sought to keep the media at arm's length from Ellie (13), Joe (11) and Maddy (8). The three kids go to school in London during the week but then commute to their parents' constituency home in Yorkshire each weekend. (Balls once told me: "Our kids have travelled more miles in their lives than any child probably should.) He may have posed with his kids in the past for the usual "newborn" pictures but these days, despite the potential brownie points it would win him with a hostile press corps, the shadow chancellor tends not to discuss, or be seen with, his children in public. "However short-term, tactical and tempting it might be to have pictures on the front of a Sunday magazine, we would never, ever do that," Balls said in an interview in December 2011 that, unbeknown to him, was released around the same time that Ed Miliband and his wife Justine appeared with their two young sons in a Daily Mirror photoshoot.
Was that an awkward moment? He shrugs. "I think that everybody has to make their choices about these things." Balls and Cooper have only ever granted one joint interview: to the Daily Mirror, during the leadership contest, in September 2010. "How the hell, in a 21st-century media exposed modern politics, do you manage to combine that with trying to have a home life which respects your kids' individuality and privacy?" asks the shadow chancellor. "That's something Yvette and I have been battling with for a decade or more."
From hiding his stammer as a child, to streetfighting during the Blair-Brown years, to rejecting George Osborne's 'plan A for austerity' since becoming shadow chancellor in 2011, Balls has always been a battler. He likes a good fight - and doesn't like to lose. Whether or not his humiliating defeat in the Labour leadership election permanently killed off his prime ministerial ambitions remains an unanswered question. So what does the future hold for the Osborne-baiting, piano-playing, marathon-running, sitcom-watching MP and father of three? For now, he only wants to be chancellor of the exchequer. For now.
Read part one of this extended interview, on Ed Balls the politician, here.