Sir Jimmy Savile claimed convicted paedophile Gary Glitter had done "nothing wrong" and was vilified just because he was famous.
Speaking during an interview in 2009, Savile defended his pop star friend, The Sun reported.
He said: "Now Gary, all he did was take his computer into PC World to get it repaired.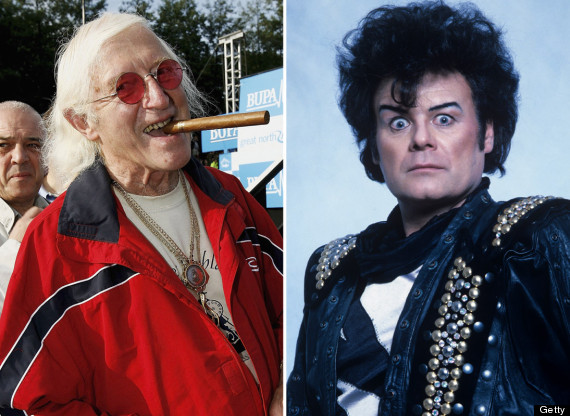 Firm friends: Sir Jimmy Savile and Gary Glitter
"They went in the hard drive, saw all these dodgy pictures and told the police and the police then said, 'Oh we've got a famous person, yeah we'll have them.'
"But Gary hasn't sold 'em, hasn't tried to sell 'em, not tried to show the public or anything like that."
Glitter was imprisoned in Vietnam for three years for abusing two girls, one aged 10 and one 11.
The 1970s pop star was convicted in 2006 of committing "lewd" acts while the girls were at his beach house in the southern coastal city of Vung Tau.
Following his release he was refused entry to Thailand and Hong Kong so returned to the UK.
In 1999 he served four months in prison in Britain for possessing images of child sex abuse.
Savile's comments will be revealed in an ITV documentary on Wednesday, which details claims from the women dating back to the 1970s, including allegations he abused girls in his Rolls-Royce car and at BBC TV Centre.
Savile added: "It were for his own gratification. Whether it was right or wrong is of course up to him as a person.
"And if you ever said to that copper, 'What's Gary Glitter done wrong?' Well, nothing really. He's just sat at home watching these dodgy, dodgy films."
This weekend Esther Rantzen spoke out to say she believed many personalities in British entertainment had heard gossip about Savile abusing children, but that they chose to ignore the rumours. Esther Rantzen has said that she now believes Savile was a child abuser
Rantzen, who founded the charity Childline, told The Mail on Sunday: "I feel that we in television, in his world, in some way colluded with him as a child abuser - because I now believe that's what he was.
"We all blocked our ears. There was gossip, there were rumours."
Savile's nephew Roger Foster has said he and his family are "disgusted and disappointed" the allegations are being made when his uncle is no longer around to defend himself.
Foster, from Goole, East Yorkshire, said he was not only concerned for Sir Jimmy's reputation and legacy but also for the damage the allegations could do to his charities.
He said: "I just get so disgusted and disappointed by it. The guy hasn't been dead for a year yet and they're bringing these stories out.
"It could affect his legacy, his charity work, everything. I'm very sad and disgusted."
SEE ALSO:
Sir Jimmy, who was famous for TV shows like Jim'll Fix It and Top Of The Pops as well as being a DJ on Radio One, died at his home in Leeds on October 29 last year, aged 84.
According to ITV, the programme, which is presented by former detective Mark Williams-Thomas, features contributions from several women who claim that Sir Jimmy was a sexual predator who sexually assaulted them while they were under age.
One woman alleges she was raped by the DJ and another says she was asked to perform a sex act on him.
ITV said one of the contributors explained how she was too frightened to speak out while Sir Jimmy was alive.
They said the programme will allege the broadcaster preyed on teenagers he invited to appear on his TV shows.
One 14-year-old girl tells the programme how she met Sir Jimmy at a school in Surrey in 1974 and he assaulted her in his caravan, which was parked in the school grounds.
The BBC has responded to reports that inappropriate behaviour by Sir Jimmy had been an "open secret" at the corporation by saying it had found no evidence of any misconduct by the broadcaster.
In a statement, the BBC said: "The BBC has conducted extensive searches of its files to establish whether there is any record of misconduct or allegations of misconduct by Sir Jimmy Savile during his time at the BBC. No such evidence has been found.
"Whilst the BBC condemns any behaviour of the type alleged in the strongest terms, in the absence of evidence of any kind found at the BBC that corroborates the allegations that have been made it is simply not possible for the corporation to take any further action."
The BBC also explained why an investigation by BBC2's Newsnight into Sir Jimmy was never broadcast.
Newsnight editor Peter Rippon said: "It is absolutely untrue that the Newsnight investigation was dropped for anything other than editorial reasons.
"We have been very clear from the start that the piece was not broadcast because the story we were pursuing could not be substantiated.
"To say otherwise is false and very damaging to the BBC and individuals. The notion that internal pressure was applied appears to be a malicious rumour."
Exposure: The Other Side Of Jimmy Savile is due to be shown on ITV1 at 11.10pm on Wednesday.