Daredevil David Blaine is ready to shock people with a three-day, three-night stunt where he stands in the middle of a million volts of electric currents.
WATCH David Blaine preview the stunt above.
In a daring new performance called Electrified: One Million Volts Always On, the celebrated illusionist will stand on on a 20-foot-high platform at Pier 54 in New York, surrounded by seven towering metallic orbs - or tesla coils - that will stream 1 million volts of electricity around him for 72 hours.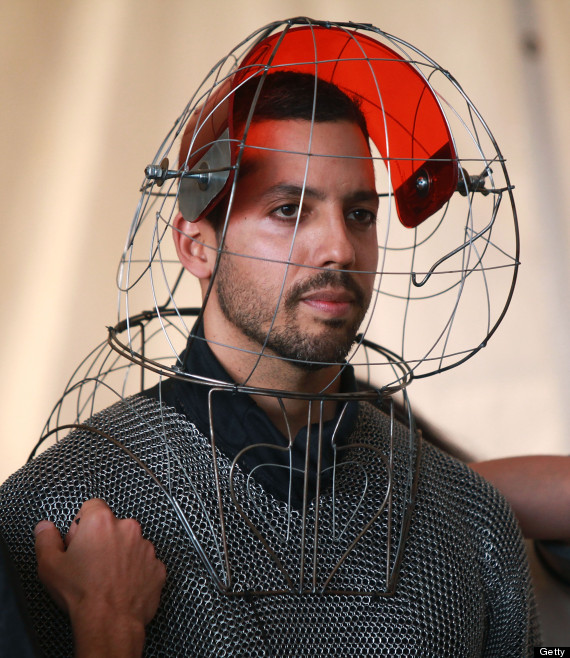 David Blaine prepares for another day at the office
Clad in a custom-made metal suit and helmet capable of conducting millions of volts of electricity, Blaine will be on his feet and will not sleep or eat for the duration of the performance.
Blaine said. "My goal is to create a visual image that everyone will always remember, one that makes people curious and mystified. Intel is giving me the opportunity to perform the most daring thing I've ever done and has created a way to bring different people from all walks of life on to a global stage."
Electrified marks the first of Blaine's performances in which fans around the globe will be able to not only watch but be a part of the performance. Intel Ultrabook stations set up in Beijing, London, New York, Sydney and Tokyo will enable fans to interact with the electricity and metallic orbs that stream electricity around the artist.
This Saturday 6 October, Electrified will come to London, as the UK public will be able to interact and chat with David Blaine using Intel Ultrabook satellite stations, as his performance from NYC is streamed and projected live at Ely's Yard (between Hanbury Street and Brick Lane) on a huge outdoor wall, between 7pm and midnight.
Between the hours of 9pm and 10pm, the public can control the actual 1 million volts of electricity and movements of the Tesla coils around Blaine, as interactions are streamed live on the big screen.
The whole project will be continuously live-streamed at www.youtube.com/electrified and at LeTV.com in China.
In Pictures: David Blaine prepares...