Five bomb explosions in the Syrian city of Aleppo have left 33 people dead and dozens wounded, according to government officials.
The blasts resulted in scenes of carnage with several buildings levelled and rubble and craters strewn across roads.
Four blasts at short intervals, thought to be from car bombs, hit Saadallah al-Jabiri Square, near a military officers' club, a hotel and the Chamber of Commerce, while a fifth bomb struck a few hundred metres away. In this photo by the Syrian official news agency SANA, men walk between destroyed buildings after the explosions
According to The Daily Telegraph, a state television reporter said: "Five minutes after the first explosion a second bomb exploded. A third exploded ten minutes after that. There was a fourth car bomb which exploded before engineering units could defuse it."
Most of the casualties were civilians, according to the BBC. It said pro-government al-Ikhbariya TV filmed bodies being pulled from the rubble.
Shortly after the blasts three men wearing suicide belts were shot dead before they could detonate their devices.
Aleppo has seen fierce fighting between rebels and government forces in the past few months, with the UN estimating that 200,000 civilians have fled as a result.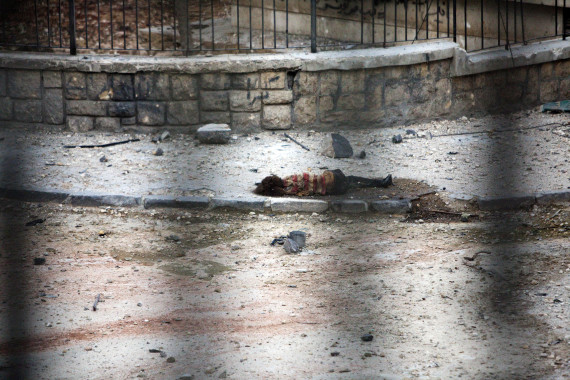 A little girl lies dead in the streets of Aleppo on Tuesday, reportedly from government shelling - though this can't be confirmed
At least 30,000 people have been killed since protests against President Bashar al-Assad broke out in February 2011.
More than 700,000 refugees could flee Syria by the end of the year, the United Nations has warned.