UPDATE: Ofcom has confirmed to the Huffington Post UK that complaints have been made over the Burley interview.
Kay Burley has sparked a raft of criticism on Twitter after she broke the news that police are now searching for April Jones' body to a member of the Machynlleth community live on air.
Labour MP Tom Watson joined in the chorus of disapproval, calling the interview "insensitive bordering on cruel".
However, a Sky News source told The Huffington Post UK that one of the interviewees, Claire Owen from Aberystwyth, has expressed support for Ms Burley in a text message and is exasperated that some reports are intimating that the breaking of the news live on air was planned.
She stressed that Ms Burley was genuinely horrified that she hadn't been told of the latest development in the case.
She wrote: "No matter what anyone says I know you didn't know I hadn't been informed. I wish everybody could have seen the look on your [Kay Burley's] face when you realised I hadn't been told. I will not let people who weren't there keep making out like it was planned."
Criticism of the Sky News anchor swept the internet after a mid-morning press conference in which local police announced that Mark Bridger had been arrested on suspicion of murder, Burley asked for reaction from the two community members. One said he had already heard the news, the other had not.
Burley then broke the news that the search had become a murder investigation, leaving her female interviewee in tears.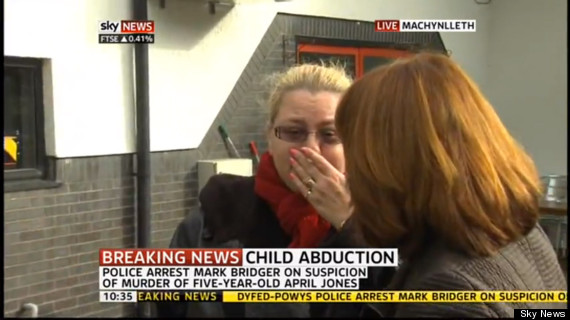 One woman was left in tears by the news
"They [the police] don't expect to find her alive," said Burley, adding: "I'm sorry to have to tell you in circumstances like this... would you like to say anything?"
Burley's name immediately started trending on Twitter, with users questioning the Sky reporter's tactics.
Soon after the interview, Burley's Wikipedia page was updated with the spoof update: "She also works part-time as Death, being the first to announce the demise of then-missing child April Jones, her primary source being her own testimony."
As well as interviewee Claire, some journalists also defended Ms Burley.
Shortly after the interview, Burley disappeared from the Sky broadcast, though it is not know whether she was pulled off air or her shift had ended.
A Sky News spokesperson said: "At around 10.30 today, Dyfed Powys Police announced that the search for April was now a murder inquiry. Several minutes later, Kay Burley spoke live to a volunteer believing she was aware of the latest developments.
"As she spoke she was joined by a second volunteer. It is clear from the full clip that Kay did not start the interview withthe intention of breaking the sad development to them.
"However, as the interview unfolded, she found herself having to explain the developments and she sought to deal with it as sensitively as possible whilst continuing to offer some comfort to the interviewees. Everyone at Sky News has the greatest sympathy for all those affectedby this tragic story and we will continue work with the police andlocal community to keep people informed."
Friday's interview was not the first time the presenter has been criticised for perceived on-air sensitivity.
In 2010, the reporter came under fire for probing singer Peter Andre about his former wife's new husband, Alex Reid, and the role he would be playing in Andre's children's' lives.
Comments have been closed for legal reasons.