David Cameron has said he is in favour of a "modest" reduction in the abortion time limit, just days after his health secretary backed banning terminations after 12 weeks.
The prime minister, speaking on Sunday morning, told the BBC's Andrew Marr show he favoured a "modest" reduction from the current 24 weeks limit.
He told the BBC the government has no plans to put forward legislation to reduce the time limit for abortion but MPs could bring about a vote in the Commons.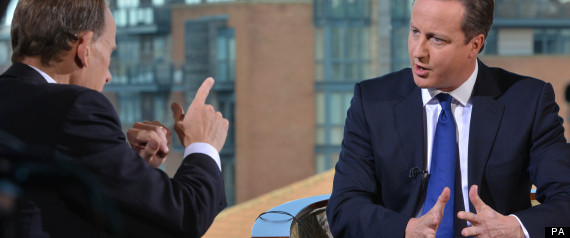 Cameron: A modest reduction on abortion would be right
Cameron has said that Hunt was expressing his personal view, not the position of the government. However, as a conscience issue MPs are not 'whipped' – forced to vote one way or another – on what limits they back for abortion.
"Parliament does vote from time to time about these issues," Cameron said. "It does tend to vote once a Parliament or so. We now have, under this government, the ability for Parliament to decide what it wants to vote on.
"My own view is that a modest reduction from 24 weeks would be right and I would vote for that. I voted against 12 weeks."
Hunt was accused of having "no concern for women's health" after backing restricting abortion time limits in the UK by half.
On Friday Nadine Dorries, who wants the abortion limit to be reduced to 20 weeks, tweeted she was "delighted" with Hunt's comments. "Will re-introduce my 2008 amendment to reduce to 20 weeks this session 3/4 of all GPs want a reduction from 24 weeks."
Home Secretary Theresa May and Culture Secretary Maria Miller also support a reduction in the abortion time limit to 20 weeks.
In a blog for the Huffington Post UK, shadow public health minister Diane Abbott said Hunt's comments were designed to make those suggesting a reduction 20 weeks seem reasonable.
"The people best placed to know whether there is any scientific case for lowering time limits are doctors, specifically doctors that specialise in women and childbirth," she said.
The Royal College of Obstetricians and Gynecologists has said: "Lowering the time limit will not result in a lower abortion rate. Women who are desperate to have an abortion will look for the means to have one, and this includes having an illegal and unsafe abortion in their own countries or travelling to a country where late abortions are carried out."
SEE ALSO: David Cameron Rules Out Lib Dem Demands For A 'Mansion Tax'