When were you last read a bedtime tale?
Musicians, artists, actors, historians, teachers and talented school children brought the ancient art of storytelling to life in the ethereal Christ Church Spitalfields with one-off concert Timeless Tales on 4 October 2012.
London Arts Orchestra, led by conductor Ed Farmer, collaborated with director David Betz-Heiniemann and People at Play to deliver the music of three stage and film classics: Disney's Sleeping Beauty (Pyotr Tchaikovsky), War Horse (Adrian Sutton) and West Side Story (Leonard Bernstein).
Pages from books twirl in the air, suspended above an expectant audience, lit in hues of purple, red and blue. A restored grade 1 listed Baroque building with simple 300-year-old interior decoration; Christ Church is a beautiful empty space for music and imaginations to soar.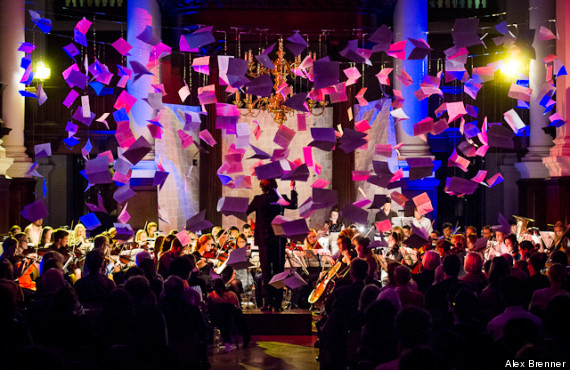 London Arts Orchestra
Writer and actor Giles Roberts starts the evening with a reading of his own work; the story of a bullied boy dreading the first day back at school. Pacing exuberantly amongst the audience and between the church pillars, Roberts takes us on an adventure of childhood discovery.
Writer and Performer Giles Roberts
The narrator's harrassed protagonist finds refuge in the pages of inspirational books in his school library, leading us into the first musical section: Sleeping Beauty Suite.
The sounds of Tchaikovsky fill Christ Church Spitalfields: flutes, violinists, cellos and harps evoking scenes of Prince Charming climbing the tower to his sleeping sweetheart in the 1959 animated film.
The second suite of music is the pièce de résistance of the evening - a sublime rendition of War Horse.
The music from the show, adapted from Michael Morpurgo's children's book, is intrinsic to the stage puppetry of Joey the horse. From his scenes as a shy foal, to the terror in the trenches, Joey's kicking hoofs and twitching ears are masterfully choreographed to the strings and trumpets of Sutton's suite. The London Arts Orchestra deliver the magic of the show faultlessly.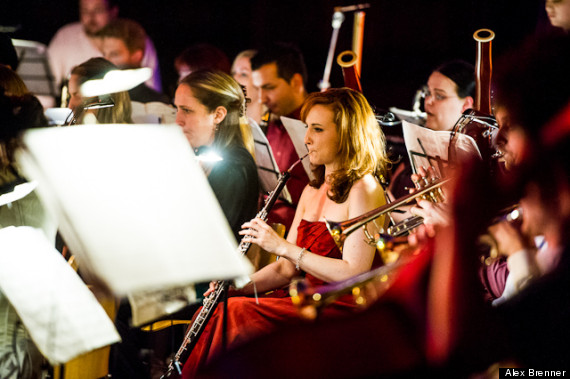 London Arts Orchestra
The final section, West Side Story Symphonic Dances, gives the evening some American swagger, complete with finger-clicking, toe-tapping and blaring trumpets.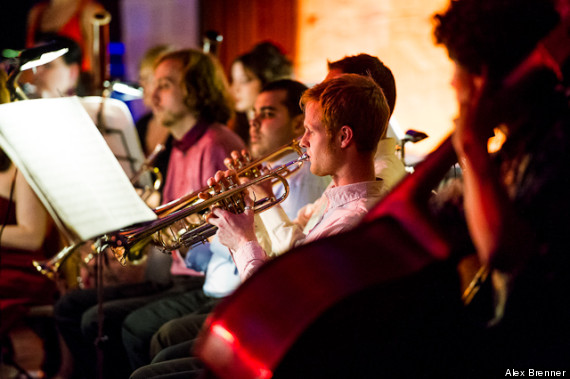 London Arts Orchestra
Timeless Tales feels very much about the music - the interlinking narrative by storyteller Giles Roberts provides humorous contrast, whilst showing the performer to have quite a flair for children's literature. However, passages read from the overlooking mezzanine galleries are lost in the acoustics of the church. A microphone, or a less restless speaker, would have been a remedy.
A star of the evening is Martha of Gatehouse Primary School, who delights all with the reading of her own short story "Snoring Beauty", showing talent beyond her years.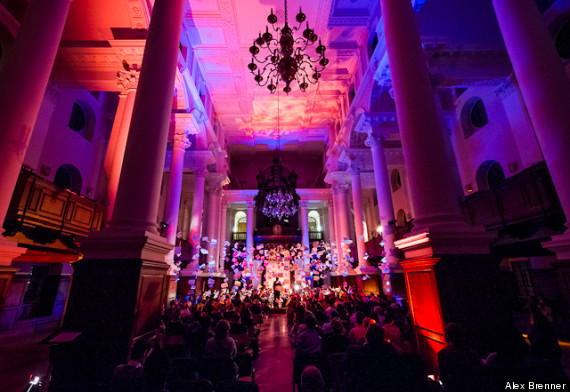 London Arts Orchestra
An intoxicating combination of arts, visuals, music and storytelling, Timeless Tales gives its small audience a rare treat to be close to such classical talent.
Future concerts from the London Arts Orchestra and People At Play:
When the Light Goes Out, Thursday 29 November 2012, 7.30pm, Christ Church Spitalfields
Love Letters, Thursday 7 February 2013, 7.30pm, Christ Church Spitalfields
Take a look at all of HuffPost UK's theatre reviews: