Lady Gaga spent five hours with Julian Assange on Monday after a disappointing day for the WikiLeaks Founder.
The singer swept across the road from her perfume launch at Harrods as a chief magistrate ruled that backers who stood as sureties for Assange before he took refuge in the embassy had forfeited thousands of pounds.
Dressed in traditional witches robes with a kind of cowboy twist, Gaga disappeared in the Ecuadorian embassy at 7pm only to emerge at midnight.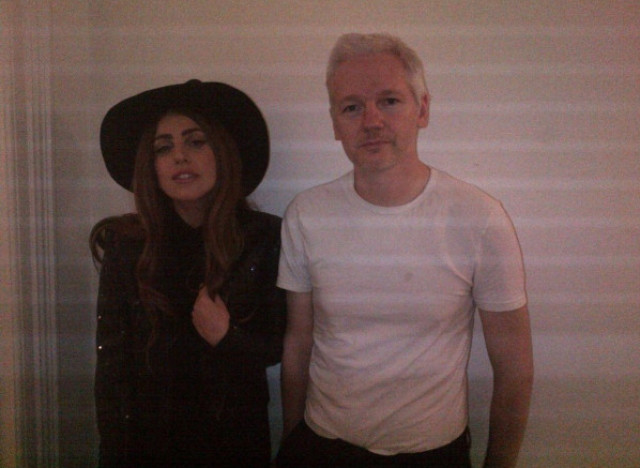 Bad Romance? Lady Gaga's black robes contrasted with Assange who appeared pale and washed out in a stained T-shirt
Before she left she took a picture of herself with the WikiLeaks founder to tweet to her millions of little monsters.
In an even more bizarre twist popstrel MIA might have also attended the rendezvous. MIA tweeted at Gaga on Sunday night, "if ur at harrods today , come visit Assange at the Ecuador embassy across the st. im there. ill bring TEA and CAKE."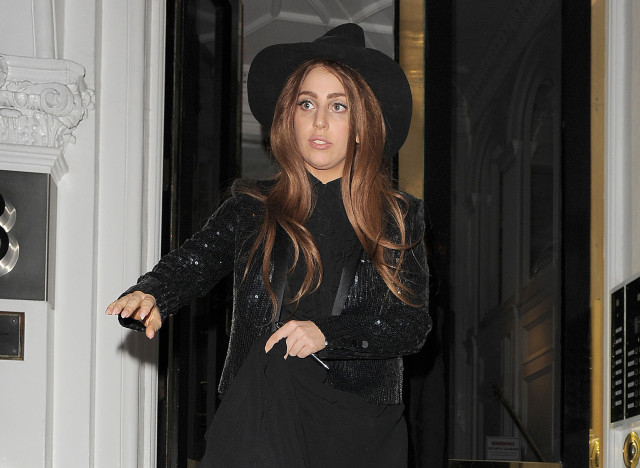 Lady Gaga left at around midnight after reportedly dining with the Wikileaks founder.
It's unclear whether MIA did actually attend.
Assange revealed that he had instructed lawyers to try and find a way of suing Australian Prime Minister Julia Gillard for defamation in an interview release on Monday.
The move comes two years after Gillard proclaimed in an interview with an Australian radio station that WikiLeaks' dissemination of classified documents was "irresonspible" and "illegal". A very good PR stunt? The visit came as Lady Gaga launched her new perfume across the road
Her remarks are at odds with the opinion of Australia's Attorney General, who confirmed that WikiLeaks had broken no laws in Australia or overseas.
Assange, 40, told campaign group Get Up!, which has aligned itself with his cause, that Gillard's comments have had a profoundly negative effect on his organisation's operations.
He said: "Mastercard Australia, in justifying why it has made a blockade that prevents any Australian Mastercard holder from donating to WikiLeaks, used that statement by Julia Gillard, this year, as justification.
"So the effects of this statement are ongoing and they directly affect the financial viability of WikiLeaks.
"We are considering suing for defamation. I've hired lawyers in Sydney and they are investigating the different ways we can sue Gillard over this statement."

The interview took place in the Ecuadorian embassy in London, where Assange, who describes himself as a free-speech campaigner, has taken refuge over fears that he could be extradited to the United States.
He is currently wanted in Sweden to face charges of sexual abuse.