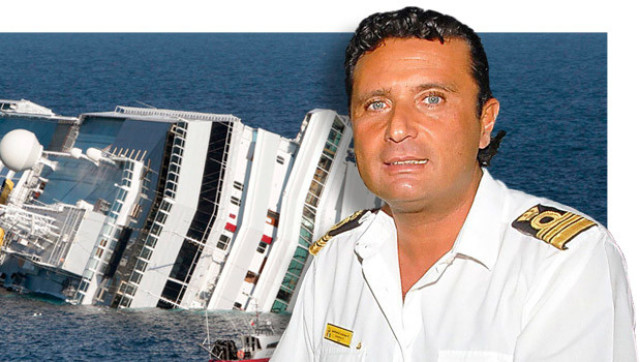 Rex/PA
Francesco Schettino, the captain of the ill-fated Costa Concordia, which capsized earlier this year with the loss of 32 lives – wants his job back.
He has just been fired by the owner of the ship, Costa Crociere, according to The Daily Telegraph.
It reports that a company statement said: "Costa Crociere confirms that it has concluded the disciplinary procedure against Schettino, following the sinking of the Costa Concordia, ordering his dismissal."
However, Schettino, who may still be charged with manslaughter after the tragedy, which occurred off the island of Giglio, claims that he saved lives by steering the ship into shallow water.
Anger was directed at the captain in the wake of the disaster after it was alleged that Schettino abandoned ship and hailed a taxi home, while passengers were still on board.
As the doomed Costa Concordia began to slide under the water, Captain Schettino argued with with Captain De Falco of the Italian coastguard over whether he should return to the ship he had apparently abandoned.
At one point the Coast Guard officer told the captain "Get back on board, for f***'s sake".
Some blame Schettino for sailing the ship too close to the island to make a "salute".