A man sits alone in a darkened room. 'Ding-dong', the bell rings. The man picks up a gun from behind an armchair, he opens the door.
"Come in," he mutters. He shoots the visitor in the head at point blank range.
So begins Caryl Churchill's short play Ding Dong The Wicked, directed by Dominic Cooke, at the Royal Court Theatre. A curious production of just 25 minutes, Churchill's latest show follows her title Love and Information, currently running on the same stage.
A young man is preparing to go to war. His family rally around him, wringing their hands, pacing the room with fret, self-pity, anger and paranoia. A flag of unknown nationality hangs on the wall, the most colourful prop on stage, seeming to command them. Churchill's theme - the perils of patriotism and the folly of war - is portrayed in a tiny claustrophobic living room.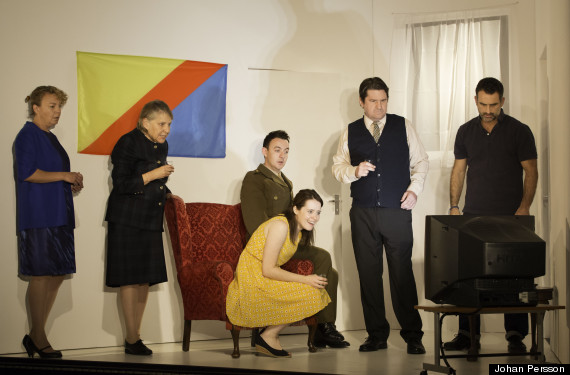 Sophie Stanton (A Woman in Blue), Jennie Stoller (A Woman Who Bites), Claire Foy (A Young Woman Carrying a Flower), Daniel Kendrick (A Pale Young Man), Stuart McQuarrie (An Overweight Man), John Marquez (A Quiet Man).
The family drink constantly, downing shots of vodka, filling each other's glasses as they rattle off their cryptic angst-ridden lines, regularly interjecting with the question "Drink?". The nonsensical slogan of their cause is occasionally chanted at a television set: "zig zig zig, zag zag zag."
A different flag hangs on the wall for each of the two Acts, representing two families squaring up for battle, played by the same actors. Democracy versus Communism? East against West? The detail is intentionally unclear, moreover, it feels irrelevant: the tale of war is always told from the same morbid book.
We follow the twisted reasoning of the families preparing for murder: "I think people should try to forgive each other," a girl clutching a flower says, "We can't do that," replies a man. "No, I know" she concedes.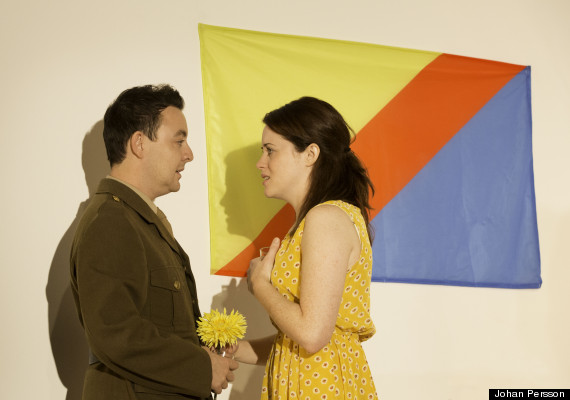 Daniel Kendrick (A Pale Young Man), Claire Foy (A Young Woman Carrying a Flower).
Stand out performances come from Jennie Stoller and Claire Foy, playing two characters each, covering meek and severe extremes.
In the style of Love and Information's 'punchy postcards of British life', Ding Dong The Wicked is an equally snappy bite-sized taster of a play, which relies on the audience to tie up the loose ends on stage, working hard for their appreciation of the art.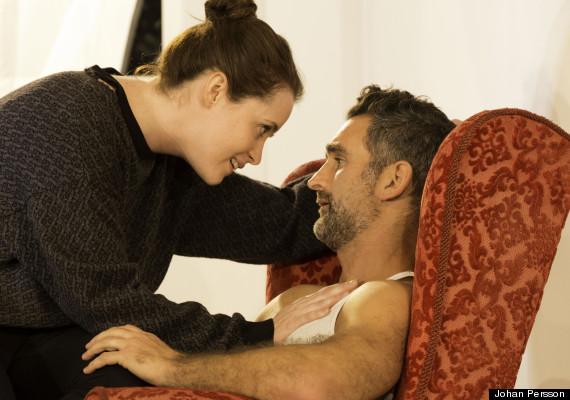 Claire Foy (A Young Woman with a Cigarette), John Marquez (A Man Who Bites His Nails).
Churchill is daring in her play forms, Ding Dong The Wicked is no exception. Some may find this latest offering terse and obscure, however, in the spirit of explorative theatre, Ding Dong The Wicked is an intriguing and satisfying production.
Ding Dong The Wicked is running at the Royal Court Theatre, London, 1 Oct 2012 - 13 Oct 2012.
Take a look at all of HuffPost UK's theatre reviews: