Exploring a garden on a dewy morning, these insects appear to be walking on water.
The crystal clear shots, taken by photographer Nunu Rizani, capture a snail and a ladybird dangling over the shallow pool on a leaf stem and a branch.
They also capture the magical moment a spider and an ant scaled some of his children's marbles left on a garden table.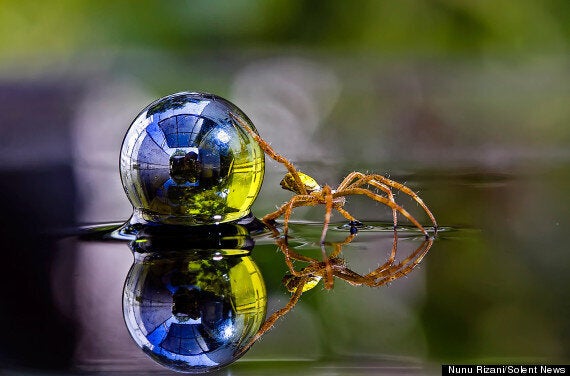 A spider skirts a marble in a puddle of dew
Rizani, 42, said: "When I saw a spider on the wet garden table I was interested in immortalising it.
"For a second the spider seemed to be trying to escape from the marbles, and was apparently afraid of the water.
"But when he realised it wasn't deep he continued to revolve around the marbles quite happily. A little while later I returned him to his natural habitat in some plants nearby."
Rizani, who works for a finance company, took up macro photography last year and usually looks for insects to snap in fields near his house.
He found the snail on a bunch of flowers belonging to his wife, and carefully carried it over to the garden table using a leaf.
Rizani, from Indonesia, added: "I like macro photography because you see many amazing things about insects' behaviour. It takes a lot of patience on my part though.
"In this situation, I watched the insects and waited for that wonderful moment when they would play on the marbles or twigs.
"Normally they avoid water, but when they know it's not deep and that they can walk on it they are happy to.
"You need a bit of luck to catch the insects showing a beautiful and natural moment at the same time as the water produces a good reflection."
His favourite shots are of the ant and spider pushing the marble through the water, which he keeps on his living room wall in Bandung, West Java.