An Indian lingerie firm has launched a campaign urging women to ditch their ill-fitting bras with the somewhat sinister slogan: "Suffocation is the worst kind of abuse".
"Break up with the wrong bra" implores the ad for Amanté, directing the viewer to its website, which states eight out of 10 women wear the wrong size bra.
As Jezebel points out, the ad, which features a fully dressed, attractive woman gazing into the lens, is somewhat reminiscent of campaigns that highlight domestic abuse.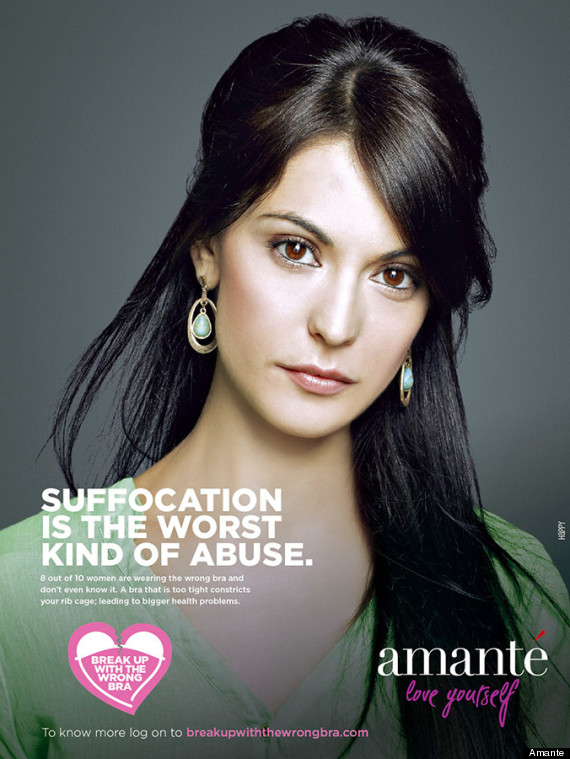 Dodai Stewart writes: "Perhaps some people will be offended by the campaign – obviously an ill-fitting bra is not the same as domestic abuse."
But what does stand out is the fact there's not a bra or a breast in sight, which is something of a breath of fresh air, it must be said.
Writing for Adrants, Steve Hall highlights the company's research that indicates Indian women are embarrassed by public lingerie ads featuring scantily-clad women
He adds: "We have to admit, it's a nice approach that doesn't reduce women to two-legged creatures whose sole purpose is to carry around the largest pair of breasts possible."
SEE ALSO:
Amanté CEO John Chiramel says: "This campaign has been carefully thought through, in not trying to objectify women, but more about dealing with the real issues and educating the consumer."
On Monday it emerged 78 per cent of British women admitted to having squeezed into a bra that was the wrong size.
And with the news that the nation's breasts are getting ever bigger (increasing on average by three sizes in just two years), wearing the right size bra has never been so pressing.