"It was going to be perfect," says Michael Jackson's choreographer Travis Payne about the This Is It tour, the Jacko show which sadly never met an audience.
Much has been said and written about Jackson's state of health before he died on 25 June, 2009, but Payne is adamant the superstar was capable of touring and raring to go.
"For sure he would have completed the fifty dates, the reason being that they were stretched over 9 months.
"He was going to be in one place [the 02 Arena, London]... It was going to be great. He was going to have his nice house in the countryside where he could be with his family and then come in to the city to do a show twice a week." Travis Payne at the 'This Is It' film premiere
Michael Jackson never got to show the world his final tour, but now a legacy-style production is coming to the 02 Arena thanks - in part - to the King of Pop's actual man in the mirror, Payne.
The dancer, who famously worked with Michael and Janet Jackson on the music video for 'Scream', believes it's "immensely" important to get a Jacko tour out to his fans after what happened. "That was a huge let down for us all," he explains.
"We were scheduled to be in the 02 the week following what was his day of passing, so we never made it. We'd just finished our last rehearsal in LA and were packing up to come to the 02 when we heard.
"So for me it's really bitter-sweet because we finally got to get here, but not in the way that we planned."
Payne, who choreographed Jackson's 'Dangerous' and 'History' tours, adds: "To have a full circle moment now being here at the 02 is a bit overwhelming, but I'm grateful." Janet Jackson and Michael Jackson in their 'Scream' video which Payne choreographed
Payne says people can expect "the fantasy of Cirque du Soleil mixed with the fire and funk of Michael Jackson" in The Immortal World Tour and has searched the globe for dancers who can embody Jackson's signature moves.
But, he makes clear, these dancers are not replicates: "They all embody Michael in different ways, and that was always our goal, not to try and replace Michael, not to try and create a Michael Jackson show, but to create something that celebrates his artistry."
I wonder, will we ever find someone like him - the most successful entertainer of all time?
"What made Michael so special was not only did he dance and sing but he danced in his own way and created his own language... What we've seen since, I feel, is versions of Michael Jackson.
"There's not been someone since who has come along and completely been innovative on all levels. The man did over four decades of great work, that type of artist really comes along once in a lifetime and I've worked with all of them.
"There's no one like Michael, nor will there ever be."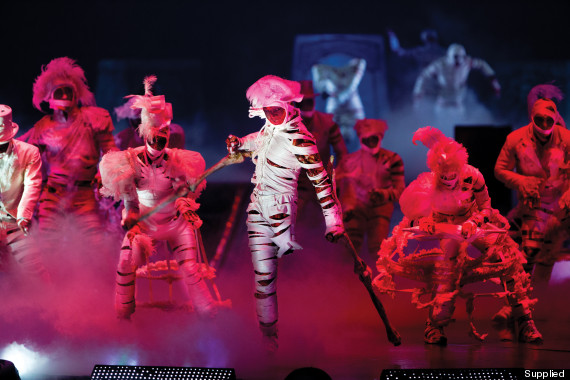 Dancers perform 'Thriller' on The Immortal World Tour
Payne's other clients include global stars Madonna, Lady Gaga and Mariah Carey.
Fans heading to see The Immortal World Tour, which is now the highest grossing road show in America this year and arrives in London on Friday for the first leg of its European tour, can expect to see plenty of Jackson's signature moves on stage.
"There's so many - his iconic lean from 'Smooth Criminal', all the ghouls from 'Thriller', the military, all of his signature vibes," says Payne.
Although the public never got to see Jackson's This Is It tour, Payne went on to work as the producer on the film which pieced together footage of Jackson rehearsing for the event.
"I'm just so grateful that we had that footage and could assemble it so people could see what was being planned for the 02." He admits: "I was just in my hometown of Atlanta and I was in the line at the checkout at the grocery store and they the DVD on sale, so I brought it and watched it again. I've seen it many times." Michael Jackson in 2009 at a press conference where he announced the This Is It tour
So what is Payne's enduring memory of Jackson, the man who impacted so greatly on his life?
"I always enjoyed being in the mirror with Michael and dancing with him and coming up with ideas.
"I always loved it when he thought something I did was so cool and that we had to do it.
"And his laughter, I remember his laughter, always, when he had side-splitting laughter it was always great."
For complete tour and ticket information, visit www.cirquedusoleil.com/michaeljackson
Michael Jackson The Immortal