The latest James Bond film, 'Skyfall', is either one of the top five Bond films ever made, or "veers worringly" into sentimentality, depending on what you read.
The 23rd Bond film, directed by Sam Mendes, is to be released on 26 October and has received all-round positive reviews.
The Daily Mail's Baz Bamigboye awarded the film five stars, praising the film in every way, especially the performance from veteran Dame Judi Dench as the hard and cold commander M. James Bond returns on 26 October, but is 'Skyfall' any good?
Bamigboye calls the film "a fantastic combination of 007 meets Bourne meets Spooks meets Home Alone," and quotes Bond enthusiast and 007 magazine publisher Graham Rye as calling it one of the top five Bond films ever made".
His opinion is backed up by The Independent's Geoffrey McNab, who writes: "If not a full blown triumph, this is certainly one of the best Bonds in recent memory".
Less fawning of the film is the Guardian, which gave the film only three out of five.
In his review Xan Brooks questions the need for the film to delve so deep into Bond's backstory, saying the film "allows sentimentality to cloud its judgment and loosen its tongue. In so doing, it risks blowing James Bond's cover for good".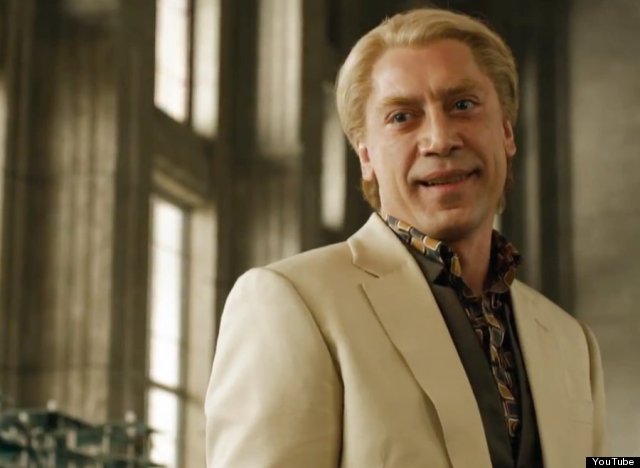 Javier Bardem's villain Raoul Silva has proved popular with the critics
Brooks also highly praises the action sequences - the pre-credit chase scene in particular has been roundly applauded - but implies the film loses its edge in the second half.
Finally, the Daily Telegraph gave the film four stars, writing that "Skyfall shakes together familiar elements of the Ian Fleming canon – the cars, the guns, the exotic locales with the dames to match – into a blistering comic book escapade that the old Bond, and one suspects Fleming too, would find altogether alien".
As well as Dench's performance, Mendes' direction and the "high camp" turn from Javier Bardem as villain Raoul Silva was well-received in all reviews so far.