Arsenal defender Laurent Koscielny has branded Liverpool's Luis Suárez a "cheat", adding he hates to face the Uruguayan.
Frenchman Koscielny has played against Suárez four times for the Gunners since the Uruguayan joined the Anfield club in January 2011.
Although he has only been on the losing side once against the Merseysiders, the France international was not hesitant when asked opponent he dislikes playing against the most.
"Who is the forward I hate to face? Suárez," Koscielny told L'Equipe. "Last season I didn't feel too well.
"It was a match at 12.30 and I don't like that schedule.
"He is tiresome to defend against. He cheats. He pulls your shirt, giving small blows. You always want to give him a kick but you have to be careful not to be red carded."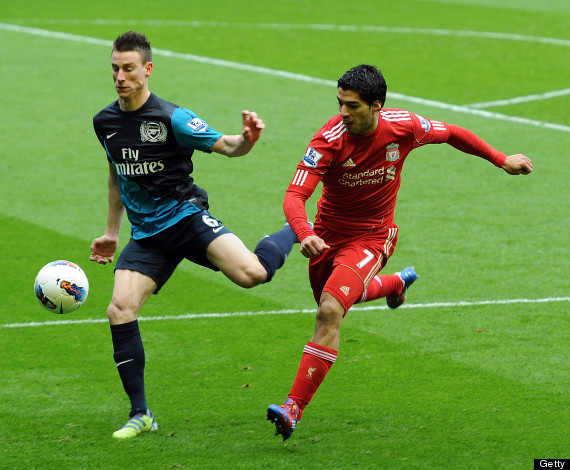 Koscielny has played against Suárez four times for Arsenal
Koscielny scored an own goal in the March fixture he referred to but Arsenal came from behind to win 2-1 courtesy of a Robin van Persie double.
And even though he came on as an 89th minute substitute for Thomas Vermaelen in the Premier League fixture last month, the 27-year-old still remembers Suárez irking him.
"For example on September 2 against Liverpool, it was the case with Suárez [again].
"He is a player who likes to dive as soon as there is contact. During a challenge we jostled a bit each other and he fell.
"He started to talk to me in English, to say it was a penalty."
Koscielny is in contention to start for France in their World Cup qualifier away in Spain on Tuesday night.