A Pakistani schoolgirl who was shot in the head by Taliban gunmen for speaking out about suffering under the regime has arrived in the UK for treatment.
Malala Yousafzai, 14, was flown on Monday to Birmingham Airport and will be taken to the Queen Elizabeth Hospital to receive specialist medical care.
The teenager's life was saved by neurosurgeons in a Pakistani military hospital and she has since been in intensive care. The plane carrying the teenager touched down on Monday afternoon
But doctors decided she needed "prolonged care" to help her recover from the physical and psychological effects of the attack.
A statement from Queen Elizabeth Hospital said: "Malala Yousafzai was safely transferred to the Queen Elizabeth Hospital Birmingham this afternoon following a comfortable flight from Pakistan.
"She is currently stable and is being assessed by a team of multi-specialist doctors from the Queen Elizabeth and Birmingham Children's hospitals. This team includes clinicians from Neurosurgery, Imaging, Trauma and Therapies.
"She was accompanied by a full medical team. Malala's ongoing clinical care is now the hospital's priority. We will be providing timely condition checks and where appropriate, will give more detailed information about her condition as her treatment progresses.
"The QEHB is the UK's receiving hospital for all injured military personnel evacuated from overseas and as a Major Trauma Centre can provide the expertise and capacity needed to treat such cases, with all specialties co-located under one roof.
"Our organisation and processes include robust security measures to protect the privacy and dignity of all our patients, both military and civilian."
Dr Anders Cohen, Chief of Neurosurgery at The Brooklyn Hospital Center, explained that Malala Yousafzai's age is in her favour.
He told Huffington Post UK via email: "The brain is like real estate. Location is everything. Based on the information we have, it appears that Malala was shot from the front down diagonally, but we don't know what part of the brain the bullet went through, whether it crossed the midline and hit any vessels, or whether the bullet passed through the right or left side of the brain.
"On the positive side, Malala has passed two major hurdles: the removal of the bullet and the very critical 48 hour window after surgery. She's also showed some response, which is cause for cautious optimism, but she has a long way to go. Her age is also in her favour. A young person's brain has more recovery ability than an older person."
Foreign Secretary William Hague said the UK was standing "shoulder to shoulder" with Pakistan after the attack.
"Last week's barbaric attack on Malala Yousafzai and her school friends shocked Pakistan and the world. Malala's bravery in standing up for the right of all young girls in Pakistan to an education is an example to us all.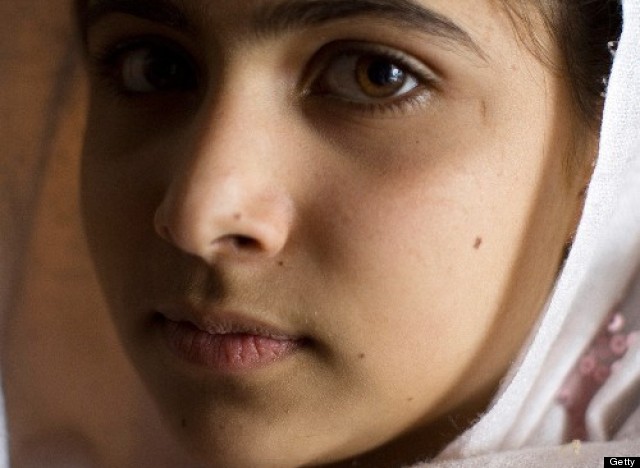 Malala has been writing a blog about atrocities committed by the Taliban
"Malala will now receive specialist medical care in an NHS hospital. Our thoughts remain with Malala and her family at this difficult time.
"The public revulsion and condemnation of this cowardly attack shows that the people of Pakistan will not be beaten by terrorists. The UK stands shoulder to shoulder with Pakistan in its fight against terrorism."
She was transferred to the UK by an air ambulance arranged by the United Arab Emirates (UAE), the Pakistani army said.
In a statement it said: "The panel of doctors recommended that Malala be shifted abroad to a UK centre which has the capability to provide integrated care to children who have sustained severe injury.
SEE ALSO:
"Pakistan has arranged with the UAE for a specially equipped air ambulance which will be used to transfer Malala to the UK. In order to provide continuity of care, an army intensive care specialist will accompany Malala on her flight.
"All expenses including transportation of Malala by specially equipped air ambulance and treatment abroad will be borne by the government of Pakistan."
A Downing Street spokeswoman said that Malala will be cared for at the Queen Elizabeth Hospital in Birmingham.
"We offered last Thursday our help to the government of Pakistan in caring for her because she does need particular specialist care," said the spokeswoman.
"The authorities in Pakistan have taken us up on the offer, so she is on her way and she will be at the Queen Elizabeth Hospital in Birmingham.
"The Pakistani government is paying all transport, migration, medical, accommodation and subsistence costs for Malala and her party."
Asked if she would be provided with guards at the hospital, the spokeswoman said: "You wouldn't expect me to talk about security matters in detail but certainly security has been taken into account."
Malala was shot with two classmates as they made their way home from school in Swat, in the north west of Pakistan.
She was attacked by the Taliban for promoting girls' education and criticising the militant group.
Malala was only 11 when she started documenting how difficult it was to get an education: "I dreamt of a country where education would prevail," she wrote.
Her anonymous blog, first published by BBC Urdu, documented Taliban atrocities committed in Pakistan's Swat Valley and saw the schoolgirl receive international praise.
She was awarded the country's first peace award by Pakistan's prime minister in 2011. Her bravery has been hailed by activists and politicians alike.
Afghanistan's President Hamid Karzai strongly condemned the attack, saying "only those, who are against progress and development of the peoples on both sides of the Durand line [the international border between Pakistan and Afghanistan], could perpetrate such a crime."